When Jimmy Howard broke his finger earlier this season, the team turned to backup Ty Conklin, and when his play was sub par, they looked to 3rd string netminder Joey MacDonald to shoulder the load. MacDonald used the rare opportunity he was given to steal the show in Detroit, playing himself into the number 2 spot on the team, and sending Conklin packing for the minors upon Howard's return.
Conklin, who fully expected to be sent to the AHL's Grand Rapids Griffins, took the fulfillment of those fears as motivation to better his game. While with the Red Wings AHL affiliate he posted 8 wins in 12 games, a .915 Sv%, and 2.40 GAA.
Meanwhile, MacDonald saw his previously lofty numbers tempered as the regularity of his play diminished (.912 Sv%, 2.16 GAA). Despite their dampening, those numbers still easily topped those of Conklin (.886 Sv%, 3.25 GAA) heading into Wednesday night. That Wednesday night game was a crucial one for Conklin, who cleared re-entry waivers earlier in the day and started in the wake of new injuries to both Howard & MacDonald.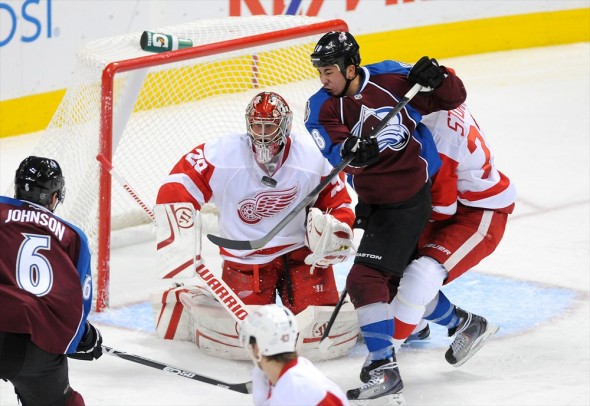 He clearly got that memo. Stopping 32 of 34 shots from the East-leading New York Rangers, Conklin earned the 2nd star of the game in the 2-1 OT loss.  His .941 Sv% wasn't the only sparkling aspect to Conklin's game. The veteran netminder made several key saves during the tight battle, looking composed and confident for most of the game. His rebound control vastly improved. His puck-tracking visibly better. All signs point to a goaltender that has found his game.
Those signs though, come from just 1 game. Can one accurately judge a goalie by 1 night of play? Probably not. Afterall, Conklin did post 3 excellent performances prior to losing his #2 spot, including a shutout in his first game of the season. A reasonable conclusion then can only be reached after Conklin has played a few more games. It's that fact that presents a problem. He may not get another opportunity.
Earlier in the day Howard indicated that he could be ready for the team's next game (Saturday against the Carolina Hurricanes), and while the news wasn't as positive for MacDonald, it may not even matter. If Howard is ready to go, it isn't unreasonable to think that he'll play in each of the team's final 8 games.
After dropping 6 straight games the Red Wings find themselves mired in a heated race for home ice advantage in the West. Once on top of the conference, Detroit has fallen fast, fighting with division rivals Chicago and Nashville, for the last home ice advantage spot, 4th place. That coupled with the fact that the Wings' schedule for the rest of the season features no back-to-back nights of action, could equate to the team rolling Jimmy Howard in both an attempt to secure better playoff positioning, and get the all-star goalie hot for their eventual run; Ultimately relegating Conklin to a seat on the bench for the rest of the year.
If MacDonald can return before the end of the season, it's hard to believe his spot wont be waiting for him, but Conklin's strong performance and the uncertainty surrounding MacDonald's injury (and to an extent even that of Howard's) could still provide him with more chances to prove he's capable.
Keep in mind, Conklin is in the final year of his contract with Detroit, while MacDonald has a year left on his. With prospect Petr Mrazek set to join the Griffins next season, Conklin could very well find himself on the way out. Tonight may very well have been his last opportunity to audition for a job in the NHL.
There isn't a doubt in my mind that Conklin is the better backup. The problem is that he hasn't proven that's the case so far this season, and has likely run out of time to do so. In the end Red Wings fans should all be hoping that none of this "controversy" matters. The best case scenario is that Howard plays the Wings to a Stanley Cup, and a backup never has to make an appearance, because if one does, it probably spells the end for Detroit no matter who is tasked with that job.
Andrew is a passionate hockey fan at heart, and has been since a very young age. Residing in Michigan, he grew up with the team he currently covers at THW, the Detroit Red Wings.