With the 16th Pick in the 2020 NHL Entry Draft, the Canadiens Have Selected Kaiden Guhle From the Prince Albert Raiders of the WHL
About Kaiden Guhle
Guhle's size, speed, and reliable defensive game are his strongest attributes, but he can generate offence when called upon. He has a hard shot along with a great first pass, and he did post 11 goals and 40 points in 64 games last season, so don't be surprised if he becomes someone that can put up points too. Regardless, he will be one of the most valuable defenders on the Canadiens one day.
THW Prospect Profile Excerpt
A former first-overall pick in the 2017 Western Hockey League Bantam Draft, Kaiden Guhle is an interesting prospect. Many scouting services have him ranked as a high- to mid- first-round pick while others have him either on the edge of the first round or a second-round pick. 
The verdict is still out. He might be one of those players that scouts might not be interested in, but they should be. NHL Central Scouting's mid-season rankings have him as the next best North American defenseman behind Jamie Drysdale. His play at the CHL Top Prospects Game could be the reason his stock rose, as we saw exactly what type of player Guhle can be. 
Related: THW's 2020 Draft Guide
His 40 points, in his second full season, led the Raiders in scoring among defensemen and he was 19th in league scoring at his position. While he improved offensively, his strong two-way presence is evident. From his play at the Hlinka Gretzky Cup to the Top Prospect Game, Guhle has shown that he can be a reliable defenseman who can be used in any situation.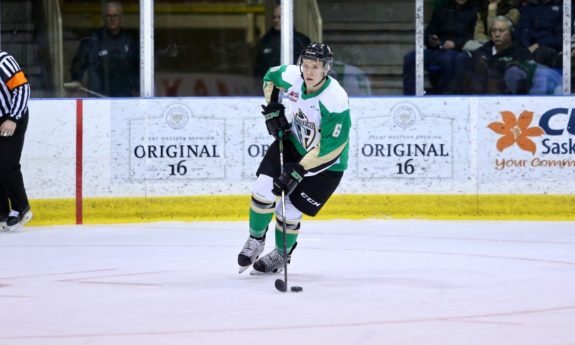 Guhle's strength is his defensive play. He already has great size for an NHL defenseman, which allows him to provide great gap control and separation whenever he's in a battle with the opposition. He has a great stick, and his long reach creates turnovers to transition from defense to offense. He can lock down any open players in front of the net by tying them up and clearing space. 
Guhle's skating is also one of his best attributes as he has good speed to carry the puck into the offensive zone. Offensively he isn't great, but he isn't bad either. He's can still find the score sheet and create scoring opportunities. He also makes long, smooth stretch passes to move the play forward. He has a strong and powerful shot, which he should utilize more to create more offense.
Full player profile can be found here
How This Affects the Canadiens' Plans
The Canadiens continue to rebuild their defence with Guhle. They already traded for and subsequently signed Joel Edmundson and now have a two-way presence and character player in Guhle. Like I said earlier, he will be the most valuable player on the team one day. He won't play right away, but he adds something they do not have in their pipeline right now, and that's versatility and being hard to play against.
Guhle will also fit in with the speed game the Canadiens play as he is a great skater and quick in transition. With the team's future looking brighter than it did before the COVID-19 induced playoffs, general manager Marc Bergevin has now added a key piece to his defence pool moving forward.