Through four games so far, the Montreal Canadiens are 2-0-2 and have been playing great hockey, including on both sides of special teams. With that being said, one of the team's best penalty killers thus far is rookie Jake Evans.
While Evans is definitely on the older side for a full-time NHL rookie at age 24, many do in fact forget that Evans has just over 20 NHL games of experience (including six games during the bubble). However, he has shown that he can be a very capable defensive forward in the small sample size so far this season. He also showed glimpses during the bubble so this really could be the norm for Evans. Here is hoping for a long career of success for the Toronto native.
How Has Evans Been Effective On the PK
Through the first four games, Evans has managed to show just how important he will be going forward on the penalty kill. He was a huge part in killing seven penalties during the Habs 3-1 win on Monday night against the Edmonton Oilers. This included one kill that he hemmed the puck in the Oilers corner for nearly 20 seconds before it got lodged out. However, that was just part of it – he showed that he has a great IQ with his stick on many of the kills during Monday's game.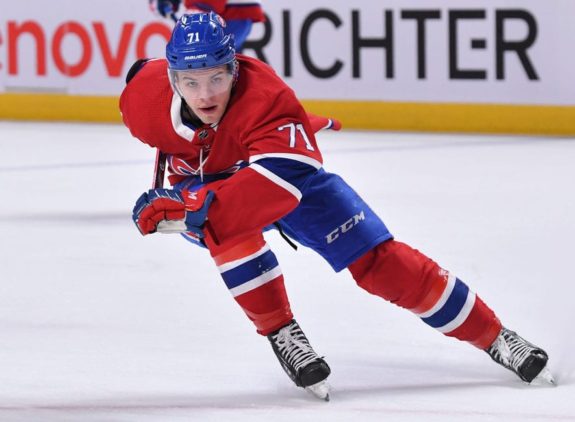 The most impressive play on the PK for Evans came on a 2-on-1 with speedy winger Paul Byron on Saturday night where the 24-year-old scored his first shorthanded goal, and the Habs' first of the season. Instead of passing the puck over, Evans showed confidence to use his shot to put the Habs up 4-0 late in the second period. The play actually started with him breaking up a pass by the Oilers and pushing the puck the other way.
A lot of Evans' game on Monday consisted of much the same as Saturday night but he just never got the chance to break out the same way. Instead, he put the stick in the lane, cleared the puck out of the zone, and relieved the pressure. This has been a recurring skill with him on the PK and there is no reason to believe he will stop playing aggressively on the kill.
It's clear the Habs need to be more disciplined, but in the case that they do take penalties, it is great having Evans to help with the task. He plays like a strong bottom-six veteran despite only being a rookie. A huge reason for this may be his hockey resume and his long road to the league.
Evans' Long Road to NHL success
Evans was only the 207th pick in the 2014 NHL Entry Draft. Prior to being drafted, he had a strong 2013-14 campaign with the St. Michael's Buzzers of the OJHL, however, it wasn't spectacular either. As a seventh-round pick, he was a long-shot to ever sniff NHL hockey, much less become a regular. (From "Happy 'prove people wrong,' Evans signs extension with Canadiens," Montreal Gazette, September 23rd 2020).
However, he was able to prove that he was underrated everywhere he went following the draft.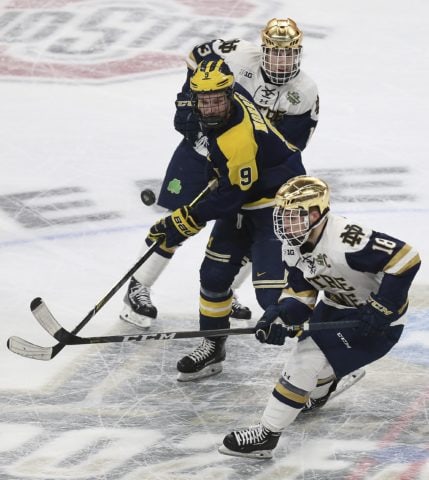 After being drafted, Evans attended Notre Dame for all four years of eligibility which allowed him to be able to develop his game a lot. His biggest jump in development came in between his freshman year – where he put up 17 points in 41 games – to his sophomore year, where he scored 33 points in 37 games. In his final two years, Evans put up over a point per game, scoring 42 and 46 points in 40 games both seasons.
He left Notre Dame in 2018 with a chance to be a college free agent but chose to sign his two-year entry-level contract with the Canadiens, as they were the team that believed in taking a chance on him with a seventh-round pick four years earlier. When he got to the Habs' training camp, he was sidelined early after getting concussed during a prospect tournament.
However, he recovered quickly and went on to have a very strong professional debut while playing in the AHL for the Laval Rocket, scoring 13 goals and 45 points in 67 games. This was followed by an even more improved sophomore season, where he led the Rocket with 38 points in 51 games.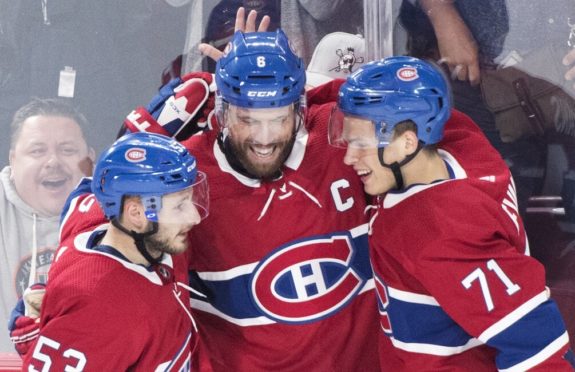 With his impressive play, it allowed him to be called up for his first NHL action where he scored two goals and three points in 13 games. Unfortunately, the pandemic ended the season early, but when hockey resumed for the playoff bubble, he played 6 of the 10 games the Habs played. As mentioned earlier, he was showing glimpses of what he's been early this season.
Evans has come a long way as he keeps proving everyone wrong and has been a pleasant surprise on an elite penalty kill for the Habs early on.
---
---