For Montreal Canadiens general manager (GM) Kent Hughes, it will take more than hoarding draft picks to help the rebuild along. It will take adding to the system's depth to support the youth by coming up with quality players that can help build a winning culture. A good place to mine for that quality is the NCAA. There are some gems out there that have not been drafted or whose rights have expired that might be late bloomers like Arber Xhekaj was, and he's proven to be a solid NHL player thus far.
While the Habs' development staff is building modern, individualized plans for the current crop of prospects, the Canadiens need players at more advanced stages of development who are ready to step into the professional game. They'll be needed to add systemic depth, buying management time to allow the youngest prospects to mature and develop at their own pace, but also insulate the younger players who have graduated into the lower levels of the professional ranks.
Related: Montreal Canadiens' 2023 Trade Deadline Preview
---
Latest News & Highlights
---
The Canadiens can't rely solely on the draft to find the building blocks they need. Hughes will need to take educated risks in unrestricted free agency (UFA). Using the NCAA UFA route is an inexpensive way to add a player on an entry-level contract. Montreal's system has definite needs in nearly every position. There are options available to Hughes and those mentioned here could add depth to the system, and maybe even provide the NHL club with a late bloomer like Xhekaj. 
Jake Livingstone – Defense, Minnesota State Mavericks (NCAA) 
The Canadiens need to add depth to the system on the right side of their blue line that plays a two-way style similar to Justin Barron. Jake Livingstone could provide that. The 6-foot-3, right-shot defenseman plays a strong two-way game, producing points (five goals and 21 points in 23 games played) and defending well while filling a top pairing for Minnesota State. The 23-year-old had garnered lots of NHL interest last summer, but instead of turning pro, he chose to return to school and finish a degree, while taking on a leadership role in a strong hockey program.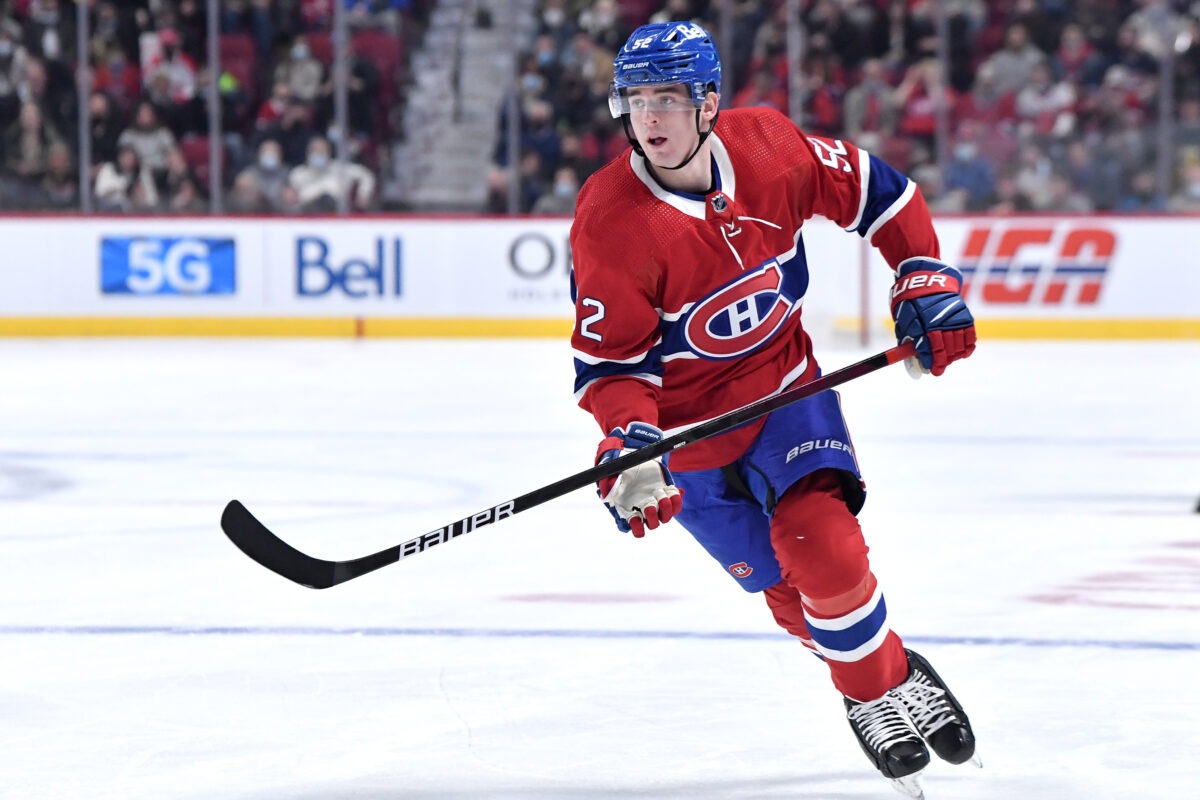 Last season, he was named Central Collegiate Hockey Association (CCHA) Defenseman of the Year after netting nine goals and 31 points in 44 games and helping to lead Minnesota State to the CCHA Championship. The conference overturned Minnesota State's overtime goal 40, yes, 40 minutes after the trophy was presented to the Mavericks. Minnesota eventually scored again and qualified for the NCAA Men's Ice Hockey Tournament where they finished as the runners-up in the National Championship game.  
Livingstone has many of the tools and attributes NHL teams look for in a modern-day defenseman. He has the size, mobility, and offensive ability. Offensively, he is a dynamic threat. His vision and hockey IQ allow him to carry pucks out of his zone under control and identify passing lanes. If one doesn't open up, he can step up into the rush and create a lane of his own. 
Livingstone is also his team's power play (PP) quarterback. His hip mobility, crossovers, and passing ability make him ideally suited to walk the blue line, and generate movement in the defensive structure to open offensive opportunities. He is more than just a playmaker, as he boasts a strong and accurate shot from the point and the awareness to select a shot type that will best suit the situation to get the puck on the net. 
Defensively, Livingstone is highly effective. His mobility is an asset when performing puck retrievals, but also in keeping pace with attacking forwards and angling them to the outside. He shows he can handle playing with pace as he makes decisions quickly with the puck and identifies safe or advantageous plays. His size is an asset as well as he plays a physical style in his zone. He is capable of boxing players out of the slot and can physically punish opposing forwards who go into the corners.
---
Free Standard Shipping Until Jan. 18

---
He does have deficiencies in his game as his skating mechanics will need to improve to be effective at the NHL level. In the case of the Canadiens, director of hockey development Adam Nicholas would need time to correct that issue if Livingstone hopes to reach his top-end potential of becoming a second-pairing defenseman. Choosing to go back to school for one more season was a wise choice as he appears to be at the top of the free agent class this season.  
Jaxon Nelson – Center, Minnesota Golden Gophers (NCAA) 
Staying in Minnesota, but this time moving over to the Big 10 Conference and the Minnesota Golden Gophers, Jaxson Nelson is a 6-foot-4, 220-pound 22-year-old center. He is the assistant captain and teammate of Canadiens prospect Rhett Pitlick, so that would make him known to the Montreal scouting staff. Despite having the size NHL scouts love, he went undrafted, likely due to his less-than-ideal skating skill. His lack of production in his first two seasons at the NCAA level didn't help his cause either. Also, he wasn't given much in the way of ice time or significant roles with Minnesota as he joined a program looking to win a title and relying on their veterans to do so. Leading up to a Conference Tournament Championship in 2021 followed up with a 2022 regular season conference title, leading to a 2022 NCAA tournament berth, ending in a loss at the Frozen Four Semi-Finals to Minnesota State.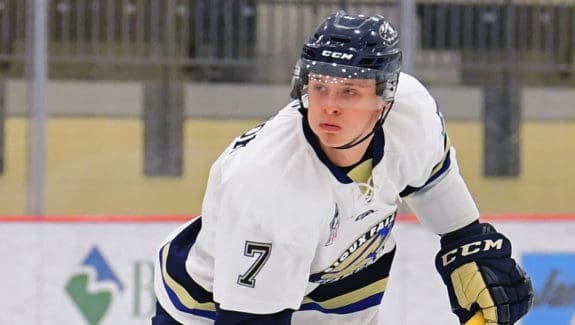 After some less-than-ideal production last season, Nelson has stepped up offensively this season, scoring seven goals and 20 points in 24 games played. His skating is serviceable for a player his size, but he will need to improve on his foot speed and edgework to be a capable NHL player. Offensively, he is bringing his skill sets together to become a real threat. He has good vision, allowing him the capability to make quick and accurate passes, but he prefers shorter passes to generate give-and-go plays where he takes advantage of his size to plow through defenses. Due to his speed deficiency mentioned above, he has developed a strong cutback game to create separation from defenders and retain possession, a skill that would be very useful for a player his size at the professional level.  
Nelson also possesses a very hard and accurate shot, one that he can release quickly, especially tight to the net or in traffic with a defender marking him. He thrives in going to the dirty areas, using his puck possession skills and physicality to win battles in the corners, but also using his size to attack the net and win positioning. This allows him to take advantage of having a good shot in tight, especially in powerplay situations where Minnesota uses him on their top unit. Being 6-foot-4 and 220 pounds, along with a low center of gravity, Nelson is nearly impossible to remove from the slot.
Defensively, Nelson is a very responsible player. He is rarely, if ever, slow to backcheck or make the wrong choice in his coverage. His positioning in his zone is sound, and he consistently ensures he is an option as an outlet for his defense in transition. His ability to read an offensive play allows him to offset any lack of speed and react in time to fill a lane using his long reach.
By the end of his senior season, Nelson will be 23, which is still young on the development curve for players of his size. His skill set, along with his offensive progression this season shows that he has the potential to become a bottom-six forward in the NHL. He will need to improve his skating to get there, but players of his stature and ability often get the benefit of the doubt. With some time working with Nicholas, and seasoning in the American Hockey League, Nelson may add some inexpensive and reliable depth to the organization.
Even though the Canadiens have drafted 38 players over the 2020, 2021, and 2022 NHL Entry Drafts, and set for 11 more in 2023, many of those prospects are unlikely to earn themselves one of the coveted 50 NHL contracts. For Hughes, adding some older prospects whose games are more developed could provide better value on those contracts. This NCAA UFA class can provide Montreal with some added size, mobility, and depth at center and on the right-hand side of the blue line, to a roster that could be entering a competitive window slightly ahead of anyone's anticipated schedule.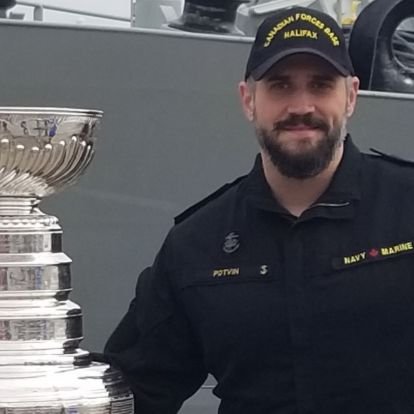 Blain is a regular contributor as a THW Writer. For over 7 years he has been a part time journalist and podcaster covering the NHL, the Montreal Canadiens and its affiliates. He has made appearances on various television and radio stations as well as podcasts to discuss the Canadiens, and the NHL. Blain has taken the lessons on integrity, ethics, values and honesty that he has learned as a 29 year veteran of the Canadian Armed Forces and applied them to his work as a journalist with the goal to be a trusted source of information and entertainment.