On Thursday, September 15th all eight teams involved in the 2016 World Cup of Hockey gathered at the Air Canada Centre for Media Day ahead of Saturday's tournament kick-off. Most players from each team attended Media Day to fulfil their team and tournament obligations.
Among the NHL teams represented at the World Cup, the Montreal Canadiens are well featured with six players taking part in the event: Carey Price and Shea Weber will take the ice for Team Canada; Andrei Markov and Alexei Emelin will play for their native Russia; Tomas Plekanec will captain Team Czech Republic; and Max Pacioretty will skate for the Americans.
All six Habs drew big crowds as they took their turn answering questions from the media. One thing was clear among all Habs representatives, as much as they are excited about the upcoming NHL season, their focus is on winning the World Cup.
Team Canada: Carey Price & Shea Weber
As expected, Carey Price and Shea Weber drew two of the larger crowds during their session for Team Canada.
Price explained how he hopes both Canada and the Canadiens come out with a hot start when asked about the expectations going into the World Cup and the NHL season. "It's important to get off to a good start both here and in Montreal, but again it's not how you start it's how you finish and as you can see last year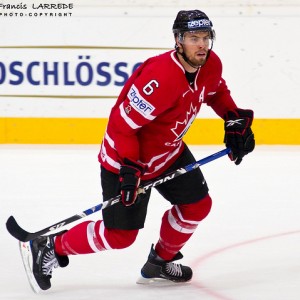 we didn't do that," Price said.  He was also candid about how he felt going into the World Cup: "You have to put everything in perspective for the most part and try not to get too railed up, I always thought that was a strength of mine."
As for Shea Weber, as much as he wanted to talk about the World Cup, questions of the P.K. Subban trade took over the conversation. Weber was asked how he was getting acclimated to Montreal, his new home, and answered:
"It's been good, I've only spent a total of I think ten days there since we have a lot of work to do here in Toronto. The guys have been really welcoming and I look forward to working with them once we finish our jobs here."
When Weber was asked how anxious he is about playing for the Canadiens after so much talk of the trade, he replied: "I'm anxious to play for Team Canada starting Saturday, to be honest with you. Obviously, I'm excited to embark on a new journey in Montreal but there's a lot of work needed to be done here."
Team Canada understands they are the favourite, but they know they can't take any team in the tournament for granted. Canada kicks off their slate of games Saturday night against the Czech Republic.
Team Russia: Andrei Markov & Alexei Emelin
The two Canadiens' defensemen came out to talk to the media on Thursday and one was even more adamant about his focus for the World Cup. Markov insisted, "We're not going to talk about Montreal, we're going to talk about the World Cup." He also said he feels good and likes the chances of the Russians to do some damage in the tournament.
Alexei Emelin was more open to talking about the Canadiens and the tournament. Regarding the World Cup, Emelin said: "We're ready to play and I think each game we're getting better and better." He also spoke about his offseason training with Alex Galchenyuk: "Yeah, we trained in Florida and his father along with a trainer from Florida helped us workout and get ready for the season, it was tough." He also said he is excited to play against team Canada and newly acquired defenseman Shea Weber.
The Russians will look to kick off their tournament with a win in a tough matchup against Sweden on Sunday.
Team USA: Max Pacioretty
Max Pacioretty was in tough on media day, but as always, the Canadiens captain and USA forward handled the questioning like a professional. As expected, he was asked about John Tortorella's comments earlier this week. "It was blown out of proportion, I talked to Torts and he told me he just honestly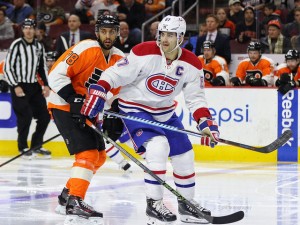 answered a question he was asked," Pacioretty said. "I love that in a coach, telling it like it is and that makes me a better player and makes our relationship closer."
He was then asked about his other coach, Habs head coach Michel Therrien's, alleged comments about his captaincy, to which he replied: "It's just sad that someone would make that up. I talked to coach, I talked to management and, like I said about Torts, the more controversy we face the closer our relationship becomes so if people want to make up stories that bring us closer together, go ahead."
After Pacioretty got through the tough questions, he said he's ready for the challenge the World Cup brings and is excited to go up against his NHL teammates and Team Canada, whom he calls the "standard" of international hockey teams.
The United States begins their tournament against team Europe on Saturday.
Team Czech Republic: Tomas Plekanec
The Canadiens forward will captain team Czech Republic for the World Cup. He is impressed with how the team has come together and improved during the pre-tournament games but explains there is still work to be done stating: "I think we're becoming more confident and we have done a good job improving but I think we still have work to be done to improve, but we're on the right track."
When he was asked if he was surprised at how good their team could be he replied, "We all knew we had a good team, we have good NHL players and we just have to make sure we put it all together as a team to get a chance to win the tournament."
Plekanec and the Czech's are going to be in tough as they face tournament favourites Canada on Saturday night.
The Canadiens Are Ready
It's clear the Canadiens players involved in the tournament are focused on their international duties before anything else, and they should be. To have six players on the roster participating in such an elite event should have Habs fans excited for the upcoming season. Regardless of what happens for each of these players and their teams in the World Cup, having six roster players with high-speed game experience before the season starts will surely have them and the team more prepared for NHL action.