With so many Montreal Canadiens players struggling last year, the list of Habs looking for redemption is long. Whether it's proving they are still elite, worth the hype or the ability to stay healthy, the hunger and compete level for the 2018-19 edition of the Habs should be a lot higher than it was last year. However, there are three players in particular who will be looking to prove themselves after trying seasons. 
Carey Price
The NHL is a league that tends to pay its players for what they have done in the past, as opposed to what they are projected to do. With Price, the contract he signed in 2012 (six years, $39 million) quickly became a bargain as he ascended to superstar status as a goalie and is a big reason why the Habs are competitive. As good as Price is, injuries have been a big issue in recent years and he has been prone to inconsistency throughout his career.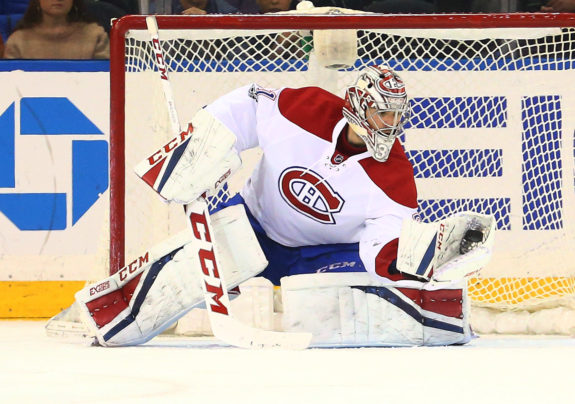 He has been given eight years and $84 million to prove he is still the superstar goalie that he is capable of being. Price has bounced back on several occasions, so it wouldn't be shocking if he rebounded big-time in 2018-19. No one is exempt from criticism in Montreal and Price is no different. Giving a 31-year-old that kind of contract is fraught with peril, but the Habs seem very committed to Price being a Hab for life, even during a rebuild. For Price, he needs to show he can stay healthy and that he is worth the deal.
Max Pacioretty
Max Pacioretty is coming off his worst offensive season in years, as the perennial 30-goal man for the Habs scored just 17 in 2017-18. More importantly for Pacioretty, he is set to become an unrestricted free agent and will want to get paid, especially after a contract that was an absolute bargain in hindsight. He will also be turning 30 this year, so it makes the prospect of him receiving a long-term deal more difficult to predict.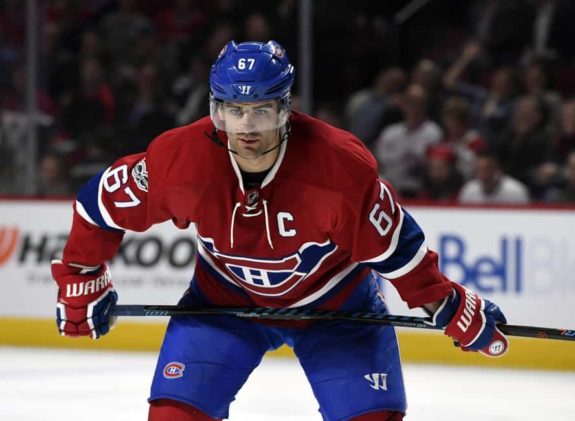 With well-known trade rumours surrounding Pacioretty, some that were apparently very close to being completed, it's hard to envision how long "Patches" will remain a Hab. He has consistently been able to score 30-plus goals a season, and that's been without a legitimate number-one centre next to him. Pacioretty requesting $8 million is a reasonable ask, but, like Price, will he get compensated for his previous success?
Even if the Habs want to keep Pacioretty but want to have a change in captaincy, it likely won't happen as Pacioretty is on the record saying he doesn't want to stay if stripped of the C". Pacioretty getting back on track helps his value in the event of a trade and his chances of getting the lucrative contract he is looking for. 
Michael McCarron
Michael McCarron technically doesn't have a contract for next season yet, but that will likely be solved before training camp. As a restricted free agent with no arbitration rights and very little leverage, McCarron will likely return to the organization on a one or two-year deal designed as a "prove it" contract. His development at the pro level has been disappointing, to say the least. It started off promising enough in his rookie year, as he was playing solid hockey and producing offensively.
However, the Habs seem content to develop him solely as a checker. McCarron's NHL upside is third/fourth liner at best, but even at the AHL level, he isn't encouraged to be the best player he can be there, as he is also put into checking roles there too. Between that and his less than stellar skating ability, McCarron is now in a spot where he needs to prove he is more than just another big player who isn't good enough (or fast enough) for the NHL.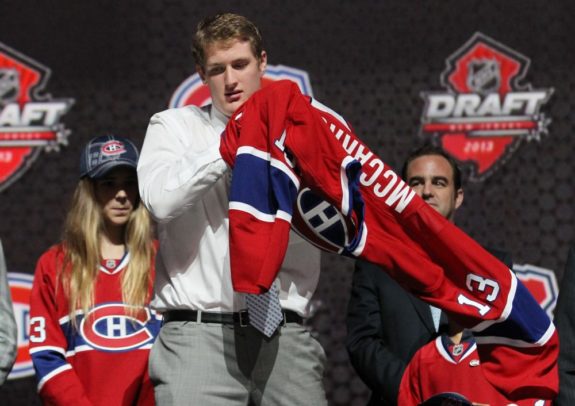 Now that he is eligible for waivers, the question is what the Habs do with him. McCarron needs an excellent training camp to prove he is even ready for a fourth line spot. There are a lot of players in front of him who have shown more at this point. As of right now, the numbers game and his development to this point suggest another AHL season is the better bet, and perhaps Joel Bouchard, the new head coach in Laval, can help him.
The other option is keeping McCarron in the NHL, but having him there and not playing a lot just to avoid waivers doesn't help him. If the Habs put him on waivers, they risk losing him. Despite the lack of overall results, there is a team likely to take a chance on him. The fact that McCarron was a former first-round pick, has size, and is just 23 make him more likely for a team to claim him. 2018-19 is a crucial year for McCarron, and it could be the difference between him being an NHL player or a career AHLer. 
Big Expectations
In the cases of Price and Pacioretty, the chances of them bouncing back are strong, as they both have shown in the past they are among the best at what they do. There is little reason to believe they are on a sharp decline. As for McCarron, he has to overcome a rocky development and improve his skating enough that he can keep up in a game that is getting faster every year. The expectations are high for all three to prove themselves again, which makes 2018-19 an important year for them to step up.