The Vancouver Canucks opened a lot of eyes around the hockey world in the 2020 Stanley Cup playoffs. They quickly disposed of the Minnesota Wild, who had made the playoffs seven of the last eight years. They then dethroned the defending champion, St. Louis Blues, in six games in the Western Conference Quarterfinals. And if they had managed to score a goal or two in game seven of the semifinals, they could have knocked out a heavyweight in the Vegas Golden Knights.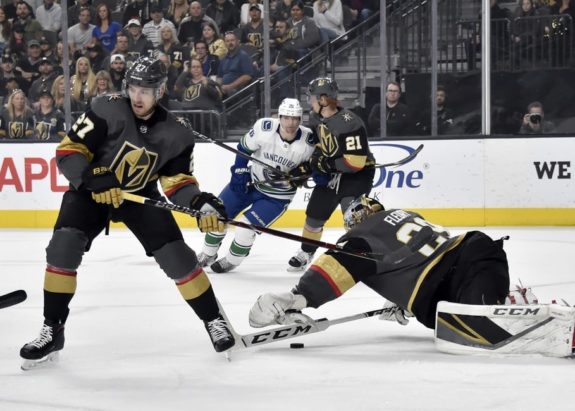 After that performance, it looks like the Canucks have taken a big step towards becoming a legitimate title contender in the NHL. However, fans should be a bit concerned going into next season. There are a few reasons to believe that the 2019-20 Canucks could be the latest one-year-wonder.
Offseason Transactions
The Canucks lost two staples of their defensive core in Troy Stecher and Chris Tanev, their starting netminder who finished fourth in the Vezina voting in Jacob Markstrom, and Tyler Toffoli, a Stanley Cup champion who consistently puts up 20 goal seasons. They are also unsure when Michael Ferland will be ready to play again, if that ever even happens.
General manager Jim Benning was able to make a trade with Vegas for defenseman Nate Schmidt, limiting the damage to the back end. He also inked Braden Holtby for two years, but it is unlikely he will be able to carry the team the way Markstrom did at times in the 2019-20 season. As for the forwards, a few familiar faces are back on short-term deals, but no big names, though.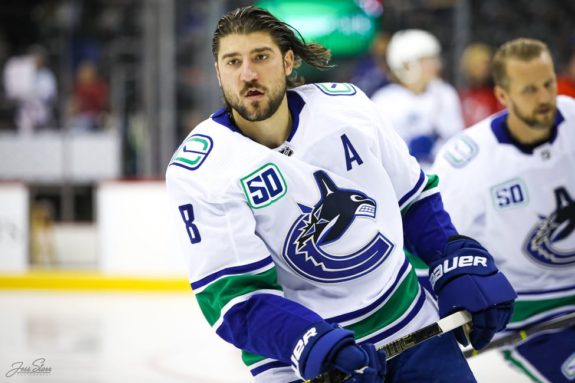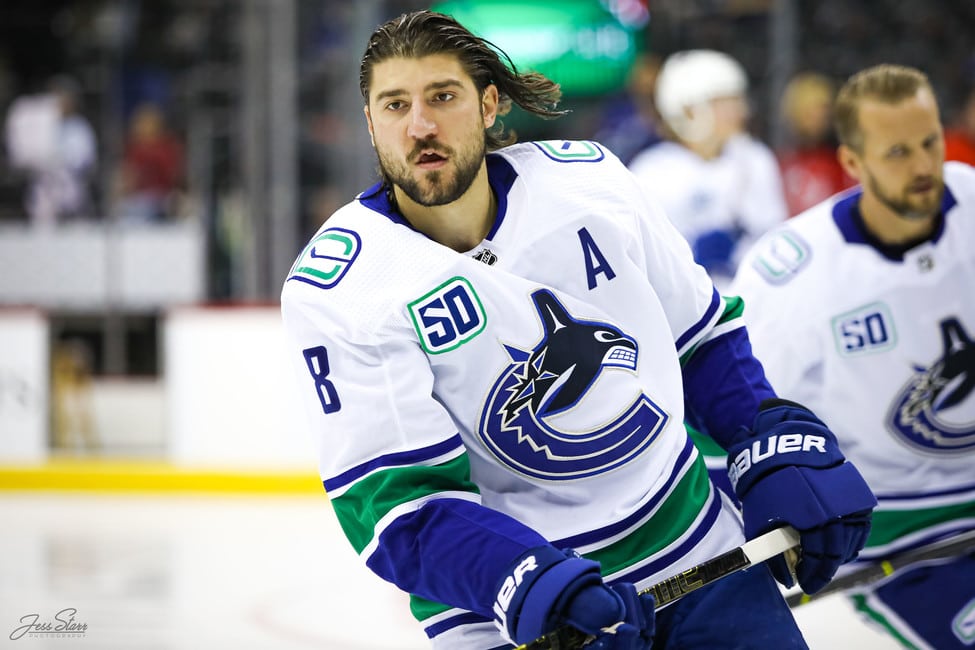 Over $10 million of Vancouver's team salary will go to Roberto Luongo, Loui Eriksson and Ryan Spooner this season, making it that much more difficult to bring in depth players and navigate the flat cap. There are still some free agents out there that could be nice additions, but unless Luongo or Eriksson miraculously get off the payroll, it's simply not feasible.
Taking a Look at Other One-Year-Wonders
The Canucks find themselves in a similar position as the 2016-17 Edmonton Oilers. The Oilers had made the playoffs for the first time in 11 seasons and knocked off the San Jose Sharks before falling to the number one seeded Anaheim Ducks in seven games. Edmonton has not won a playoff series since.
It appeared that the Oilers and their young core were ready to take the NHL by storm. However, the front office's unwillingness to bring in some depth players who can provide secondary scoring has resulted in years of disappointment. These are valuable seasons of two Hart Trophy winners in Connor McDavid and Leon Draisaitl gone to waste.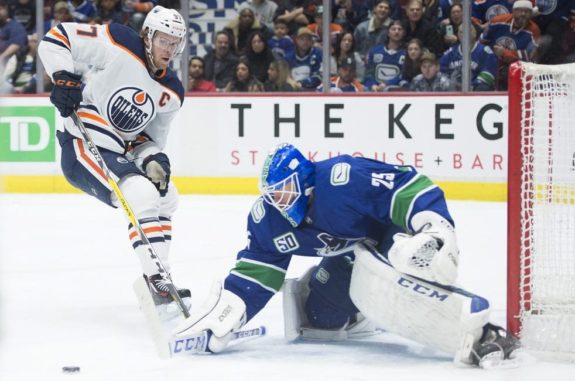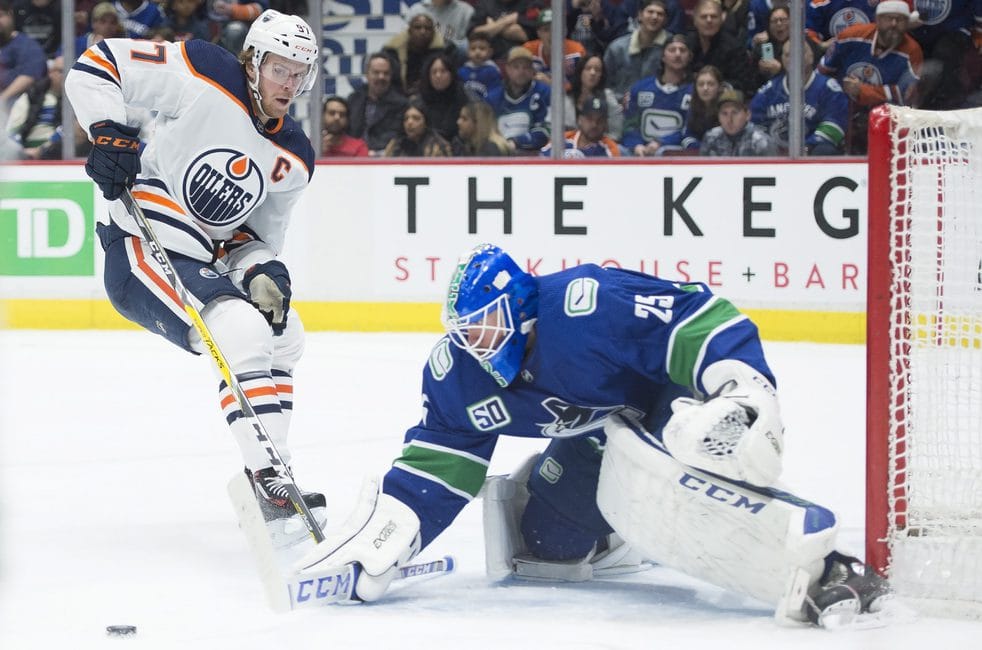 Vancouver's projected third and fourth lines for the upcoming season do not scream goal-scoring prowess in the slightest. Obviously, they are not set in stone, and there are promising prospects in the pipeline. But if the Canucks are struggling to put the puck in the net to start the season, they could find themselves in a serious bind.
The Toughest Playoffs in Sports
The NHL playoffs are the most grueling, challenging and demanding in all of sports, and finding postseason success early on with a young core is imperative for franchises chasing long-term stability. Just ask the Pittsburgh Penguins and Chicago Blackhawks; Sidney Crosby, Evgeni Malkin, Kris Letang, Patrick Kane and Jonathan Toews were all 22 or younger when they won their first cup, and they now have three each.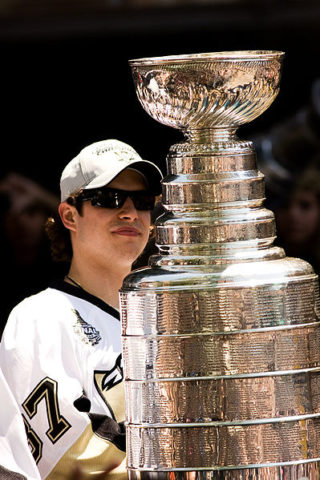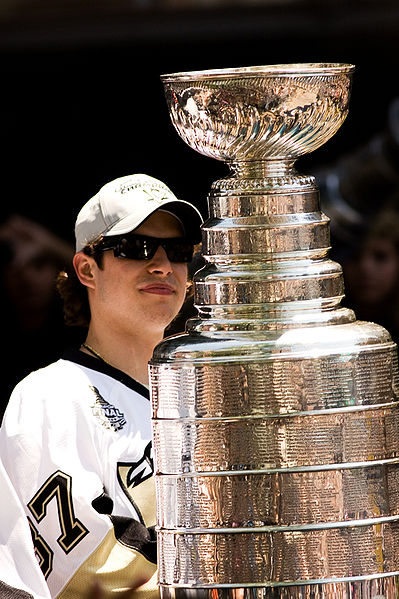 While all great players, these young studs likely wouldn't have had the success they had without the deep rosters that their organizations put together. The Penguins had veterans like Bill Guerin, Miroslav Satan, Ruslan Fedotenko and Petr Sykora with valuable playoff and leadership experience. The Blackhawks were younger but deep nonetheless, with players like Dustin Byfuglien, Kris Versteeg, Patrick Sharp, Troy Brouwer and Andrew Ladd who could all put the puck in the net.
We'll see if Benning has any tricks up his sleeves to maneuver the tricky cap situation he finds himself in. Elias Petterson, Brock Boeser, Bo Horvat and Quinn Hughes may very well have to do the bulk of the work if the Canucks want to replicate last year's success. If they can't, things might have to get worse before they get better in Vancouver.
---
---
Howdy, I'm Aidan and I cover the Washington Capitals here at The Hockey Writers. I recently received my bachelor's degree in English with a minor in literature from Christopher Newport University, where I also played on the Division lll club hockey team. I can't get enough puck, whether it be writing about it, watching games, competing in men's league or playing NHL 21. I'm always down for some hockey talk, so feel free to leave comments and feedback on my work!