After three and a half long months of uncertainty, the Vancouver Canucks look like they are finally about to play their 51st season in the NHL. The target has been set for Jan 13, which is a little over a month away. Predictions have already begun in earnest as everyone starts to speculate on how different players will perform in this new COVID-19 world of hockey.
Related: Canucks Have A lot of Unanswered Questions Going Into 2020-21
In a recent episode of Over/Under, Sportsnet's Dan Murphy and Satiar Shah got into the preseason action by debating how many goals Brock Boeser would have by the end of the NHL's 56-game 2020-21 season. Check it out:
Throughout the course of his career, Boeser has scored an average of .38 goals-per-game, which translates to 21 goals over a 56-game season. Murphy and Shah used this statistic as the middle ground for their over/under predictions.
Murphy took the under, speculating that Boeser could be playing more of a defensive role this season on a line with Bo Horvat and Tanner Pearson instead of a trigger man on the Lotto Line with Elias Pettersson and JT Miller. He thought that if he was used in this way for most of the season, he would see fewer offensive opportunities than he's used to.
Shah, on the other hand, took the over, stating that the more defensively oriented Loui Eriksson could be taking the role of match-up forward instead. He also mentioned Boeser's improved game and the fact that he would be returning to his normal spot on the power play as additional reasons for his prediction.
Lotto Line Needs To Stay Together
In the end, Boeser is a goal scorer, plain and simple. For the Canucks to be successful in the regular season and more importantly, in the playoffs, Travis Green has to put him in a position to succeed, and that place is not with Horvat and Pearson, but rather with Pettersson and Miller on the Lotto Line. He will ultimately score way more with them than anyone else.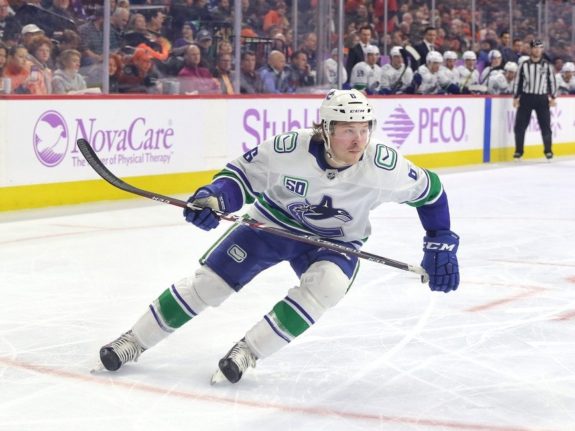 In order to utilize all of Boeser's talents, he needs to play on the top line and not in a match-up role. If the Lotto Line is kept together for most of the season and remains a set unit on the power play, I really see him tickling the twine more than 21 times. But if Green goes against logic and keeps that trio apart, we may see him struggle mightily to score goals. So, for the sake of the Canucks season, Shah and I better be right in our predictions.