It's no secret that the Vancouver Canucks are struggling to find their way in this shortened 56-game NHL season and the new Scotia North Division. So far they have a losing record against anyone not named the Ottawa Senators and when they aren't getting blown out, they are blowing leads in the third period. Captain Bo Horvat was particularly frustrated after the game on Tuesday, saying that they have to "mature as a group" in order to stop this trend in its tracks.
I'm getting sick and tired of having leads and giving them back and playing well in periods in the game and then not playing a full 60 minutes…Again, we did it tonight and it came back to bite us.
Coming into their second-straight game against the Edmonton Oilers on Thursday, the Canucks' record stands at a lowly 8-13-2, which is good for sixth in the division and only five points out of the basement.
Related: Canucks Weekly: Time to Lean on Demko
Luckily due to the weirdness of the North Division, the playoffs are not a pipe dream as they are also just four points behind the Montreal Canadiens for the final playoff spot. Unfortunately for them, they have played the most games out of anyone in the NHL and are currently five behind the Canadiens in that category. So glass half full, they still have a shot, but glass half empty, the draft lottery is starting to become a very real possibility for the umpteenth time in the last decade.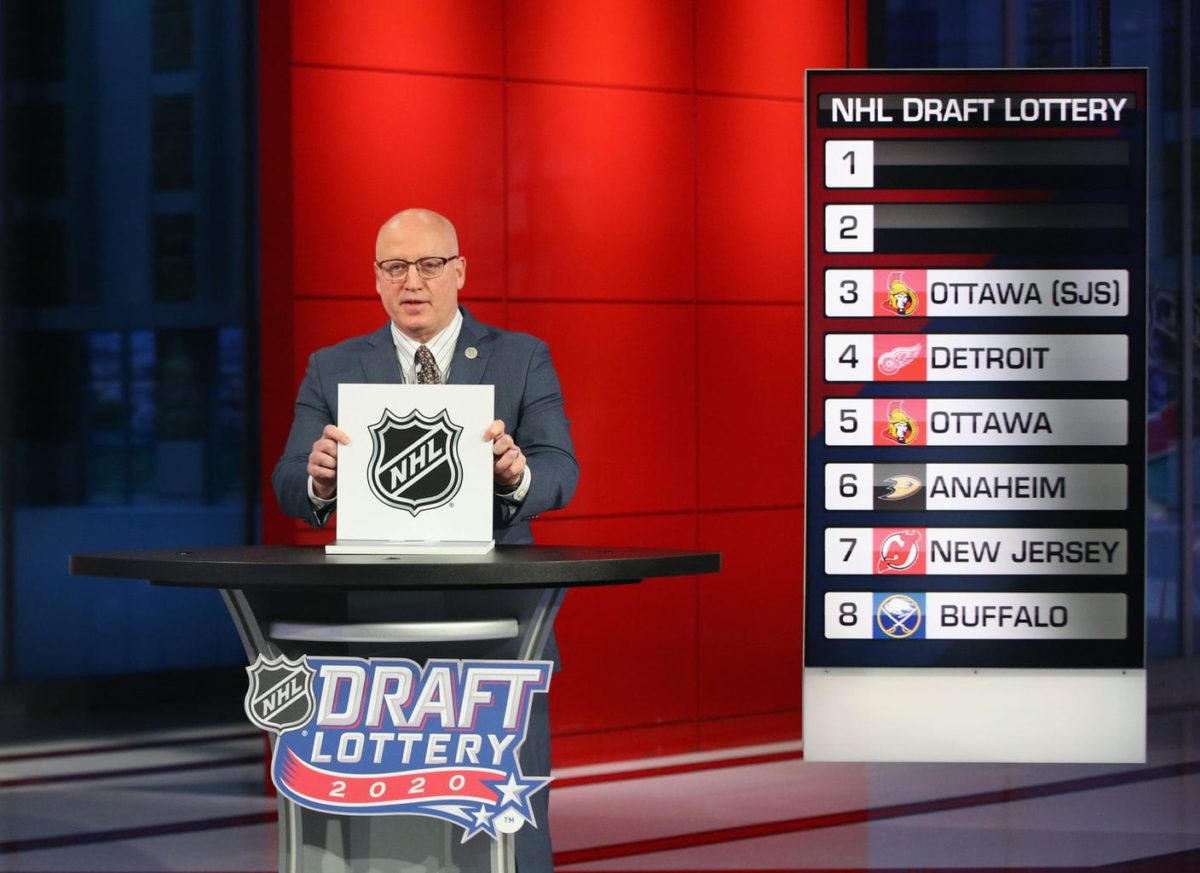 So in an effort to avoid that dreaded scenario and the questions that accompany it, head coach Travis Green threw his lines in a blender on Wednesday and came up with some new combinations for Thursday night's rematch with the Oilers. With any luck, they will hopefully generate some positive vibes and start a winning streak that propels the Canucks into the playoff race once again.
First Line – Hoglander, Pettersson, Boeser
The Lotto Line has broken up, for the time being at least. Despite having great games against the Oilers and Winnipeg Jets, the Canucks will be running with a new top line that features just one change, the pepper pot Nils Hoglander's takeover of J.T. Miller's spot on left-wing.
Pettersson and Boeser remain joined at the hip, and why not? They have played some of their best hockey in the past few weeks with the slick Swede posting four goals and ten points in the last ten games and the Burnsville native following suit with the same four goals and ten points in his last ten.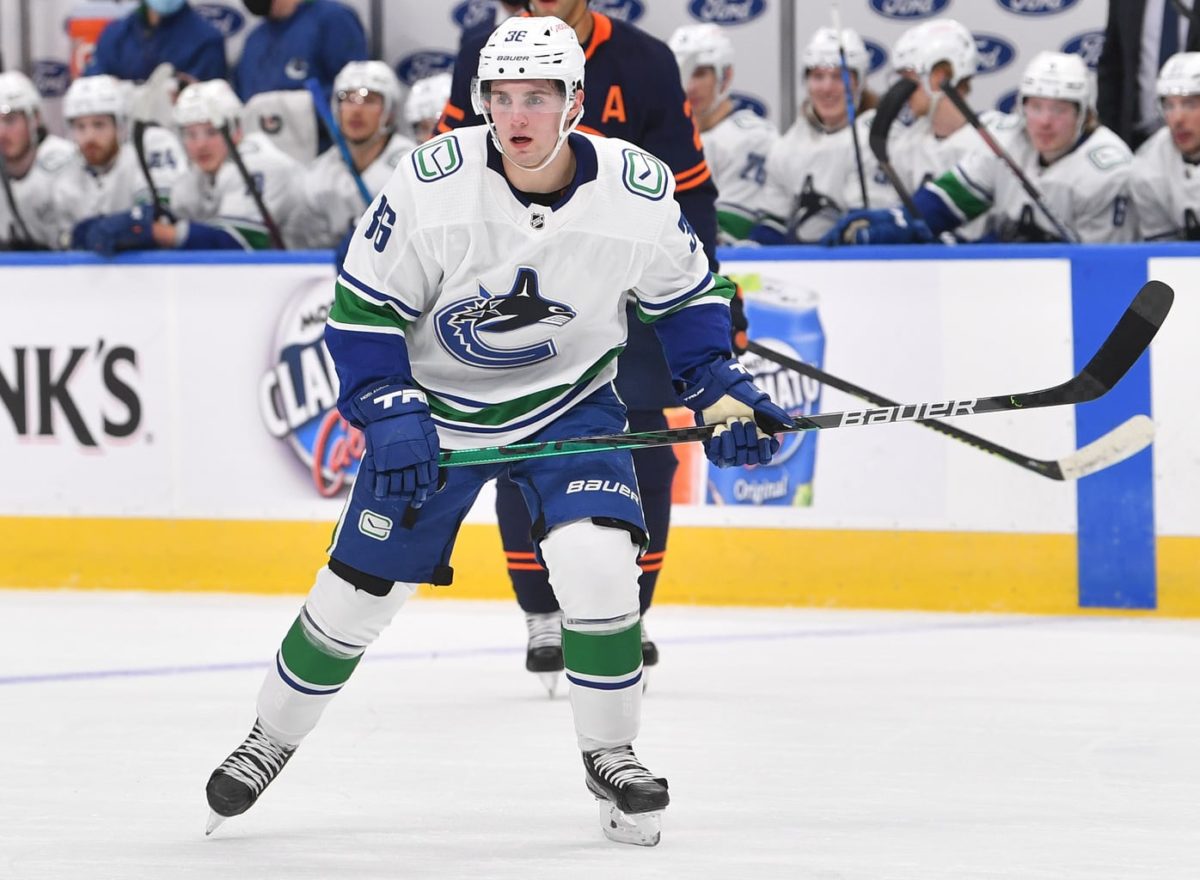 The workhorse from BockträSk, Sweden joins the dynamic duo from the second line, not for his production, but for how he plays the game. Ever since the beginning of the season, he's been the Canucks' most consistent player from a work ethic standpoint and has quickly become a fan favourite because of it. His gas tank is seemingly never empty, as his trademark, relentless forechecking has frustrated opponents in every game he has played. If not for some missed shots and overall bad luck around the net, his point totals would be firmly in Calder Trophy territory, instead of just on the outskirts.
Related: Canucks Rookie Spotlight: Hoglander, Juolevi & Chatfield
This new top line has the potential to be something great, as it combines speed, creativity, and work ethic. Not to mention it now has a very underrated playmaker on the left-wing in Hoglander. Nothing against Tanner Pearson and Bo Horvat, but they are not one-shot goal scorers like Pettersson and Boeser. I can't tell you how many times Hoglander has made a perfect pass to one of them, only to see it go into the breadbasket of the goaltender. Maybe playing with two of the best goal scorers the Canucks have to offer will allow his playmaking to shine more often.
Second Line – Pearson, Horvat, Virtanen
Amid rampant trade speculation, Jake Virtanen is getting another chance to showcase his talents in the top-six. So far this season, that tree has yet to bear any fruit, as the Vancouver native has struggled to gain any traction, whether it be at the top of the lineup or in the bottom-six. In the past, he has looked better playing with skilled players, but mostly when paired with Pettersson and Miller, not Horvat and Pearson.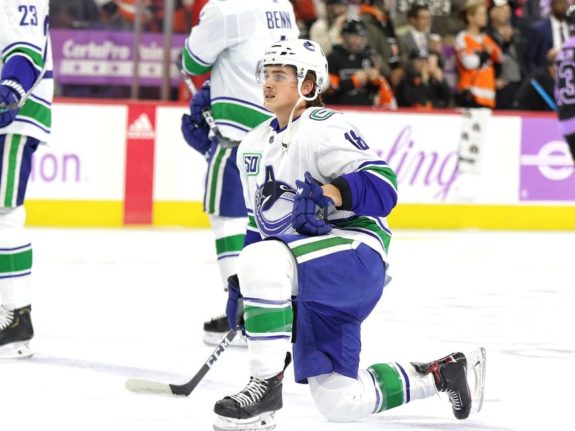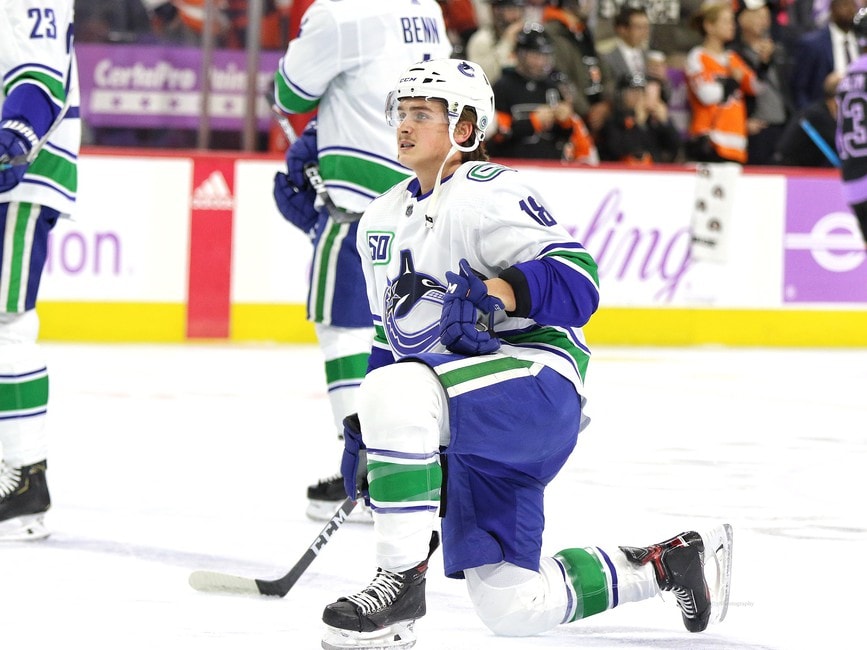 According to the advanced stats from the folks at Natural Stat Trick, Virtanen has played a grand total of 134:45 with Horvat and Pearson since the beginning of the 2018-19 season. In that time, the trio has posted a goal differential of minus-2 and a Corsi-for percentage (CF%) of 48.13. They have also only generated 77 shots on goal. So, if you're expecting a lot of offence out of this new/old second line, I have oceanfront property in Arizona to show you.
Third Line – Miller, Sutter, Gaudette
For the first time since coming over from the Tampa Bay Lightning, Miller will be playing on the third line with Brandon Sutter and Adam Gaudette. To put more of an exclamation point on that fact, in the 89 games he has been with the team, he has only played 237:46 away from Pettersson and Boeser. In total, he has seen 603:40 of ice time with the duo, which translates to approximately ten hours with and only four hours apart. Needless to say, he has rarely been away from his home on the top line with two of the Canucks' best players.
Related: Canucks Should Target These Predators for Gaudette
Despite having 19 points in 20 games, Miller has looked visibly frustrated on most of his shifts and as a result, has strayed away from his usual dominant two-way game. Too often this season we have seen him turn over the puck in dangerous areas and display a blatant lack of work ethic in coming back on pucks. In fact, goaltender Braden Holtby even gave him the death stare at one point when he made one of those egregious errors.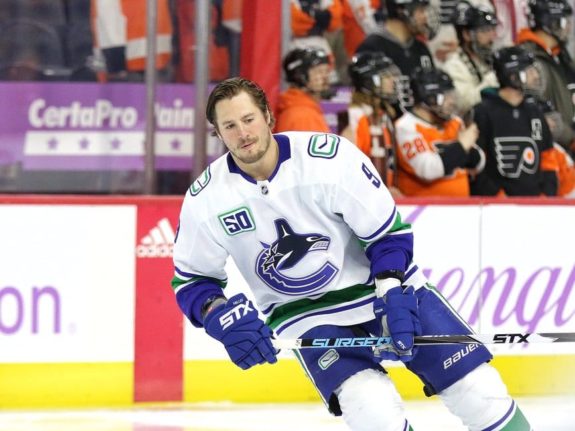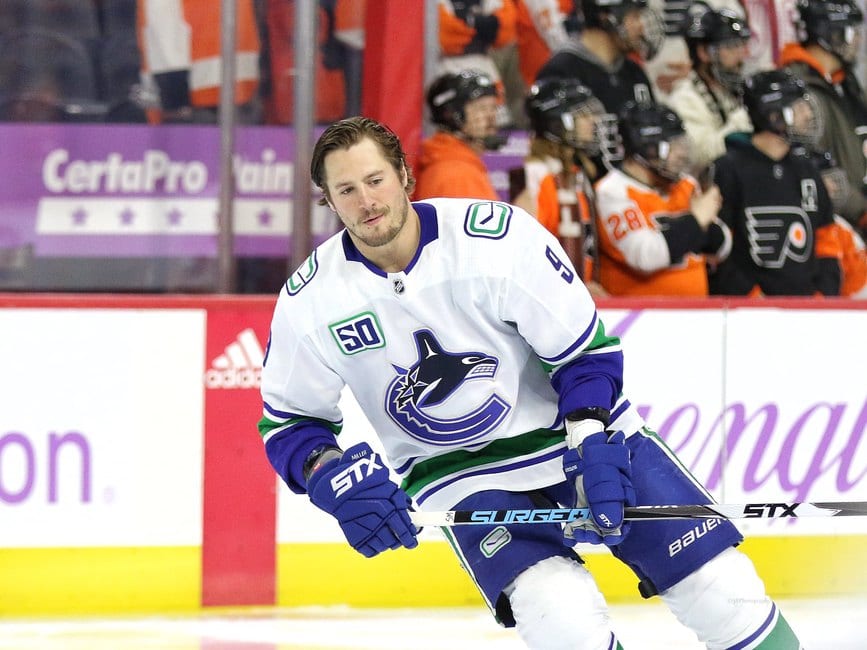 Playing on a line with Sutter and Gaudette should humble him and get him playing a more balanced two-way game. Sutter has seen a bit of a resurgence this season with six goals in 23 games and his best CF% in four campaigns. As of this writing, he is clocking in with a 49 CF%, which is his best mark since the 2015-16 season when he finished with a 50.5 CF%. He has also stayed healthy (knock on wood), which has been a struggle for him in recent years.
As for Gaudette, maybe playing with an upper-echelon player in Miller will afford him some luck around the net. Of all the Canucks this season (apart from Pettersson with his nine posts), he has probably seen the most chances without goals to show for it. After finishing with a career-high 12 goals and 33 points last season, he has only two goals so far, but a staggering 44 scoring chances for (iSCF) which is only one back of Hoglander's 45 iSCF. Hopefully, some extra skill on his line will allow him to finally execute on some of those.
Fourth Line – Roussel/Hawryluk, Beagle, MacEwen
The fourth line was the only trio that stayed intact, except for the addition of Jayce Hawryluk to the mix. He was seen taking rotations with Antoine Roussel, so I wouldn't be surprised to see him come in for Roussel on Thursday.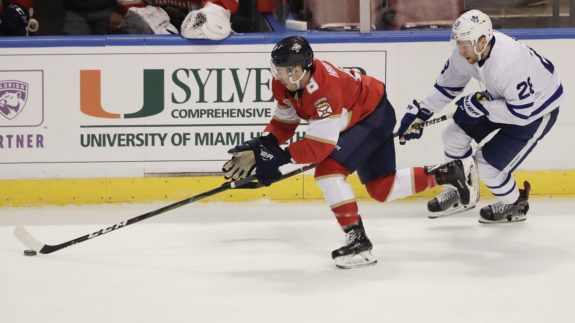 After Zack MacEwen's bout with Zack Forbort, he should never be out of the Canucks' lineup again. His physicality is woefully missed when he is sitting in the press box, and if Hawryluk is ready to go, this fourth line could be one of the best they have had in years. As long as the buzz-saw that is Tyler Motte is injured, it should stay intact for the foreseeable future.
Canucks Defence Pairings Also in the Blender
The forward lines weren't the only things in the blender as Green also threw together some new defence pairings at Wednesday's practice. Quinn Hughes was reunited with the recently recovered Travis Hamonic, Tyler Myers was with Jordie Benn and Olli Juolevi was out of the regular rotation skating with Jalen Chatfield. The only pairing that remained constant was the shutdown duo of Nate Schmidt and Alex Edler who boast a very impressive 55.24 CF% so far this season.
If Hamonic is indeed healthy and ready to return to the lineup, I hope that Green does not scratch Juolevi in favour of him. Over the past few games he and Myers have formed a tremendous third pairing, and I would hate to see his development paused just because a veteran is returning from injury. Even though he is still a rookie, he has turned into a very capable NHL defenceman that is only getting better with every game he plays.
Olli is getting a lot better at using his voice and I think it's helping our breakouts a lot more…He's playing well for not having a lot of games under his belt and I think he just keeps improving each and every game.

Tyler Myers on Olli Juolevi's development so far this season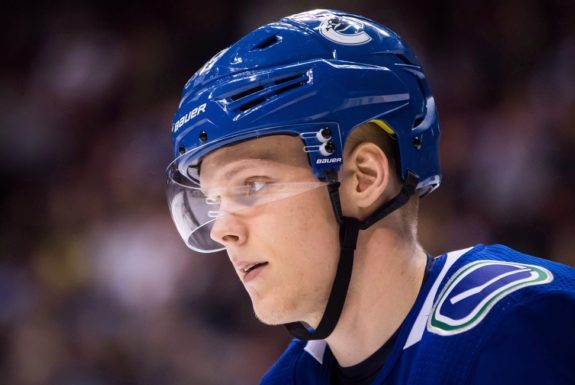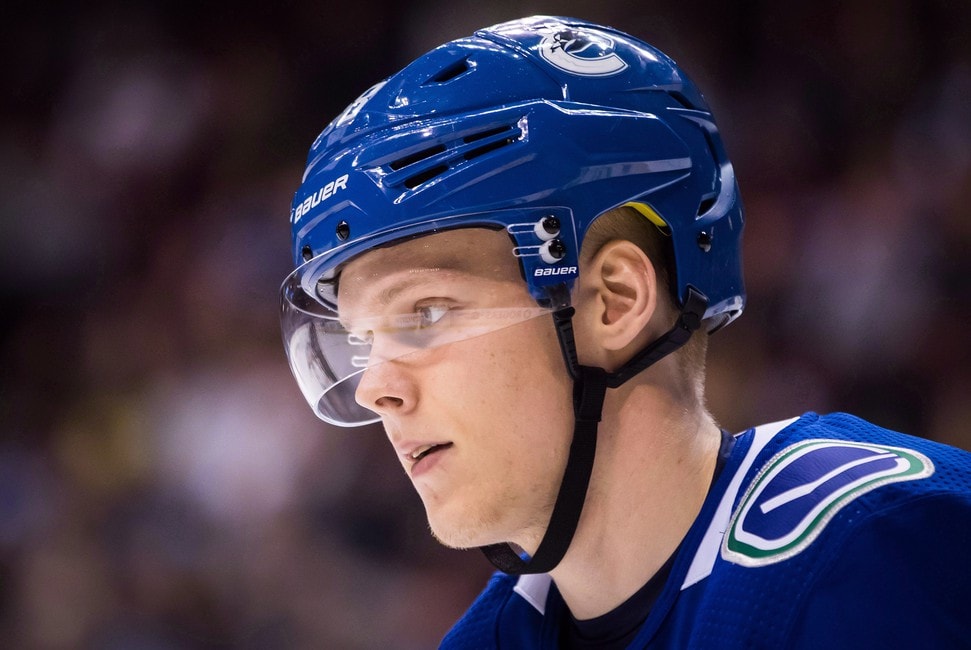 If anything, Benn should be scratched since he would be returning to the left side where he has struggled in the past. As a pairing last season, he and Myers posted a mediocre 41.06 CF% and had a goal differential of minus-2. Considering that Myers and Juolevi have posted a more impressive 49.82 CF% and a goal differential of plus-2, I think it's obvious who should stay as a pairing at this point.
---
The Canucks will debut these new lines and defence pairings against the Oilers on Thursday in the final game of their Reverse Retro homestand. The fresh green and blue jerseys have not been kind to them so far as they have an 0-2-1 record while wearing them. The puck drops at 7 pm PT on Sportsnet Pacific.
All advanced stats were taken from Natural Stat Trick and Hockey Reference
---
---