The Vancouver Canucks made it their goal in the offseason to add some grit and some veterans to their roster. They did that by signing Jay Beagle, Tim Schaller and Antoine Roussel, who is going to be a fan favourite in Vancouver. Until last season with the Dallas Stars, Roussel had been a consistent 25-30-point player, but his true value is his physicality, which the Canucks desperately need. They've got him inked for four seasons, so they're hoping he can be a major piece of their development moving forward.
Roussel and the Stars
The Roubaix, France product broke into the NHL with the Stars in the shortened 2012-13 season, putting up a decent seven goals and seven helpers in 39 contests while racking up 85 penalty minutes. It was the next season that he found his role with 14 goals and 15 assists in 81 games, but most noticeably, his PIMs jumped to 209.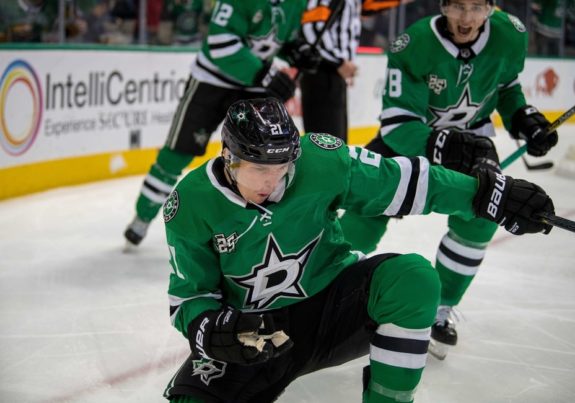 Ranking high in PIM while maintaining the trust of your coach can be an interesting juggling act, but Roussel seems to thrive in that grey area between chippy and cheap. The Stars loved what he brought to the table.
Ex-coach Ken Hitchcock told Mike Heika of DallasNews his thoughts on Roussel: "He has way more than just energy, he has good play. He's strong on the puck. He's a really good penalty-killer. He's really good [at] positional play. He's got energy at the puck, but he's not a reckless player." (from 'Stars' penalty kill back on point with Antoine Roussel's return from illness', DallasNews – 12/09/17)
Following his rookie season, Roussel averaged almost nine (8.8) fights per season, not including preseason or postseason tilts. He's one of the few players that can fight and also stay relevant in the developing and increasingly fast NHL. Scoring 10-15 goals and adding five fights per season is exactly what the Stars needs.
Roussel and the Canucks
After missing the preseason and the first four games of the season with a concussion, the 28-year-old finally made his Canucks debut against the Florida Panthers. He potted his first goal in a 'Nucks jersey in his first game and it was a penalty shot. He also recorded four PIMs.
"Antoine is a competitor with a skill set that benefits our team," Jim Benning told NHL.com. "He's a physical player, hard to play against with the ability to contribute offensively. We're pleased to welcome Antoine as a member of the Vancouver Canucks."
He looked a little rusty, understandably, but you could see what he's going to bring to the table. One knock against him was the fact that he didn't do anything about the Elias Pettersson and Michael Matheson incident, but to be fair, he is returning from a concussion, so we'll let that one slide.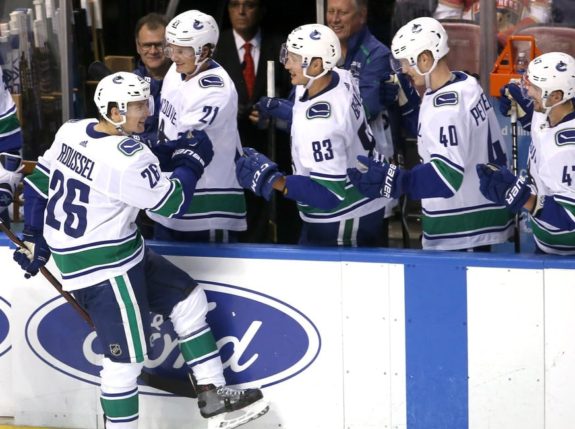 Once he gets his legs under him, he's going to bring a lot of excitement to Rogers Arena. One can only hope that the concussion he suffered won't hold him back from playing with an edge.
We've had minimal opportunities to watch Roussel, but there's no doubt that if he brings to the Canucks the same game he played in Dallas, he will quickly become a fan favourite. The Canucks haven't had a true scrapper since Rick Rypien laced up for the team. Until his tragic passing, the 'The Ripper' was loved in Vancouver.
Canucks & Roussel 2018-19
Roussel's versatility enables him to be played in various positions. He can keep up and compete alongside top-six players and also bang bodies down in the bottom-six in a checking role. In order to get what they need, the Canucks should roll Roussel in the bottom-six, on the third line with Brandon Sutter, which would turn that third line into a quick and smothering checking line that can also contribute offensively.
He played just under nine minutes in his Canucks debut and that number will increase once he gets back in the NHL groove; he can expect to see upwards of 15 minutes per game, including penalty-kill time. Ideally, Roussel will contribute 25-35 points per season, drop the gloves around five times and play a suffocating penalty kill and checking role alongside Sutter, Beagle and Schaller.
What do you think of Roussel? Are you excited he is with the Canucks? Let me know in the comments.