After another long offseason, fans can look forward to hockey once again as prospect tournaments, training camps and preseason games get underway this month. In fact, a lot of those tournaments begin in just a few days with the first match of the Young Stars set for Sept. 15 in Penticton. So, in the spirit of hockey returning to our televisions and computer screens, the first edition of the Vancouver Canucks' 3 Up, 3 Down is fired up and ready to go. Let's dive in!
Plus One: Quinn Hughes Named 15th Captain of the Canucks
It was announced early on Monday morning that the newest captain of the Canucks would be the dynamic Quinn Hughes. It was widely assumed that Elias Pettersson would get the honour after Bo Horvat was traded to the New York Islanders, but after a strong finish to the 2023-24 season leadership-wise and getting a positive endorsement from new head coach Rick Tocchet, the pendulum swung in Hughes' favour. Pettersson will likely retain his "A" as an alternate captain, but it will be the Mighty Quinn donning the "C" as the 15th captain of the Canucks.
"It means a great deal to me to be named captain of the Canucks," Hughes said with immense pride. "When I came here 5 years ago, I knew what I was walking into having grown up in Toronto; just a crazy hockey market and a passionate fan base. It has been a pleasure and treat to play for this franchise and to be the captain is something that is incredibly special and something that I couldn't ever imagine would happen."
Since Hughes was drafted seventh overall by the Canucks in 2018, he has quickly emerged as one of the best blueliners in the NHL. Similar to Pettersson, he burst onto the scene during his rookie season scoring eight goals and 53 points in the regular season and 16 points in 17 games in the playoffs. Since then, the former Michigan Wolverines star has recorded 185 points in 210 games, including a career-high 76 points last season – finishing just behind Erik Karlsson in defence scoring.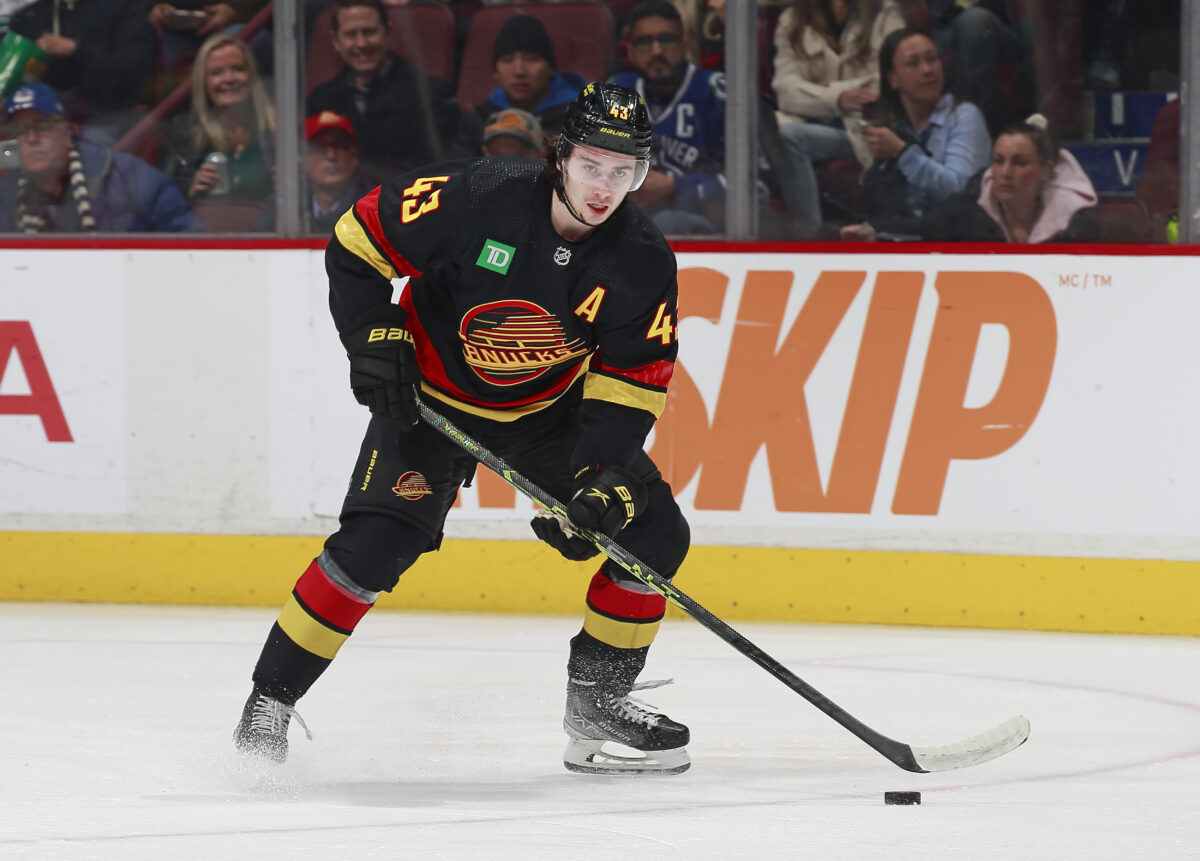 At only 23 years old, Hughes has established himself as a leader in the dressing room and someone who isn't afraid to speak up even when it's uncomfortable to do so.
Quinn is such a competitor, workhorse and off-season rink rat," said Canucks head coach Rick Tocchet. "There are lots of ways to lead, and Quinn does it by example and by always giving his teammates, coaches and organization the utmost respect. When he does address the locker room it is very powerful and his growth and maturation in just the short time I have been here is very impressive. Quinn isn't afraid to get uncomfortable and voice his thoughts during both good and bad times which says a lot about his character and desire to win."
All in all, Hughes was definitely the right choice to lead the Canucks into the next era. Hopefully, he's the first captain to raise the Stanley Cup over his head.
Minus One: Pettersson Extension Not Happening This Season
Unfortunately, Pettersson will not be signing a long-term extension before the season starts on Oct. 11. He announced during an interview with Elliotte Friedman that he wants to focus on the season at hand and not worry about contract details until next offseason. While that's not something fans wanted to hear, it's definitely understandable considering the uncertain state of the Canucks right now. They haven't made the playoffs since the bubble in 2020 and Pettersson wants to be sure that they are on the right path to becoming a contender before committing long-term with the club.
Related: 3 Reasons the Canucks Will Make the Playoffs in 2023-24
---
Latest News & Highlight
---
The Canucks have a team that can compete, now they just need to get off to a good start and maintain it throughout the season. Pettersson will be a big part of that as he will be expected to repeat his 100-point season from 2022-23 and continue to lead the offence while new captain Hughes leads the defence. I for one am not concerned about him waiting until next offseason to talk about his next contract. He wants to have zero distractions and questions from the media about his future in Vancouver. Expect him to sign a long-term deal shortly after the season ends.
Plus Two: Lekkerimaki Dominant in SHL Preseason
The Canucks are starting to slowly build up their prospect pool and they now have two blue-chip Swedes in their pipeline in Jonathan Lekkerimaki and Tom Willander. The former has had a tough road since his draft year battling mono, a concussion and a broken foot. Last season, he only recorded three goals and nine points in 29 games in the HockeyAllsvenskan but returned for the playoffs where he was a point-per-game player with 15 points in 15 games. Clearly, a healthy Lekkerimaki is worthy of his 15th overall status.
Now fully recovered from his ailments and on an Orebro HK team in the Swedish Hockey League (SHL), Lekkerimaki appears to be ready to take the league by storm. While it's only the preseason, he recently scored his fourth goal with a confident-looking wrist shot and looks well on his way to making fans forget about the draft-plus-one season he had in 2022-23. Keep an eye on the Canucks Prospects Report as I will be tracking his (and Elias Pettersson – aka D-Petey) progress closely throughout the season; starting with Orebro's first game on Sept. 13 versus Leksands.
Minus Two: Pearson Return Could Lead To Myers Trade
While it's great that Tanner Pearson is recovered from his hand injury, his impending return is going to put the Canucks in a bit of a bind (from 'Canucks: Tanner Pearson appears recovered from hand injury', The Province, 9/6/23). As of this writing, they are $4,984,167 above the cap with only Tucker Poolman's $2.5 million eligible to be put on long-term injured reserve (LTIR). With Pearson's $3.25 million added to that, they would have been under the cap to start the season. But as of now, that doesn't look like it's going to happen, which means the trade market is likely the next route for general manager Patrik Allvin.
Tyler Myers appears to be the most likely candidate to be traded as his $5 million bonus has now been paid. Due to that, his actual salary is a very team-friendly $1 million – even though his cap hit is still $6 million. With teams needing to hit the floor before the season starts, he has become a very palatable trade target.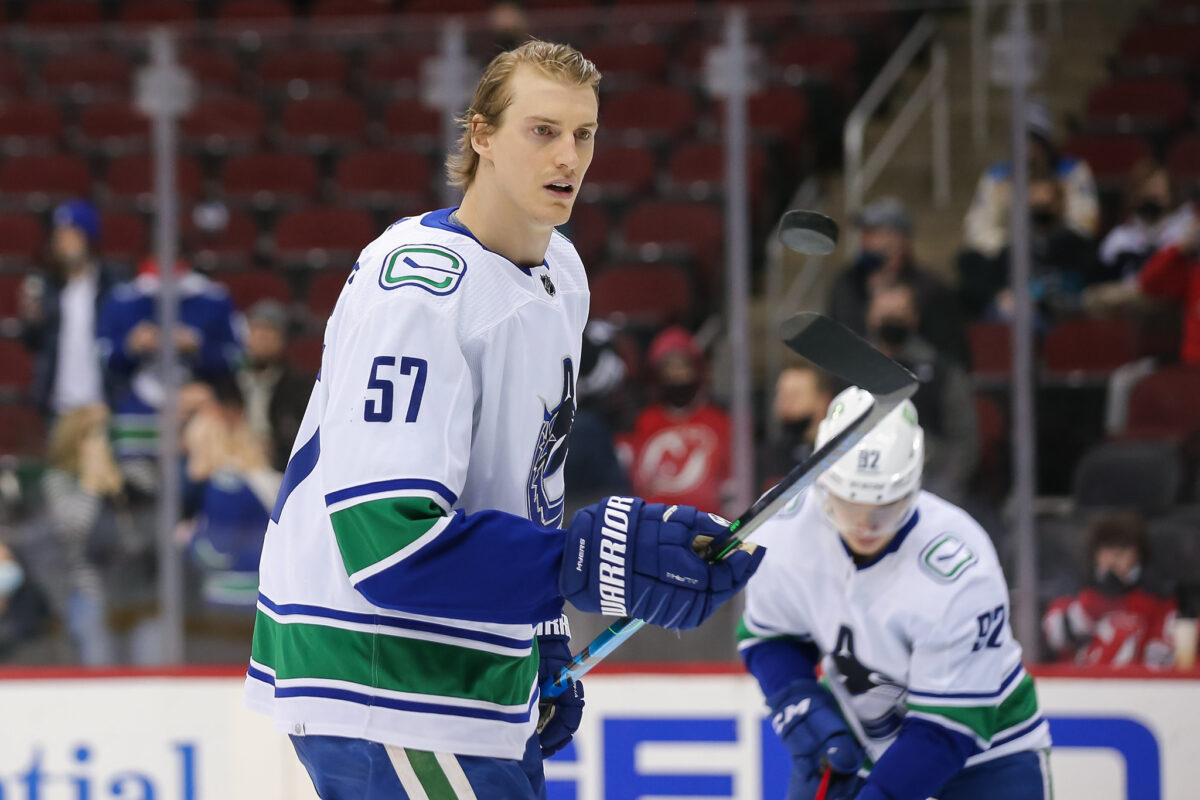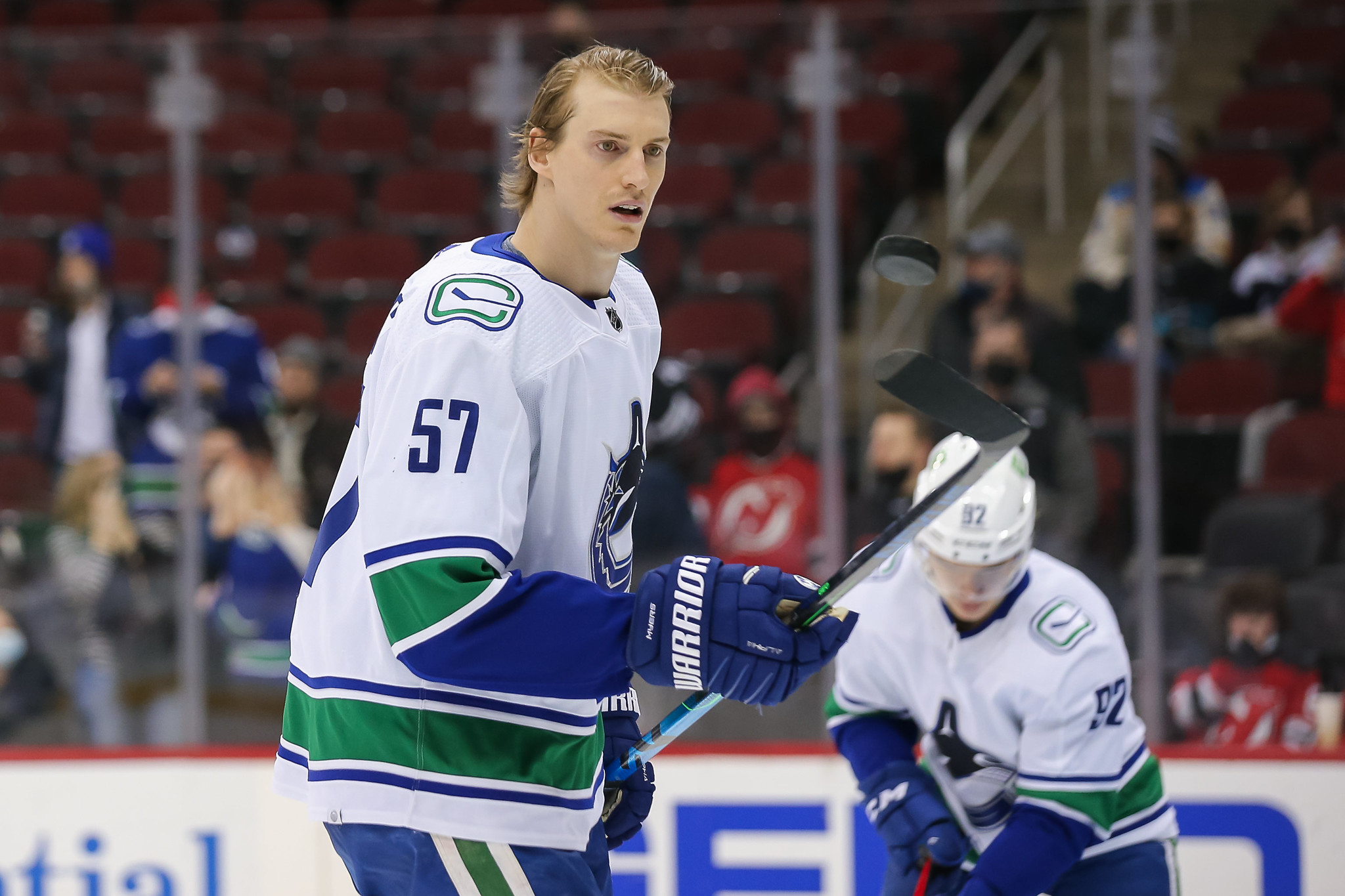 Now, I know what some fans are thinking, "Why is trading Myers a minus?" Well, despite his flaws and questionable defensive game, I still believe he's a key part of the Canucks' defence going into the season. In a reduced role against lesser competition, he is a very effective defender. It's when he's forced into a top-four role that his warts show more often. I think he is going to thrive on a third pairing with Akito Hirose or Matt Irwin.
Plus Three: ESPN Projects Pettersson To Finish 3rd in the League in Points
ESPN doesn't believe Pettersson will have a drop-off from his 102-point season. In fact, they think he will increase his previous career-high to 116 points, which includes 45 goals and 71 assists. More importantly, he is projected to finish third in the league in scoring behind Edmonton Oilers stars Connor McDavid and Leon Draisaitl. It's definitely conceivable that he can reach that mark, especially if he can continue his chemistry with Andrei Kuzmenko on the top line (for reference, ESPN projects him to hit 75 points, but only 33 goals).
Minus Three: THW Projects Canucks to Miss the Playoffs
From a good projection to a not-so-good one, my colleagues here at The Hockey Writers collectively don't believe the Canucks will make the playoffs this season. In THW's annual predictions for the upcoming campaign, they predicted a sixth-place finish in the Pacific Division, just ahead of the Anaheim Ducks and San Jose Sharks. Basically, the same as last season.

I am going to go against my fellow writers and say the Canucks will finish ahead of the Calgary Flames and the Los Angeles Kings and finish fourth in the division. What that probably means is a wildcard spot and a date with either the Vegas Golden Knights/Oilers or Colorado Avalanche/Dallas Stars in the playoffs. With the added depth in the bottom-six, bolstered defence corps, and a full season of a rejuvenated Thatcher Demko, Canucks Nation should see a return of the white towels to Rogers Arena this April.
That does it for the first Canucks' 3 Up, 3 Down of the 2023-24 season. Look for this column every Monday throughout the season. Next up, Young Stars in Penticton on Friday (Sept. 15)!