Before this evening's contest against the Columbus Blue Jackets, I was going to prepare a scathing article about how poorly the Vancouver Canucks have been playing during the mid-point of this short 2013 season. Rather than go through and dissect all the number-crunching details, the fact is that the Canucks still need a massive shake-up of some kind.
No Kesler = no grit
No stable centremen = crisis in the middle
No Bieksa = trouble at the back
And poor goaltending = open the floodgates
But much to my surprise, the Canucks won. It wasn't pretty, but it was a win against Columbus nonetheless. The win was ugly because this was a team the Canucks should beat over-and-over. However, the Blue Jackets have shown their consistent scoring and strong goaltending prowess, having won their last five games (including a 2-1 OT win against Vancouver just on March 7.) Sergei Bobrovsky, a literal steal from the Philadelphia Flyers, stood on his head for most of those victories. He could easily beat Cory Schneider or Roberto Luongo as the most deserving goalie to win. So really, this was a game the Canucks should have lost based on Columbus' impressive winning streak as of late.
Mason Raymond ended the game with a gracious & wicked spin-o-rama to beat Bobrovsky and seal the victory. Despite the ugly win, this ended quite elegantly.
Here are highlights from Columbus:
So What Now?
You really have to thank the stars for screwing this up. Another loss and there would be a call for heads to roll. But who should we blame? Whose head should the frustrating Canuck fanbase be asking for in this very inconsistent season so far? Lou's? Cory's? The twins? Coach AV? The GM? The injury ninja?
How long can one stay frustrated with the Canucks' inconsistency? Should they take this win as counting their lucky stars? A 2-1 victory is a very nail-biting game to be sitting through, especially when there were a few times the Canucks almost blew the game with bad giveaways, terrible penalties and poor special teams. Okay, so they've won. Are we supposed to be satisfied?
I am just as dumbfounded now as the time I last wrote about my concerns for the Canucks. At the start of March, I made four points of contention and I would still reiterate those same needs except maybe changing one thing: Sacrificing the Lamb. Two months ago, Luongo would have made a great trade asset for a team that needed a solid & experienced goalie that might get them far in the post season. This was what was expected for Schneider when he took over the rains as the number one goalie in 2013. Sadly, he hasn't lived up to those expectations so far.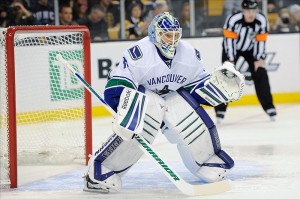 Should they trade Cory Schneider instead?
Time has certainly run out on the Canucks because of their in-actions with the goaltending situation. In order to deal with the team's shortcomings on special teams, centre, defence and well really with everything, perhaps it's time to look at Schneider's stock in the trade circles. Certainly, he could provide better value than Luongo because that team wouldn't have to worry about assuming a lengthy and expensive contract such as Lou's. And despite what's been happening to Schneider in net this season, he still has value for any team desperate for solid goaltending, rather than just a select few in which Lou might agree to (waiving his no-trade clause). As it stands right now, a Schneider trade would be more favourable than a Luongo trade from the Canucks standpoint – but only if they pull the trigger.
Ask me again in two weeks
If you ask me how the Canucks will fare during the next two weeks leading up to the trade deadline, I can tell you with a high degree of certainty that I am uncertain. Just like a global stock market, the Canucks are certainly riding on a vicious roller coaster, which doesn't appear to be ending anytime soon unless something good comes their way before the end of the shortened season. One thing remains clear: the Canucks don't have the depth in their current roster to make it past the first round, if they even make it into the playoffs that is.