While they lost out on the potential acquisition of superstar forward Bo Horvat, there is another Vancouver Canucks forward that could benefit the Washington Capitals as they look to make a deep playoff run. This article will explore the benefits of acquiring rumored trade piece Brock Boeser. If the team is looking to add some depth scoring to their lineup, he would be one of the ideal candidates to bring in. As the deadline rapidly approaches, taking on a player with a hefty contract has its risks, but the benefits seem to outweigh the negatives.
Who Is Brock Boeser & How Does He Benefit The Capitals?
Boeser is a 25-year-old right-handed right winger from Burnsville, Minneapolis currently playing for the Canucks. He was a first-round selection in the 2015 NHL Entry Draft, taken 23rd overall by the Canucks. When he finally solidified himself as an NHL mainstay with his new team, he was able to establish himself with consistent 40-point seasons. His career high of 56 points came during the 2018-19 season when he scored 26 goals and added 30 assists in 69 games. Through 365 career games, he has 130 goals and 156 assists for 286 points.
Related: Washington Capitals' 2022-23 Trade Targets: Matt Dumba
---
Latest News & Highlights
---
In his draft year, he played in the United States Hockey League (USHL) with the Waterloo Black Hawks, where he scored 35 goals and added 33 assists for 68 points through 57 games. After being drafted, he played for two seasons in the NCAA with the University of North Dakota where through 74 games, he was able to score 43 goals and add 51 assists for 94 points, even being named the alternate captain during the 2016-17 season.
Boeser was granted the opportunity to play nine games with the Canucks during the 2016-17 season following the conclusion of his time with North Dakota. He scored four goals and added an assist, and was able to crack the NHL roster the following season. He quickly stood out as a player that was fearless regardless of his young age and was willing to go to the dirty areas to make plays for himself and his teammates.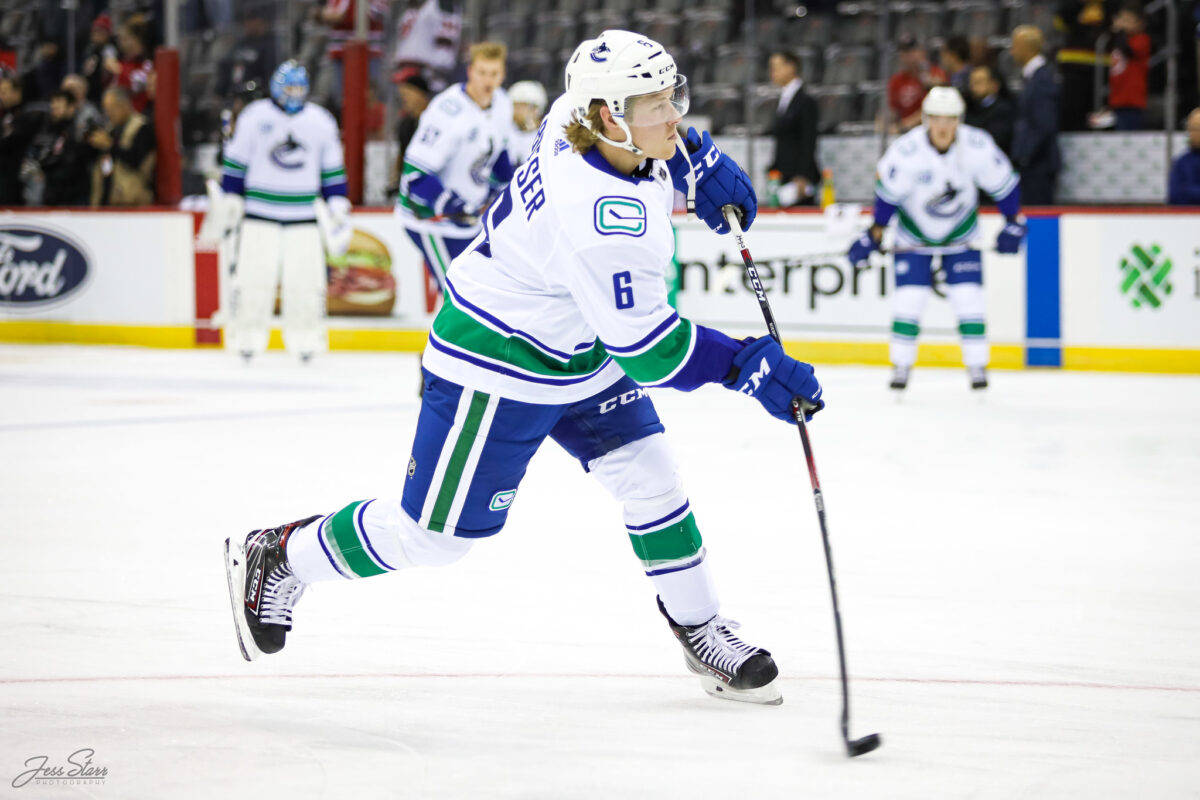 The Capitals could benefit from adding more scoring to their bottom six. Boeser has been in trade talks for weeks, and the team should be all over him. With nine goals and 21 assists for 30 points this season, he is sixth on the Canucks in scoring. He is also known for being able to play sound defensively, and is even deployed on the penalty kill every now and again.
What Would It Cost The Capitals?
There isn't expected to be a huge return in any trade for Boeser. The Capitals may be able to dump Lars Eller or Anthony Mantha, or both, in a deal with the Canucks. A trade like this would be yet another swap that sees assets changing teams in an attempt to give them all fresh starts.
The Canucks may be willing to retain salary in order to get a trade completed. The $6.65 million cap hit he holds is a little pricey going past this season, especially with the recent Dylan Strome extension, but it's something the Capitals should be willing to make work. Moving out a few players in an effort to keep Boeser around should be one of their main priorities going into the offseason if they end up pulling the trigger.
In the end, I think acquiring Boeser with salary retention in exchange for Mantha makes sense. The Canucks don't value Boeser as much as they should, and his scoring is something they'll miss. With that being said, the Caps need to take advantage before the Canucks realize they're making a mistake. He is an extremely skilled player that is being underutilized in Vancouver and will flourish in Washington.