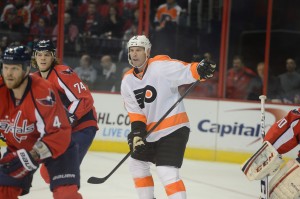 When the Washington Capitals welcome Sidney Crosby and the Pittsburgh Penguins to the Verizon Center at 12:30pm today, they will do so without veteran defensemen John Erskine. The 32 year old playing in his 7th season as a member of the Washington Capitals organization, was suspended for three regular season games as a result of an incident which occurred in Friday night's action against the Philadelphia Flyers.
Just moments before the 1st period came to an end, Erskine elbowed Flyers forward Wayne Simmonds in the head during a puck pursuit in the Flyers end. No penalty was called on the play. Simmonds was visibly upset on the Flyers bench while being treated for a bloody nose. The rugged right winger did not return to action.
"When I saw it live I didn't think it was bad," Flyers General Manager Paul Holmgren said. "Two guys colliding going for the puck. Then you see the replay. I don't know why his elbow came up, but it looked like it did. And I don't think John's that kind of player, I don't think he's a dirty player."
On Saturday, John Erskine had a phone hearing with the National Hockey League's Vice President of Hockey and Business Development and head disciplinarian, Brendan Shanahan. End result, a three game suspension which Erskine will forfeit $24,324.33 in salary.
Shanahan called the elbow to Simmonds head "reckless", but made mention of the fact that, John Erskine is not a repeat offender. After taking that into consideration, Erskine will begin serving his 1st of three games today.
According to Sam Carchidi of the Philadelphia Inquirer, Wayne Simmonds is officially out with a concussion.
It's disappointing," Flyers coach Peter Laviolette said before last night's action against the Carolina Hurricanes. "We certainly could use him in the lineup right now with his ability to score, and his physical presence."
As for the look of the blue line for today's game against the Penguins, defensemen Tom Poti is expected to re-join the lineup in place of the suspended Erskine.
Washington Capitals News and Notes
"Quote of the Day" from forward Jason Chimera on facing Sidney Crosby and the Pittsburgh Penguins, today.
"Pittsburgh, you can't help but get up for that game. It seems like the whole city gets excited when you play Pittsburgh. If you don't get up for these games there's something wrong."