For the first time since drafting Karl Alzner fifth overall in 2007, the Washington Capitals get to choose in the top-10. Their eighth overall pick in the 2023 NHL Draft gives them the luxury of being able to select from a range of quality players in a deep draft and will be a determining factor in the direction the team plans on taking in the future.
If the Capitals want to continue the trend of having European star players, as they have in the past with Alex Ovechkin, Nicklas Backstrom and Evgeny Kuznetsov, they are in luck this season. In this article, I will discuss the likeliest European draft selections the team could make with their coveted pick, in no particular order.
Rebuilding the Core With Dalibor
Dalibor Dvorský is one of the many gifted forwards this draft has to offer. The Slovak centerman is known for his vision, playmaking, and ability to attack with the puck. This season, he played for AIK of the HockeyAllsvenskan, the second-tier hockey league in Sweden, and split his time between its big club and its junior team. His positioning in the draft has varied throughout the season with scouts ranking him anywhere between seventh and 15th overall.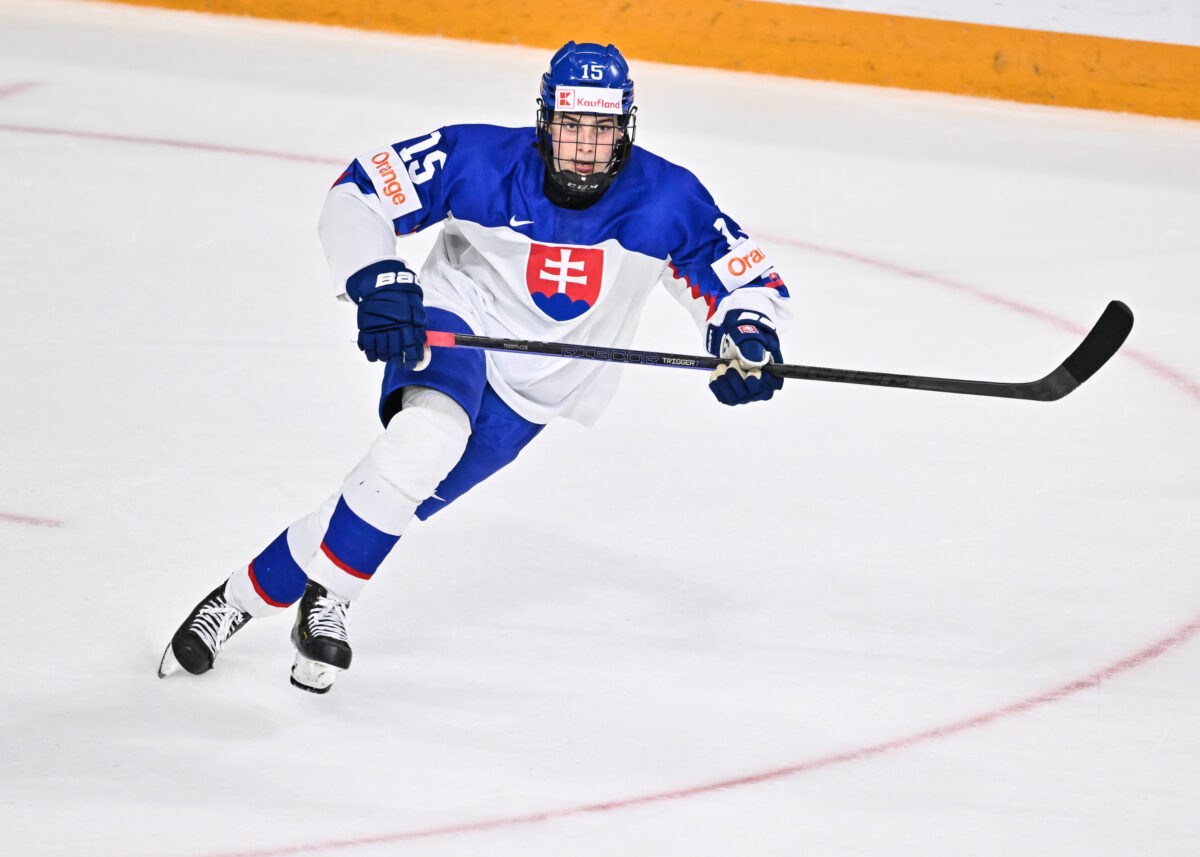 Drafting the 6-foot-1 forward would be beneficial for the Capitals if they want to start thinking about getting elite forwards to replace an aging core. With Ovechkin, Backstrom and Kuznetsov either nearing the end of their careers or being involved in trade talks, the team might need to start thinking about rebuilding, or at least retooling for the future and Dvorský could be a starting point. In addition, the fact he already has experience playing in top leagues against mature players could be an asset. The counter-argument when it comes to drafting him would be that many non-European forwards are projected to be better picks. Most importantly, however, some scouts have been questioning his skating ability, which more than ever is an important asset in this era of hockey. This pick ultimately comes down to the Capitals' needs and which forwards are still available by the time the eighth-overall pick comes around.
The High Rising David Reinbacher 
In a previous article, I discussed why Reinbacher would be a solid pick for the Capitals in this draft. The Austrian defenseman's stock has been rising since the beginning of the year, with some scouts even speculating that he could be selected fourth or fifth overall. He is known for his stellar defensive positioning, rarely making mistakes in his own end. While his offensive abilities aren't as potent, he is projected to be a top-pairing defenseman capable of logging big minutes and playing in key situations for his team.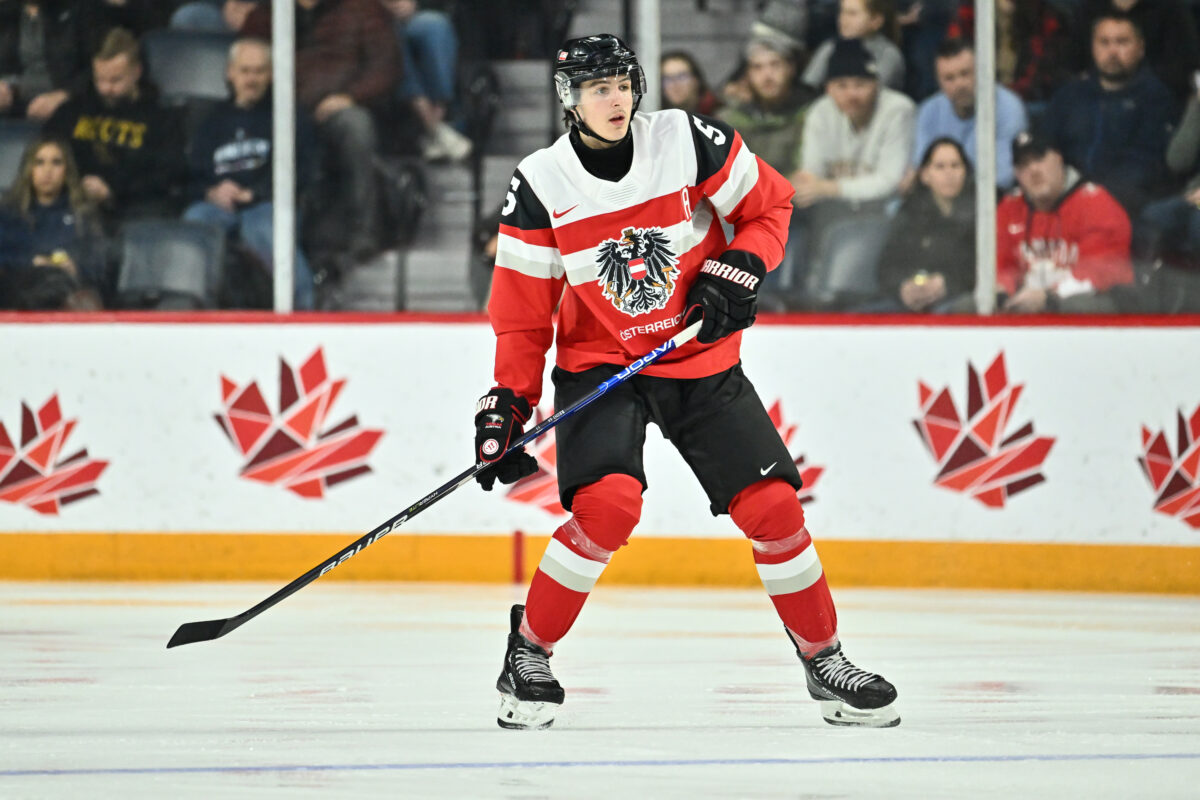 Drafting the 6-foot-2 defenseman would be beneficial for the Capitals if they want to replenish their prospects on the backend and if they want a player who will be close to being NHL-ready, if he isn't already. The Capitals haven't drafted a defenseman in the first round since selecting Alexander Alexeyev in 2018. Since then, all of their first-round picks in Ivan Miroshnichenko, Hendrix Lapierre and Connor McMichael have all been forwards. Quality defensemen are hard to come by, so maybe it's time to get a defenseman. The counter-argument when it comes to drafting Reinbacher would be that this year is filled with talented forwards, and while he is skillful, he may not be the best player available at the time. This pick ultimately comes down to whether or not Capitals management sees a need for defense, and if they want to pick the best player available based on their positional needs.
The Wildcard Matvei Michkov
Matvei Michkov is the best definition of a high-risk, high-reward pick in this draft. The Russian winger is regarded by most scouts as the second most skillful player in the draft behind consensus first-overall pick Connor Bedard. But whichever team selects Michkov will have to consider the different factors bringing him down in the rankings.
Related: 2023 NHL Draft Guide
In regards to skill, general managers know he can perform in big moments in the NHL albeit being limited in his playing time given the Russian and Belarussian bans from international hockey tournaments. But even before that time, he had proved himself. So in this regard, drafting Michkov would be a dream come true for the Capitals. He's as much of an offensive threat as you can get. He's quick, he's got good hands, he knows what to do with the puck and he has a fantastic shot. If the Caps were to get him, he would be a great mentee for Ovechkin 一 if it gets to that point.
---
Latest News & Highlights
---
When it comes to drafting Michkov, there are many uncertainties. Yes, that is a very cliché statement given it's the same for all prospects, but for him it's different. First, he has a contract in the Kontinental Hockey League (KHL), Russia's top league, until the end of the 2025-26 season. It's true that he would make an immediate impact at a cheap price if he joins the Capitals, but it's doubtful that he may even come to North America even after the contract ends, whether it be because he doesn't want to or for reasons beyond his control. In the end, this pick is a huge risk. You could either get a generational talent and the best Russian prospect since Ovechkin, or you could waste a coveted pick on a player that can't even join the team. The Michkov situation will make a nice case study in years to come.
Other Honorable Mentions And The Decision 
The consensus so far is that the three names already mentioned in this article are the three most likely European players to be drafted eighth by the Capitals. But with the 2023 Draft projected to be deep, there are very slim chances the team could make a surprise pick on a player ranked further down in the first round.

On offense, the Capitals could look at Eduard Šalé, who is now ranked fourth among European skaters after sliding in the rankings. This season, he played for Brno Kometa in the Czech Extraliga, the top men's league in his country. He was also part of an impressive Czechia roster that lost to Canada in the Finals of the World Junior Championship (WJC), putting up one goal and five assists in seven games as a 17-year-old. He is known for his passing and playmaking ability and has an underrated shot, making him a legitimate offensive threat.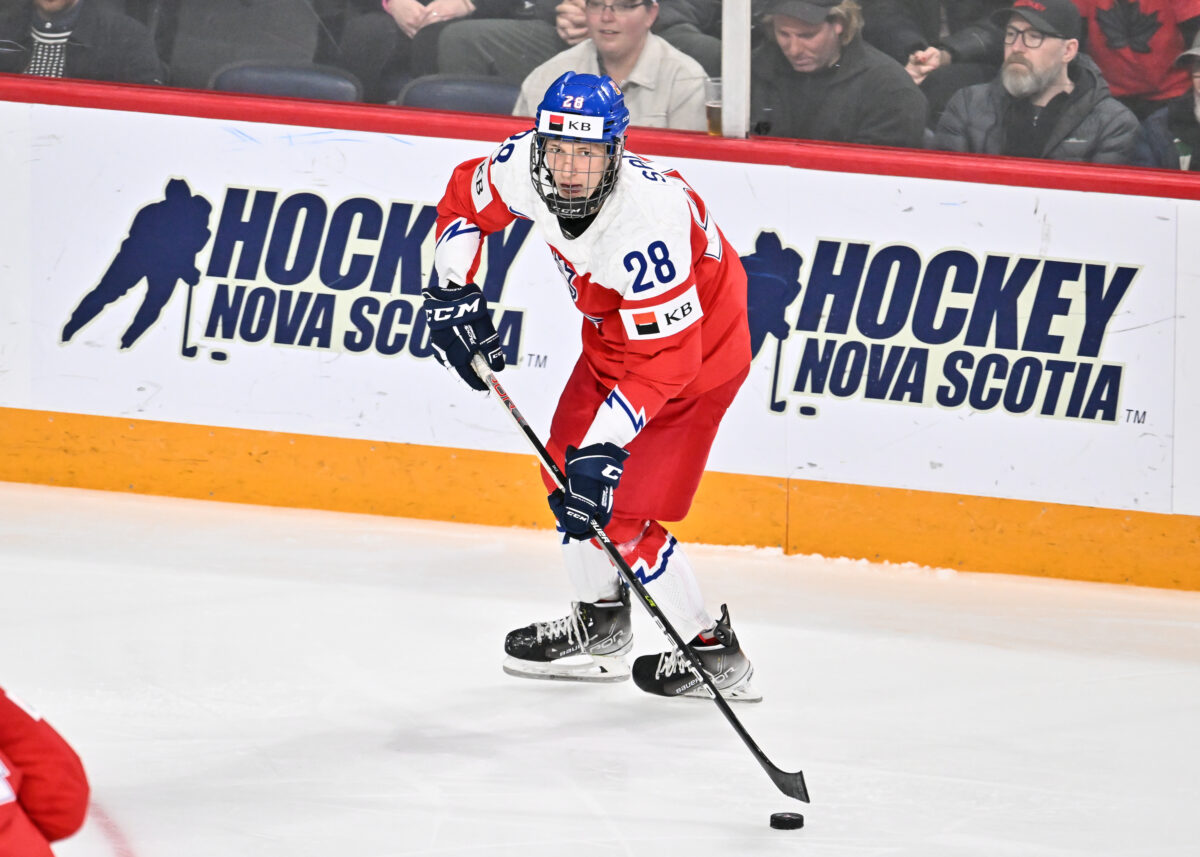 On defense, Axel Sandin Pellikka is regarded as the second-best defenseman of this draft. Similarly to Šalé, his draft stock has dropped throughout the year after being overtaken by Reinbacher. The 5-foot-11 Swede still has potential and is known for his ability to perform offensively and make quick decisions with or without the puck. It's unlikely the team makes this pick because it's difficult to pass up on such a talented year for forwards. However, if Reinbacher is off the board and the Capitals really want a defenseman that could quarterback their power play in the future, they could possibly take a swing at him.
In the end, the Capitals should get the best prospect they've had in years regardless of the player they select with the eighth pick. They have many quality choices if they turn towards a European player depending on their priorities going forward.