As the temperature drops in Washington, and the need for jackets (or two-toned lavender track pants if you are Alex Semin) becomes apparent, Capitals training camp opened up again Saturday. As the days progress, hundreds of Capitals faithful continue to come out to support their team at Kettler Iceplex in anticipation of the first drop of the puck this season. The preseason begins Tuesday for Washington against the Nashville Predators, and the players are just as excited as their fans.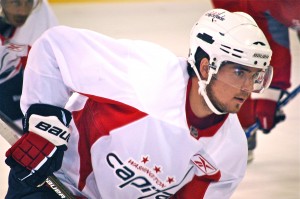 "The return has felt pretty good," said Marcus Johansson, who first made the team last year and is expected to be a part of the Caps' roster for a while to eventually fill the second line center position. "Still trying to get back — not in shape — but get the right feeling for skating and playing and it's been a while now and we're getting there. It's going to be fun having a game tomorrow and getting back into it again."
One of the keys to training to camp is to figure out what roles players will take on during the year if they make the team, and some of these roles make players more anxious to head out on the ice. Johansson mentions that while he had a great summer, he is more than ready to prove he is right as a top-six pivot.
"There are so many good players you can never be sure you're on the team because everyone has a shot," said Johansson. "I need to be stronger, bigger and faster and I want to be better with the puck — you can never be happy with things you need to get better at." Nonetheless, the 20-year-old Swede is confident that he has what it takes. "It feels a little more comfortable, and you know the guys and the game more. It's still great to be out there."
The newest additions for the Capitals, Troy Brouwer and Joel Ward, will also have roles that they will need to define this season. Matt Hendricks is a player who probably knows best about establishing roles. Hendricks, who made last year's squad because of his training camp performance, weighed-in on some of the new guys on this year's team and the roles that they will provide.
"They're character guys," Hendricks said. Continuing on about Brouwer, Hendricks mentions that along with his Stanley Cup experience, "He [Brouwer] brings a lot of skill and grit to our lineup, but also has that kind of a veteran presence. He's been there, he's been to the Holy Grail, and he's got it."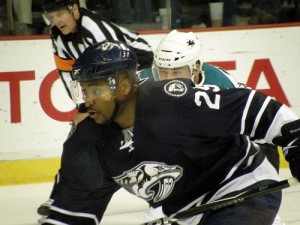 Hendricks then talked about Ward, "[Ward] Had a great playoffs and he's kind of an older gentleman as well and they'll give us help to spark the room."
Ward himself, a light-hearted guy, expanded upon his expected role, saying "I'm not the smoothest guy out there, but just go up and down the wing, contribute and create space for my linemates. Basically just putting pressure on the opposition is what I'm looking forward to doing."
Bruce Boudreau, one of the the ultimate decision-makers regarding placement of players and who makes the team, has discussed new options for the power play, penalty kill, and new ways to get the team back on a scoring tear. For instance, Boudreau utilized Johansson with Alex Ovechkin and Mike Knuble for "a little more speed" and because "Alex [Ovechkin] always has the rookie with him." Boudreau noted how Johansson played very well toward the end of the year and with last year under his belt, he wanted to see how he would play with Ovechkin, especially if he aims to be a top-six center.
On a more general tone, Boudreau was not surprised by how excited everyone was to play in an actual game tomorrow as opposed to testing their skill in drills and scrimmages during training camp. "Guys want to play against those other teams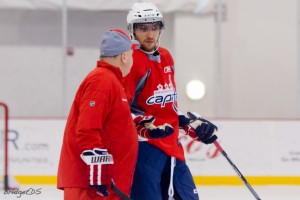 because they want to hit hard," said Boudreau. "Guys for the first time are probably going to try to impress the new guys."
"We're all looking forward to playing in Baltimore," said Boudreau. "Every coach would love to continue practicing, but I think we're ready to play."
Whether those players would have  to be a Washington Capital will wait until preseason games get underway.
Notes: The Capitals will play in Baltimore at First Mariner Arena Tuesday at 7 p.m. against the Predators.