There are not a lot of spots open as the Montreal Canadiens get set to start their preseason slate of games tomorrow night against the Dallas Stars.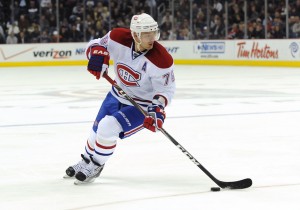 However, if you are looking for some battles in training camp, look no further than the 13th forward and seventh defenceman battles (please note that when I say seventh defenceman, I mean until Andrei Markov comes back. This is in reality the eighth defenceman.) Normally, this would be the most boring battles in camp featuring NHL journeymen (we have those!), young AHL-NHL commuters (those, too!) and prospects who have just come over from Europe (check). However, this is Montreal and the event that some might find "boring," others find time to obsess over. (Guilty as charged.)
This decision will not affect the team one way or another but it gives the fan something to watch besides focusing on veterans play because well, that means even less. Because this is Montreal, and chilling out is not an option.
Two of the biggest names acquired by the Canadiens (and I use that term as lightly as possible) were Brian Willsie and Jeff Woywitka.
Both players have NHL experience and cannot be referred to as prospects. That bodes well for them as they fight for a roster spot. The press box can be used as a punishment, and it can be used as a place for injured players but mostly it is a place for placeholders to watch the game until they are needed because of an injury.
This logic means that you don't necessarily want a rookie or young player spending time not playing when they could be developing either on the ice in the NHL or AHL.
Willsie has two 10-goal NHL seasons to his credit and 6'1, 202 can add physicality to the mix. Woywitka was a former 1st round pick and bounced around the league and will understand his role as "next-man-up" if injuries occur on the Montreal blue line (and history suggests, they will occur).
Other options on the blue line
Woywitka isn't the only (or necessarily the best) option. The Canadiens have some depth at the position. They have Hamilton captain Alex Henry who has size and NHL experience, but when they needed replacements last year they didn't go to him but to the next person on the list which is Brendon Nash.
Nash had a great training camp and used that to be near the top of the Canadiens AHL pool. He played two games for the Canadiens last year, and didn't look out of place. He is young enough that you would like him to play, even if at the AHL level.
The other option is Mark Mitera. Acquired for Mathieu Carle in an offseason trade, Mitera is a former first round pick and is close to the NHL after spending the entire year last year with Syracuse of the AHL. He is very similar to Nash (both are 6'3, both are 210+ lbs and both are 24) and will likely stay down to start the year as the Habs brass takes a closer look at him.
The other interesting option is Raphael Diaz. Diaz was signed after leading Switzerland at the World Junior Championships and has no North American experience. That leads to the fact he will probably start the year in the AHL, but if he proves to be NHL ready it could be his spot to lose.
The Forwards
Aside from Willsie, the Canadiens have some options as well but most of them are young prospects you wouldn't like to see waiting for ice time in the press box.
Michael Blunden is more of a physical player as evidenced by his two goals in 51 NHL games. He's in that awkward youngster-journeyman range as they try to find a role for him.
Aaron Palushaj, Brock Trotter and Andreas Enqvist are three players that can develop into NHL players. Palushaj and Trotter are more prospects than Enqvist who tends to project as a defensive forward. Again, these are players who you may want to see play in the AHL and come up to fill a role.
No matter what the Canadiens do, there will be people who disagree with the move. No matter what, the battle is one place where people can look to see someone step up.