Twenty-seven years ago, the Hartford Whalers franchise packed their bags and shipped out to an unproven hockey market in Raleigh, North Carolina to become the Hurricanes. Since then, the Hurricanes and the city of Raleigh have proven that hockey can not only work in the Old North State, but it can thrive under the right circumstances.

Many NHL greats have donned the Hurricanes' red and black over the years, as well as many players that have been instrumental to creating a culture of success and an identity of hard work and devotion. In discussing who were/are the most important players to the Hurricanes franchise, it is not only the top scorers or most skilled players that will be considered, but also the most influential to team culture and identity.
Arturs Irbe
A personal favorite of mine, Arturs Irbe was a fan favorite everywhere he went during his NHL career. From his quirky goalie mask, to his ability to give his team a chance to win most nights, it's easy to see why Irbe was a popular figure in professional hockey. The Latvian-native joined the Hurricanes in 1998 following their first season in Raleigh, and it was with the 'Canes that Irbe had the best years of his career.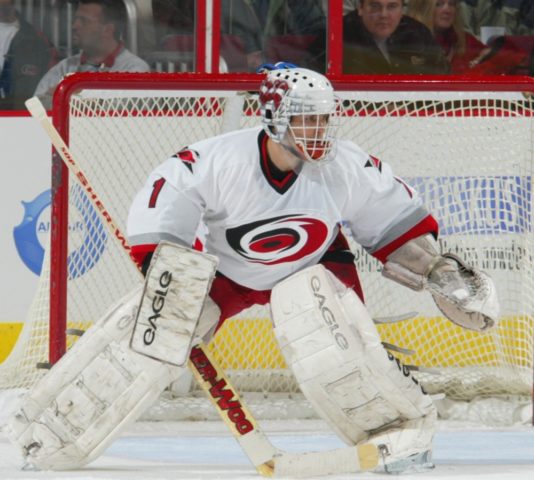 While his stellar performance with the 1994 San Jose Sharks that helped them upset the powerhouse Detroit Red Wings was a notable moment in his career, he stole the show when he came onto the Raleigh scene in 1998. First, he took the starting job from a 25-year old Trevor Kidd, and then helped the Hurricanes reach the Stanley Cup Final in 2002, only five years after they moved to Raleigh.
Irbe never saw prolonged NHL success, but he helped put the Hurricanes on the map of relevancy very soon after their move from Hartford, and for that, the city is forever grateful for the man known as "The Wall."
Erik Cole
An original Hurricanes draft pick in 1998, Erik Cole was both tremendously skilled and dedicated to winning. Even though he had a top-end quality shot and incredible skating ability, he was never afraid to get into the corners and battle or stand in front or near the net to bang away and cause havoc for opposing netminders.
Cole spent his best years with the 'Canes, playing nine of his first 10 seasons in the NHL in Raleigh and enjoying the most success there in the process. As a rookie in 2001-02, Cole played all 82 games and helped Carolina reach the Stanley Cup Finals. Four years later, Cole had a great regular season campaign that helped the 'Canes win the Southeast Division, and ultimately capturing the Stanley Cup, despite Cole missing most of the playoffs due to injury.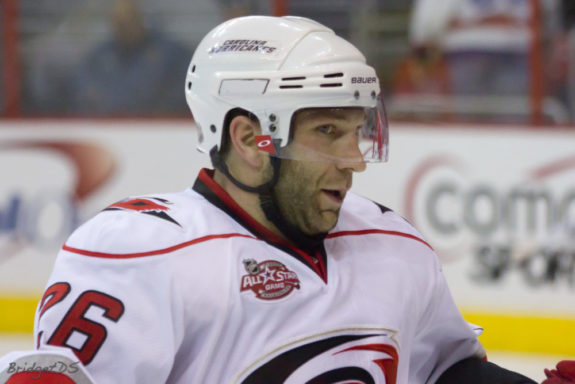 After spending the back nine of his career with three other NHL clubs, Cole signed a one-day contract with the Hurricanes last September to retire as a 'Cane. Cole now serves as a club ambassador.
Ron Francis
Wherever Ron Francis went, winning followed him, as he played playoff hockey in 17 of his 22 NHL seasons and was a part of three Stanley Cup Finals, winning two championships with the Pittsburgh Penguins. Francis was not only a leader on and off the ice, he was one of the most prolific hockey players to ever lace them up, putting up 1,798 points in 1,731 NHL regular season games.
While Francis didn't join the Hurricanes until he was 35-years old, he left an indelible mark on the franchise. His veteran wisdom and high level of skill were instrumental in helping the Hurricanes franchise prove their worth in North Carolina. He helped the team reach the postseason in three of his first four seasons with them, during which they reached the Finals in 2002. Even in his relatively short time with the 'Canes as a player, Francis was still essential for developing a culture of winning in Raleigh.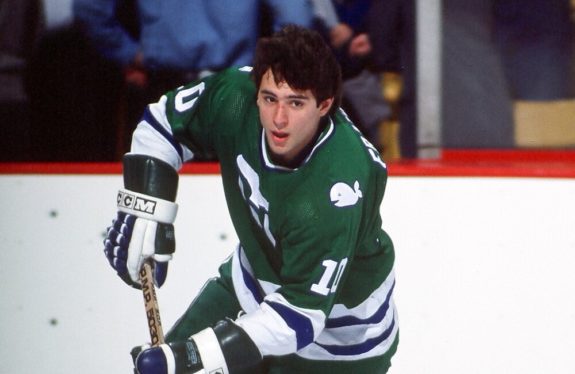 Upon retirement, Francis held a role with the Raleigh Youth Hockey Organization in their efforts to help develop young hockey players in the area and, more recently, he served as associate coach of the 'Canes, president of hockey operations, and as general manager. You can say what you want about the quality of his tenure as a front office executive, but Ron Francis gave his heart, soul, and body to the Hurricanes organization, and that will go down in history.
Eric Staal
As the Hurricanes' highest-ever draft pick before Andrei Svechnikov, Eric Staal had massive expectations on him before he ever even played an NHL game — and he lived up to them.
As a large man with incredible ability, Staal's ceiling of potential was seemingly limitless upon entering the NHL. He had an average rookie campaign, but following an AHL stint during the 2004-05 lockout, Staal returned as a man possessed. He led the 'Canes in scoring in 2005-06 with 100 points, following that up with 28 points in 25 playoff games en route to the Hurricanes' first Stanley Cup in franchise history.
You may also like:
Staal not only delivered on the playoff stage during the Cup run, he scored one of the most iconic goals in Hurricanes' history when he scored on Martin Brodeur with 32 seconds left in Game 7 of the 2009 Eastern Conference Quarterfinals, giving the Hurricanes a 4-3 lead and, ultimately, sinking the New Jersey Devils en route to an improbable run to the Eastern Conference Final. Staal was not only a leader, captaining the team for more than six years, but he was a clutch performer and the face of the franchise until his departure in 2016.
Cam Ward
An obvious choice here, Cam Ward will live on as the greatest goalie in franchise history for a long time.
A Hurricanes first round draft pick in 2002, Ward sought to solidify the team's goaltending situation when he broke into the league in 2005, but that was not initially apparent. Ward struggled in a backup role behind Martin Gerber, but issues were largely masked by a high-powered 'Canes offense.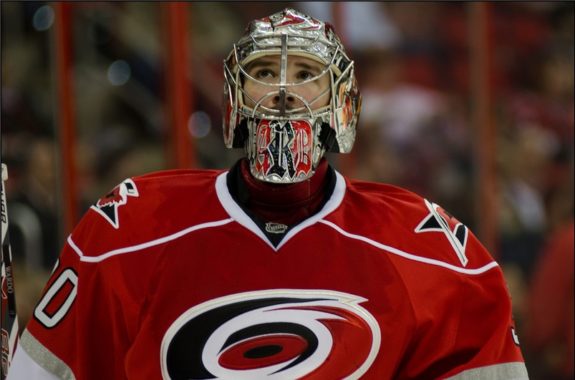 During the playoffs, though, when they fell into a 0-2 hole against the Montreal Canadiens in the opening series, head coach Peter Laviolette turned to Ward, and the rest is history. Carolina captured the Stanley Cup, and Cam Ward earned the Conn Smythe Trophy as playoff MVP, quelling any doubts that he was the right man for the job.
Ward was the Hurricanes' goaltender for more than a decade, and while the team only made the playoffs one other time during that stretch, Ward often gave his team a chance to win no matter the circumstances. He was an all star in 2011 when the All-Star Game made its way to Raleigh and he played a total of 668 NHL games in a Hurricanes sweater. In the summer of 2018, upon his departure via free agency, he officially passed the torch to the next generation of 'Canes goaltenders.
And, in August of 2019, he signed a one-day contract with the Hurricanes so that he could retire as a Cane. It was really the only way for him to finish his NHL career.
Rod Brind'Amour
As if there was any doubt.
Brind'Amour wasn't a Hurricanes draft pick, but he made the Hurricanes organization his tribe. Acquired from the Philadelphia Flyers in 2000, Brind'Amour quickly became a fan favorite and franchise legend with his stellar on-ice performance, as well as his unparalleled leadership. This was a man who could not only dominate the scoresheet, but could also rally his troops and dive headfirst into battle ahead of those he led.
Every championship team needs a Rod Brind'Amour. He was a player that is the perfect center of a franchise and the perfect captain to lead a great team. Brind'Amour was vital to the Hurricanes' appearances in the Stanley Cup Finals, their championship in 2006, and he helped usher in the new era of Hurricanes hockey, playing until age 39. He even recovered from an ACL tear as a 37 year-old in 2008, and came back to play 80 games the following season. He was simply as tough as nails.
Only about a year after his retirement, Brind'Amour was brought on as an assistant coach for Carolina, where he remained at that position until he took the head coach position in May of 2018. Even after he finished his playing years, Brind'Amour continued to be involved in the development and identity of the Hurricanes organization, and he looks to make an even bigger impact as head coach, driving the team to the 2019 Eastern Conference Final and starting the 2019-20 season strong. Brind'Amour brings that same work ethic and drive into the locker room on a nightly basis this season, and hopefully for 'Canes fans it will pay dividends on the ice for years to come.
*All statistics from HockeyDB.com – originally published in July 2018
---
---
---
Latest News & Highlights
---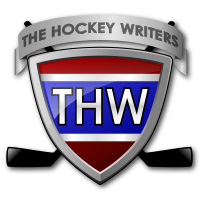 The archives of THW contain over 40,000 posts on all things hockey. We aim to share with you some of the gems we've published over the years.