Carolina Hurricanes center Jordan Staal has missed the last 26 games due to a concussion. He was placed on injured reserve on Jan. 4. Surprisingly the team has not missed a beat going 16-6-1 since New Year's Eve without him.
Last Friday night there were 14,340 on hand to watch the Hurricanes host Connor McDavid and the Edmonton Oilers. The Hurricanes were still sans-Staal, but inching closer to his return. He practiced with the team for the first time the day before, Feb 14.
The questions that are not being asked out loud, on one hand, are, "Do we really want to interrupt the team chemistry that has been formed and has been helping the 'Canes win games in his absence?" On the other hand is, "Can you really sit a player like Staal, a veteran who has been a team leader and has won a Stanley Cup?"
Jordan Staal on the ice for a second consecutive day. Good sign on his road back. @NHLCanes pic.twitter.com/lgewY8bl1Z

— Mike Maniscalco (@mikemaniscalco) February 15, 2019
Staal Out, In and Back Out
Staal first went out with a concussion he sustained against the San Jose Sharks on Dec. 5. During the 5-1 loss to the Sharks, he left in the third period with what was described as an upper-body injury, later diagnosed as a concussion which caused him to miss the next five games.
In ESPN's Dec. 16 recap of the Hurricanes' game against the Arizona Coyotes it was noted, "Forwards Jordan Staal and Micheal Ferland were out for the Hurricanes. Both have been dealing with concussion issues. Staal has missed five straight games and Ferland has missed seven of the past eight." Ferland has come back and made quite the impact for the team. Staal is still out.
Staal's return to the lineup on Dec. 20 in the team's 4-1 loss to the Detroit Red Wings was short-lived. He had 17:40 time on the ice. (TOI). In the next game on Dec. 22, a 3-0 loss against the Pittsburgh Penguins, Staal had only 13:14 TOI. Even to the casual fan, it was clear something was not right with him.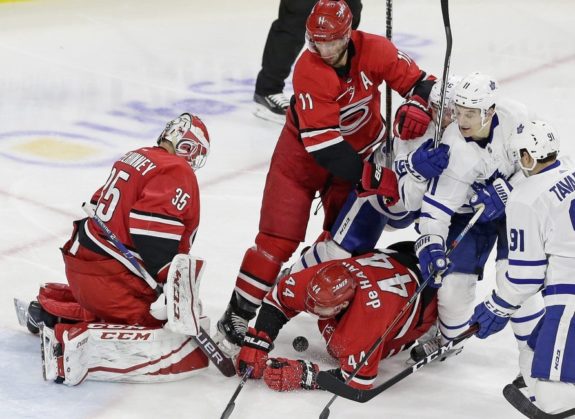 He was a scratch with an upper-body injury for the next game on Dec. 23, which the Hurricanes won as they celebrated Hartford Whalers Night 5-3 over the Boston Bruins, and has been on the injured list since.
Staal Slowly Coming Back
As mentioned, Staal first practiced this past Valentine's Day. Michael Smith of the Hurricanes' media team later that day wrote a piece called, "Jordan Staal Searches for Normalcy." Smith quoted Staal as saying, "Normal is nice. It's nice just to feel normal." After being out for so long, being on the ice helped Staal begin to grasp what "normal" used to be for him, and hopefully will be again.
Smith quoted Staal again as saying,
Stuff wasn't right. It's a weird injury. It's something that you wish on no one. You don't really understand it until you go through it…
Just ask former Hurricanes star Jeff Skinner, who suffered three concussions during his eight seasons with the Hurricanes. Most observers would agree that it took Skinner a good chunk of two seasons to look like he was back to "normal." One has to wonder if Staal, even though practicing and determined to be a part of the Hurricanes' current push to make the playoffs, will really feel normal this season. Some voices say he is not needed:
Everyone talks about how valuable Jordan Staal is, but yet the Canes do better without him. And no one wants him back lol. I'll say it again, one of the worst trades in Canes history.

— PLAYOFFS BABY!!! (@CanesChatter) February 14, 2019
Of course, there are many more who are hopeful that Staal will return and return soon. Included among the many is Hurricanes head coach Rod Brind'Amour, who told Luke DeCock of the Raleigh News & Observer, "I thought, with him going down, we really weren't going to have a shot, to be honest…I saw it happen before, three or four years ago, when he missed the first half of the season and we never could recover. He's a big part of the group and seeing him out there for the first time in a long time was great. We've missed him. We've managed to kind of hang around. Hopefully, we'll get him back soon, because we need him." (From "Jordan Staal's concussion journey: Recovering, wondering, learning – and hoping, still" – News & Observer – 2/14/19).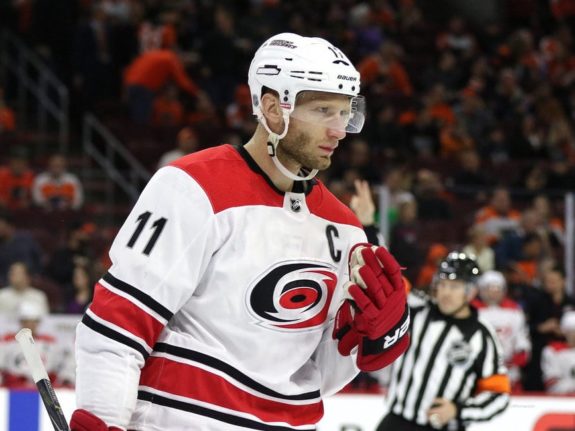 Brind'Amour's team is exceeding expectations, especially without Staal. As of this writing, the Hurricanes are 1 point out of a wild card spot in the playoff chase. Staal is missed in particular in the faceoff circle. Smith noted in his post, "The Canes ranked sixth in the league with a 51.9 percent faceoff win percentage in December. In the time Staal has missed since, the Canes have sunk to 44.3 percent, which ranks 29th in the league."
Staal Slides Back in Where?
Assuming that the Hurricanes believe there is far more value in having a Stanley Cup winner with a huge presence up the middle in the lineup than not, where does he go? Certainly, he does not center any lower than the second line, right? You would likely slide him into center on the second line between Ferland and Teuvo Teravainen. Staal's size would very likely be noticeable.
Another assumption is that Lucas Wallmark would drop to the third line and that the current third line center, Jordan Martinook would drop to center the fourth line. Greg McKegg could likely be the odd man out. He's been playing great, but it is just not feasible to keep McKegg in the lineup and have Staal in the press box.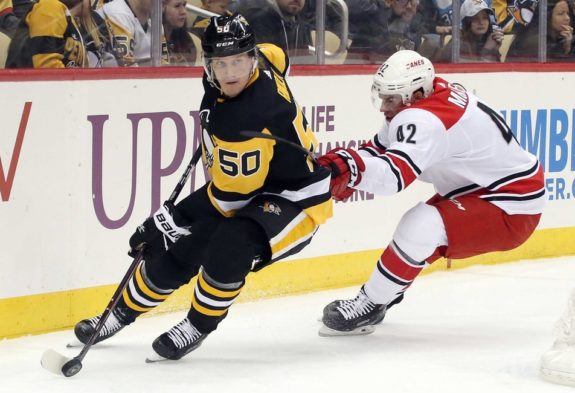 The old sports adage is that a veteran does not lose his spot due to an injury. Staal certainly has earned his position on the Hurricanes and has maintained it through years of hard work and leadership. He will slide back into his position as a leading center on the team and start taking faceoffs once again. Hurricanes television analyst Tripp Tracy commented recently that, "Staal would be taking all of the defensive-zone draws."
He is needed. But, the team has chemistry on the ice that cannot be denied. They've been winning more than any other team in the league since the New Year. No matter what he has earned in the way of cred, if the Hurricanes start losing big time, Brind'Amour will be faced with a tough decision. Try to get the chemistry back and the winning, or keep grinding with Staal?