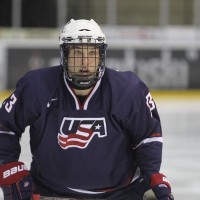 At 6'1" and 210-lb., Stefan Matteau is a big and strong forward who looks incredibly attractive in this draft. Projected to go in the early to mid first round, he would be a steal for the Blackhawks at 18th.
The son of former Hawks forward Stephane Matteau, he would find it only natural to return to the city he was born in. Stefan inherited more from his dad than his name, however. Not only is he big, but he has superior skills that set him apart as one of the coveted forwards in this draft. He has all the tools that lead many to believe  he will not only be as good as, but better than, his father.
Although a great prospect, Matteau  is committed to Blainville-Boisbriand of the QMJHL next year. This makes him attractive to teams like the Blackhawks because it allows him another season to work on the finer points of his game before becoming a factor within the organization.
Stefan is a great prospect with a lot of potential. If he is still available by the 18th pick, I expect the Hawks to snatch him up!
Other forwards the Blackhawks may be interested in early.