The 2011-12 NHL season for the Montreal Canadiens ended on a sour note after a disappointing campaign. The team finished a controversial season having fired their head coach (Jacques Martin), an assistant coach (Perry Pearn) and their general manager (Pierre Gauthier) while recording a mere 31 wins and only 78 points (especially thanks to 16 OTL losses), good for last place in the Eastern Conference.
45 days ago, the Habs hired a new GM in former NHL defenseman Marc Bergevin, who then went on to rebuild his management team and coaching staff, Most notably, Bergervin hired assistant managers Rick Dudley and Larry Carriere, director of player personnel Scott Mellanby, as well as director of player development, Martin Lapointe and player development coach, Patrice Brisebois.
Two weeks ago, Bergevin announced that former Pittsburgh Penguins head coach Michel Therrien was hired for his second stint as the head coach of the Canadiens. A few days later, Bergevin announced that Gerard Gallant and Clement Jodoin were joining the coaching staff as assistant coaches. The team also announced that former NHL defenseman Sylvain Lefebvre will replace Jodoin as the Hamilton Bulldogs' head coach.
With his off-ice staff nearly compete, Marc Bergevin can now turn his attention to the upcoming NHL Entry Draft that will happen on June 22nd and 23rd in Pittsburgh, Pennsylvania.
Following a dismal campaign, the Canadiens will have the chance to pick third overall behind the Edmonton Oilers and the Columbus Blue Jackets.
Since the Canadiens have solid depth at the defensive position with young promising players such as Jarred Tinordi, Morgan Ellis, Nathan Beaulieu and Greg Pateryn, who will most likely make the transition to the AHL after successful junior careers, it is expected that Trevor Timmins, the director of scouting, and his team of scouts will draft a forward with their third overall pick this year.
The team's lack of depth up front was clearly noticeable when key players like Brian Gionta, Travis Moen and Scott Gomez missed extended periods of time due to injuries. Other than Brendan Gallagher and Louis Leblanc, no forward is ready to make an impact at the NHL next season. Forwards like Michael Bournival, Blake Geoffrion, Aaron Palushaj and Patrick Holland all need more seasoning in the American league before making a significant impact in the NHL.
As a result, look for the team to draft a quality forward with this first-round pick to address the team's lack of scoring depth behind their top line formed of Max Pacioretty, David Desharnais and Erik Cole. If we add proven veterans Tomas Plekanec and Brian Gionta to the Bleu Blanc Rouge's most productive trio, the Habs will only be able to rely on five talented forwards when the 2012-13 begins next October.
With question marks surrounding inconsistent players like Rene Bourque and Lars Eller, Bergevin will be hard-pressed to find a very talented player to complement his top-six. And what better way than select an über-talented prospect ready to make the jump to the NHL as soon as next season? Similar to what Ryan Nugent Hopkins (1st), Gabriel Landeskog (2nd), Adam Larsson (4th) and Sean Couturier (8th) did in 2011-12 after being drafted last June.
Montreal will arrive at the 2012 NHL Draft holding at least six selections; 3rd, 33rd, 51st, 64th, 94th, 154th overall.
The last time the Canadiens were able to select this high in the NHL Entry Draft was seven years ago when they selected netminder Carey Price fifth overall in 2005. The Canadiens need bigger and more talented offensive forwards, especially at centre where Desharnais, Plekanec, Eller and Scott Gomez are all 6'0" or less.
Let's have a look at the potential scenarios that might interest the Canadiens and their fans:
5.) Montreal selects Filip Forsberg at Third Overall – Like his countryman Gabriel Landeskog from a year ago, Forsberg brings a versatile style of game that should make him a coach's favourite in no time. Arguably one of the most complete forwards in the draft, Forsberg can play the wing and centre, which is a quality the Canadiens are looking for. Forsberg's high hockey IQ, great work ethic and two-way game makes him the ideal candidate for us. The big forward is a smooth skater, is strong on his skates and boasts excellent puck-handling skills. He is not afraid to play physical, something that has been lacking in recent years in Montreal. Both a passer and a goal scorer, he has been often compared to Corey Perry. However, the damper is that Forsberg recently said he is very likely to play one more year in Sweden before making the transition to North America.

Complete THW draft profile: Filip Forsberg – The Next Ones: NHL 2012 Draft Prospect Profile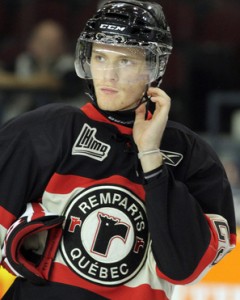 4.) Montreal selects Mikhail Grigorenko at Third Overall – Much like Anze Kopitar in 2005, Grigorenko's stock plummeted late this season (Kopitar went from 5th to 11th), mainly due to a severe bout of mononucleosis that affected Grigorenko's play as the season unfolded. Despite this unfortunate turn of events, he is an extremely talented centre with great hands, amazing IQ, superb vision and tons of offensive upside. While he is born in Russia, Grigorenko is already familiar with North American hockey as he's played under head coach Patrick Roy with the Quebec Remparts this past season. Just like Forberg, Grigo can both play the wing and the centre positions, which is a big plus for a team like Montreal.
Complete THW draft profile: Mikhail Grigorenko – The Next Ones: 2012 NHL Draft Prospect Profile: The Boom-Bust Factor Looms
3.) Montreal selects Alex Galchenuyk at Third Overall – Due to a season-long knee injury, Galchenyuk only played two games this season for the Sarnia Sting. The American, born in Wisconsin, is the ultimate risky pick in this year's top-ten following his injury. Yet, in 2010-11, he finished second in OHL rookie scoring with 83 points in 68 games, only behind Nail Yakupov. The highly-skilled pivot is blessed with a great hockey sense and excellent play-making skills. Galchenyuk is not afraid to play in high traffic areas and use his size and speed to get himself free in high scoring areas. While Galchenyuk's play is reminiscent of Marian Hossa and comes with a very high upside, his injury history might scare away the Canadiens, who have been dealing with Andrei Markov's knee problems for the last few years.
Complete THW draft profile: Alex Galchenyuk – The Next Ones: NHL 2012 Draft Prospect Profile
2.) Montreal trades down to select another player in the top ten – An another possible scenario would for the Habs to trade down a few ranks in order to acquire a extra pick later in the draft or a player that could help them win games as soon as next season. Possible trade partners include the Islanders, the Maple Leafs and the Ducks, among others. Bergevin and Timmins might believe that the player they want to select will be available a few picks later as some teams are looking to draft highly-coveted defensemen such as Ryan Murray and Matthew Dumba with their first pick. Or simply, the Habs might be looking at another forward like Teuvo Teräväinen, who would might the best forward of the draft a few years from now! You can read my full analysis of the undersized, yet über-skilled Finn here: Teuvo Teräväinen – The Next Ones: NHL 2012 Draft Prospect Profile – As Exciting as The TiVo.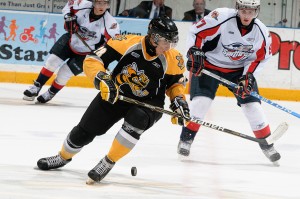 1.) Montreal trades up to select Nail Yakupov at First Overall – The ultimate scenario would be to acquire the 1st overall pick from the Edmonton Oilers and draft Russian sensation Nail Yakupov. While the Oilers would be foolish to trade their pick, their general manager, Steve Tambellini, might be interested in trading down in order to acquire an extra draft pick and a young defenseman to complete his defensive corps. After acquiring Nashville's 2nd rounder in the Hal Gill trade, GM Marc Bergevin might be willing to sacrifice his 33rd overall draft pick along with rearguard Raphael Diaz and their 3rd overall selection to grab the consensus 1st overall pick, Nail Yakupov. After a brilliant rookie season during which he recorded 101 points in 65 games with the Sarnia Sting, Yakupov only played 42 contests this season, registering 69 points in the absence of Galchenyuk. The speedy right winger boasts an explosive shot and blazing speed combined with great footwork and excellent hockey acumen. Yakupov doesn't take a shift off and can be as electrifying as Pavel Bure.
Complete THW draft profile: Nail Yakupov – The Next Ones: NHL 2012 Draft Prospect Profile
The only thing we know for sure as Habs fans is that the upcoming NHL Entry Draft will certainly be exciting!
Who would be your pick if you were to select one of the upcoming talented players that will be available on Friday?
Follow Fred Poulin for all your 2012 NHL Draft prospect needs and get more information on the Habs and the NHL in general.