Although the Colorado Avalanche currently sit dead-last in the Western Conference and 29th overall out of 30 NHL teams, they are still only six points out of the eighth and final playoff spot in the West, so not all is lost just yet.  In this lockout-shortened season, there have been some positives for the Avs.  Here are the top 5:
Matt Duchene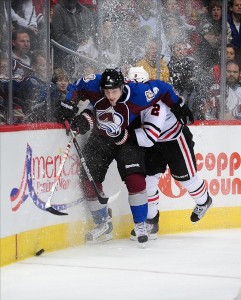 Hands down, Matt Duchene has been the best Colorado Avalanche player all season long.  Back in January, I wrote about the resurgence of Matt Duchene and all he's done in the two months since then is get even better and better.  His 31 points lead the Avs and are third in the Western Conference and ninth in the entire NHL in scoring.  Not only is he providing offense, his defense has greatly improved and he is one of the Avs' most effective and reliable penalty killers this season, even since the return of Ryan O'Reilly.  Duchene could not have silenced his critics from last season any better and he is certainly among the NHL's elite.  The sky is the limit for No. 9.
P.A. Parenteau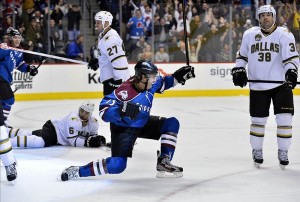 Pierre-Alexandre Parenteau and David Jones signed identical four-year, $16 million contracts with Colorado.  While Jones has a very disappointing 3 goals and 7 total points, Parenteau has found a home here in Colorado with 12 goals and 28 points, second on the team to only Matt Duchene.  Of course, the big free agent prize forward last summer was Zach Parise, who signed with the Minnesota Wild for a whopping 13-year, $98 million contract has five fewer points on the year than Parenteau.  The Avs will need the forward to continue to succeed if they want to move up in the standings and compete for a playoff spot. So far, he has certainly been more than worth the investment.
Gabe Landeskog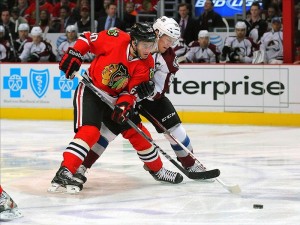 Missing 11 games with a concussion early on was certainly not how Gabe Landeskog had hoped to begin his time as Colorado Avalanche captain, but he is back and has unquestionably found his groove.  His best game since his return was against the Calgary Flames when his goal and 2 assists powered the Avs back from a 3-0 deficit to win the game 5-4 in the end.  Recently, he has certainly gotten hot, scoring six points in as many games with a current four-game goal scoring streak and short-handed goals in the Avs' last two games.  Landy is certainly showing why he won the Calder Trophy last year and was named the youngest captain in NHL history.  Expect many more good things from the 20-year-old Swede.
John Mitchell
The Avs signed journeyman third/fourth line center John Mitchell to replace the departed Jay McClement, who signed with Toronto over the summer.  In 28 games this season, Mitchell already has 15 points.  In 80 games last season, McClement accumulated 17 points.  While Mitchell may not have the defensive and penalty killing skills as McClement, he has proved to be a tenacious two-way forward.  Early on this season, he took a brutal Drew Doughty slap shot off of his face, only to return and later score a goal.  The picture above was from later that night. Colorado really has found surprising production from a very unlikely source.
Semyon Varlamov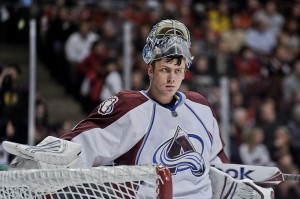 While Semyon Varlamov's 9-13-3 record won't jump out at anyone as overly impressive, Varly has actually been very good between the pipes for the Avs this season.  Kevin Goff breaks down how Varly has actually been much better than his number suggest.  The Avs certainly have many problems:  coaching, below average top-line wingers, and an atrocious defense, but Semyon Varlamov is certainly not among the team's woes.  Varly is a legit No. 1 goaltender and with a solid defense in front of him, he will no doubt prove it.
Joey is a Colorado native and has been an avid fan of the Colorado Avalanche since their move here in 1995 when they brought the state of Colorado its very first major sports championship in their inaugural season. He's played hockey for the past decade, both roller and ice. He began playing as the goalie for the Colorado State University Roller Hockey team. Currently, he plays on a couple ice hockey rec league teams in the Denver area, both as a goalie and as a position player.