In what is surely an effort to spark scoring for the Colorado Avalanche, defenseman Tyson Barrie has been called up from the team's minor league affiliate, the Lake Erie Monsters. He is taking the place of longtime teammate and friend Stefan Elliott, who was sent back to Cleveland after appearing in 30 games (4g, 7a). Barrie has been having a stellar rookie season with the Monsters, leading the team in points (4g/25a) and making an All Star appearance where he scored a goal to help give the West the win. Coach Joe Sacco said today after morning practice that Barrie will be in the line up against the Chicago Blackhawks on Tuesday in Denver.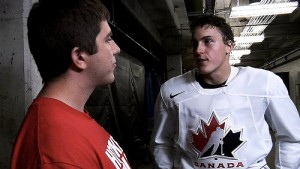 thanks to stevedangle.com for the image
Cheryl Bradley is an Assistant Editor and Staff Writer for SBNation's Mile High Hockey, covering the Colorado Avalanche. Cheryl also is on the Board of Directors for the Avalanche Guild, an organization that partners with the Avalanche to support local youth and adult hockey in Colorado.