The Columbus Blue Jackets played a much better game Tuesday night in front of their home fans at Nationwide Arena. They just didn't get the result they had hoped for.
After 89 minutes of tight-checking hockey, the Washington Capitals got the bounce they were looking for. Lars Eller was in the right place at the right time to deflect a puck past Sergei Bobrovsky to lift the Capitals to a much-needed 3-2 win over the Blue Jackets in front of their largest crowd in franchise history to watch a game.
Considering how the game played out, it was only appropriate that the game ended in this fashion. Whoever got the first lucky bounce would win. Both goaltenders were outstanding.
Braden Holtby returned to the crease as a starter and looked as poised and comfortable as he usually does. He ended the night with 33 saves on 35 shots. Sergei Bobrovsky kept the Blue Jackets in it as best he could despite the last shot going in. He finished the night with 42 saves on 45 shots.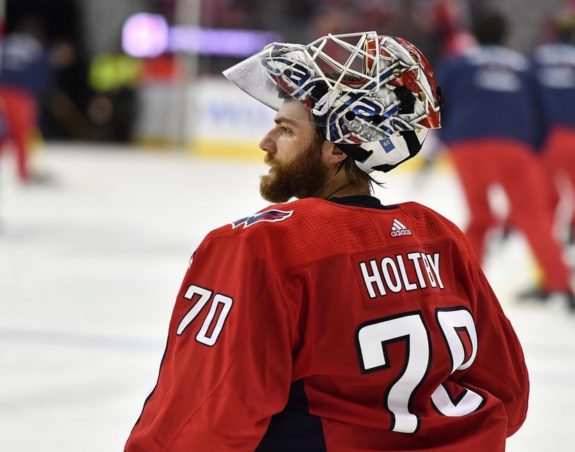 So although the Blue Jackets couldn't land a 3-0 lead, they are still in good shape assuming they take care of their business at home. With Game 4 Thursday night at Nationwide and a potential Game 6 there, if the Blue Jackets win those games, they'll clinch a spot in the second round for the first time ever.
Obviously they hope they can finish this off with wins on Thursday and Saturday.
If they play the way they did Tuesday, they'll have every opportunity to finish this off in five games. How can they do this? There's two things they need to do in order to maximize their chances.
Clean Up the Penalties
Although the Blue Jackets did improve in this regard, they still allowed the Capitals a dangerous 5-on-3 chance that they wasted no time on. John Carlson scored an easy goal to give the Capitals a 2-1 lead just over three minutes after Pierre-Luc Dubois scored the first playoff goal of his young career. Had the Blue Jackets stayed disciplined instead of taking consecutive slashing calls, who knows what would have happened.
The Blue Jackets are doing well at even strength keeping the game close. But their penalty kill has allowed at least one power-play goal against in every game of the series. If they want to close this out quickly, they must limit the power plays against especially ones like Tuesday that gave the Capitals momentum back when the arena was rocking.
Make Holtby's Life Difficult
The Blue Jackets were able to get 35 shots on goal. But Holtby saw most of them. He at times appeared too comfortable in his crease. The Blue Jackets must get more traffic in front and take the sight away from him. They gotta play greasy.
As this series goes on, fatigue and fitness will be on full display. The pretty plays like the one make between Cam Atkinson and Artemi Panarin won't be as prevalent. Big goals will be more like the one Eller scored on Tuesday. Just takes one lucky bounce.
This passing between @CamAtkinson13 and @9Artemi was just next level. #StanleyCup pic.twitter.com/ENsmiEPuQc

— NHL (@NHL) April 18, 2018
Whether it's Boone Jenner, Nick Foligno or someone else, they need to camp out in front of Holtby and make it chaotic in the Capitals crease. That's when the Blue Jackets are at their best.
Tuesday night was a tough ending for the Blue Jackets. But Thursday is a new night. If they clean up the penalties and make it a point to crash the blue, they'll enjoy success. Game 4 is a big one. We'll either have a 3-1 Blue Jackets lead or a 2-2 tie. The odds still favor the Blue Jackets. They must take care of their own business now. Win Thursday, win Saturday, the series is over. Win Thursday, win Monday, the series is over and it's all done at home.