The NHL Draft is less than two months away.
With the calendar turning to May, it's time to start compiling huge lists of prospects that could hear their name called on the floor of American Airlines Center in Dallas. For the Columbus Blue Jackets, they will pick 18th at the draft assuming they keep their pick. We'll talk about draft strategy and the entire draft for the Blue Jackets in mid-June when we release our annual draft guide.
Today in this space, we are going to focus on just the 18th overall pick. Who would the Blue Jackets consider in that spot? If you're new to us or a new fan, the Blue Jackets mantra is simple. They pick their best available player regardless of position or what the media thinks. If you listen closely, I think you can still hear the draft crowd in Buffalo reacting to them picking Pierre-Luc Dubois third overall.
Anyways, we are going to list 10 players I think the Blue Jackets will take a strong look at. You won't see names like Rasmus Dahlin, Filip Zadina or Oliver Wahlstrom on this list. We expect those names to be gone by the 18th pick. Again it is possible the Blue Jackets value a player enough to trade up. This lists assumes they pick 18th. Without further ado, let's jump into the list. This is in no particular order. Each player will have a sentence or two why it would make sense.
Akil Thomas
Thomas is a playmaking center who can play both ends of the ice and projects as a top-six forward at the next level. The question with him is if he's a winger or center in the NHL. The Blue Jackets value high character players. Thomas is near the top of that list.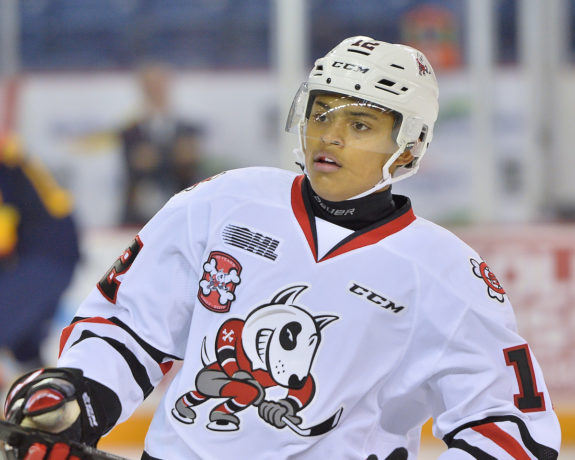 Joe Veleno
Veleno is one of the most well-rounded centers available in this draft. He's somewhat underwhelmed in his junior career to date given that he was granted exceptional status by Hockey Canada. But he still turned in a season of 79 points in 64 games and was a point per game player in the Q playoffs. He heated up at the right time.
Alexander Alexeyev
Alexeyev in my mind is someone the Blue Jackets will covet. He's a big defenseman from the Red Deer Rebels who can skate and can chip in some offense. I think 18 is a bit too high for him, but knowing the pattern of the Blue Jackets in recent years, they'll look hard at him.
Jared McIsaac
Once considered a lottery pick, McIsaac slipped some during his draft year. Still, he has the tools to become an effective top-four defender at the next level. His teammate is Blue Jackets' prospect Max Fortier.
Bode Wilde
Wilde has an intriguing skill set for the next level. He plays fast, can score and is not afraid to be physical. He plays a risky game though. He's set to join Quinn Hughes at Michigan next season. A certain Blue Jacket also went to Michigan, ya know?
Grigori Denisenko
Denisenko has the skill set that teams will love. He might be considered in the top-five in this season's draft in terms of overall skill. Want a sniper with blazing speed? Check out his highlight video below.
Ty Dellandrea
Dellandrea is the one center near the end of the first round that has top-line upside in the NHL. He's also one of the better finishers available. Don't let his -30 fool you. He constantly saw the opposition's best and still put an impressive stat line together.
Isac Lundestrom
The Blue Jackets are never afraid to look overseas for help. Lundestrom is a speedy center from Sweden that could be one of the first centers gone. It's likely he goes before 18th, but if the Blue Jackets like him enough, they might consider a trade up. Playing in Sweden's top league certainly helps his case.
Rasmus Kupari
Speaking of overseas help, this Finnish center is one of the most dangerous offensive threats in the draft. He makes something happen every time he has the puck. He like Lundestrom has played in his country's top professional league.
Jesperi Kotkaniemi
Kotkaniemi doesn't have the speed that Lundestrom or Kupari have, but he's just as dangerous offensively and is a solid two-way center. Again he's likely gone before 18th. But if he falls, the Blue Jackets could pounce. If anyone knows the Finnish players, it's general manager Jarmo Kekalainen.
At the end of the day, the Blue Jackets will react to how the first 17 picks go. They will have some solid options available to them. Up next is the NHL Combine the first weekend in June. We get our chance to speak to the prospects after their fitness testing. By then, we'll have a much better idea of who should be where.