Recently I wrote about Tanner Pearson's impressive start to the 2014-15 regular season for the LA Kings. Other than goaltender Jonathan Quick, the only other Kings players who have looked notably impressive in the first few weeks of this season are his line-mates — Jeff Carter (5, goals, 7 assists) and Tyler Toffoli (4 goals, 8 assists).
Has Toffoli Fully Arrived?
Toffoli is a player who is often very noticeable on the ice given his flashy goal-scoring skills, to which he has also added play-making ability as evidenced by his 8 helpers so far this season — 3 of which came in Sunday's 5-2 victory over the Columbus Blue Jackets. For him, the talent has always been apparent. However, when he finally got a chance to play semi-regularly last season, he put up only 29 points (12 goals, 17 assists) in 62 games. On one hand, these are decent numbers for a then-21-year-old in his first full NHL season, but Toffoli and those around him knew there was definitely another level for him to reach. The talent was there, but consistency was a question mark.
In last year's playoffs, Toffoli raised his game and became a major contributor in the Kings' Cup run — particularly in the 7-game Western Conference final against Chicago, in which he tallied 6 points (4 goals, 2 assists). Like Pearson, the question for Toffoli was whether he could translate that postseason success into consistent regular season production.
Also like Pearson, the answer so far for Toffoli is a resounding "yes." He is tied with Carter for the Kings' team lead in points, and not only is the consistency in his game starting to take shape, but he and his line-mates are really the only Los Angeles players showing any semblance of consistent production offensively. His line and the Vezina-level early-season play of Jonathan Quick are THE reasons the Kings are 6-1-1 and just completed a 6-0-0 home-stand. Toffoli cites hard work and the savvy abilities of veteran Jeff Carter as the main reasons for the line's success.
"I think the chemistry comes with hard work," said Toffoli after a 4-1 win against Winnipeg back on October 12. "Jeff is very easy to play with, obviously. He's one of the best players in the league, personally I think. Tanner and myself, we read off of him and we have to skate hard and keep up with him and make plays and score goals." (lakingsinsider.com)
Pearson's hot start — he had two more goals in Sunday's win — also hasn't hurt matters. Neither has the incredible skill level of Toffoli, which was evident in one of the early candidates for goal of the year — a shorthanded tally against Edmonton on October 14 in which Toffoli toe-dragged the puck on a string before sniping a wrister top-shelf on Oilers goaltender Ben Scrivens:
Breaking Into and Sticking in the NHL
The Kings drafted Toffoli in the second round in 2010, 47th overall. Before then, consistency had actually never been an issue for him. He performed admirably as a 17-year old in the OHL, with 46 points in 59 games for the 2008-09 Ottawa 67's. His next two seasons in the OHL saw him improve exponentially — 79 points in 65 games and then a whopping 108 points in 68 games.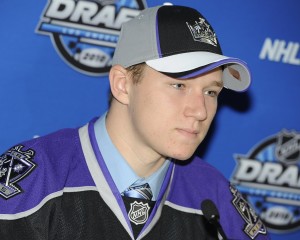 After another impressive OHL season in 2011-12 (100 points in 65 games), Toffoli was able to maintain strong offensive production in the AHL in 2012-13, with 51 points in 58 games for the Manchester Monarchs. He then had a 10-game cup of coffee in the NHL that season, scoring 5 points. He also appeared in a handful of playoff games for the Kings that year and showed he could play in big games at the highest level.
Toffoli finally took somewhat of a step back with his aforementioned 29 points in 62 NHL games last season, before stepping it back up in the playoffs. It seemed that the 2014-15 season could be a breakout year for the 22-year old winger, and so far, the results have not disappointed. He might well be among the Kings' top scorers by the end of the season — just so long as he remains consistent. Playing with Pearson and Carter will certainly help his cause.