The long summer months are over in Arizona and hockey season is set to return. There is a high level of excitement all around as October ushers in a new era of hockey in the desert. The Arizona Coyotes, armed with new talent and a new look, are set to take on the NHL's best in Glendale. On the other side of the state in Tempe, the Arizona State Sun Devils prepare to skate for the first time as an NCAA D1 team.
Rising Sun Devils
The Sun Devils accomplished a lot during their time in the ACHA. Under head coach Greg Powers, Arizona State became one of the league's top teams, including winning the ACHA D1 National Tournament in 2014. The first game of their hybrid schedule is Saturday night at Gila River Arena against their longtime ACHA rivals from the University of Arizona. The Sun Devils have dominated the Wildcats over the years, having won 47 of their last 48 meetings since 2009.
Arizona State has a lot to look forward to when it comes to college hockey. There might be some growing pains with the higher skill level in the NCAA, but Coach Powers and the Sun Devils have shown in the past that they can win against those teams. In 2012, Arizona State traveled to Penn State and split a two-game series, winning 3-1 in the second game. Women's college hockey is coming next season to the Sun Devils, providing another boost to the rapid growth of women's hockey at the ACHA level and increasing hockey's overall status in Arizona.
Coyotes Return to Action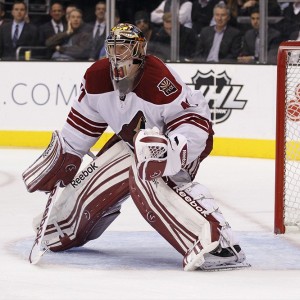 While Arizona State gets ready for their season to begin, the Coyotes are already in the middle of preseason hockey. For fans, preseason has been the first opportunity this year to look at the future of this team. Max Domi and Anthony Duclair look to headline the first wave of Arizona's young talent to join the Coyotes heading into the last preseason game on Friday. Dylan Strome, Arizona's top pick in this year's draft, is also still in consideration for a roster spot. Strome has impressed during training camp and could be closer to the NHL than originally thought. As the prospects try to lead the Coyotes into a new chapter, goaltender Mike Smith hopes that this year will be a resurgent one. Smith looked sharp in net on Monday night in Vancouver, stopping 23 shots in a losing effort against the Canucks. More importantly for Smith and Arizona, he looked more like the goalie he was in the second half of last season as well as during the IIHF World Championship.