Three years ago, the Arizona Coyotes achieved their highest level of postseason success in franchise history. On May 7, 2012, the Coyotes defeated the Nashville Predators in Game 5 of their second round playoff series, sending Arizona to the Western Conference Finals. While the Coyotes have not been back to the playoffs since then, several of their players and prospects have spent the early part of this offseason playing in important games and sharpening their skills for next season.
IIHF World Championship
A number of Coyotes are currently representing their home countries at the IIHF World Championship in Prague. Arizona's scoring leader this season, Oliver Ekman-Larsson, has brought his scoring touch to the international stage. The elite Coyotes defenseman has collected six points in four games, putting him second on Team Sweden in scoring behind Boston Bruins forward Loui Eriksson. For Canada, goaltender Mike Smith has stopped 66 of 74 shots in three appearances and was named Player of the Game in a 6-3 win over Czech Republic on Monday. Ekman-Larsson and Smith faced each other on Wednesday, with Team Canada coming away with a 6-4 win. After struggling through the first half of Arizona's season, Smith's play in net improved in the second half and has carried over to this tournament. The Coyotes will need Smith to keep this success going and avoid another slow start for the 2015-16 NHL season.
AHL Postseason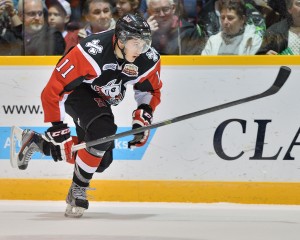 During the Calder Cup playoffs, a handful of Arizona prospects put together strong showings. Brendan Shinnimin led the Portland Pirates in playoff scoring with six points, while Henrik Samuelsson and Brandon Gormley notched five points each. Game 4 of Portland's first-round series with Manchester saw Louis Domingue record a shutout and Brendan Perlini score his first professional goal. The experience of AHL playoff hockey will benefit Arizona's prospects heading into the summer and will prepare them to battle for an NHL roster spot when training camp begins.
Charles Woodall-Pike is a journalist who writes about the Arizona Coyotes for The Hockey Writers.