Despite losing starting goaltender Antti Raanta to a lower-body injury during warmups on Monday in Edmonton, the Arizona Coyotes picked up five of eight possible points last week and improved to 10-3-2 in their last 15.
Coyotes Keep Rolling
After wrapping up their seven-game homestand with a victory over the Ottawa Senators on Mar. 3, the Coyotes hit the road once again and headed up to Edmonton to take on Connor McDavid and the Oilers on Monday night. The red-hot Antti Raanta was slated to start this one, but he suffered a lower-body injury while warming up, and backup Darcy Kuemper was pressed into duty for his second start as a Coyote.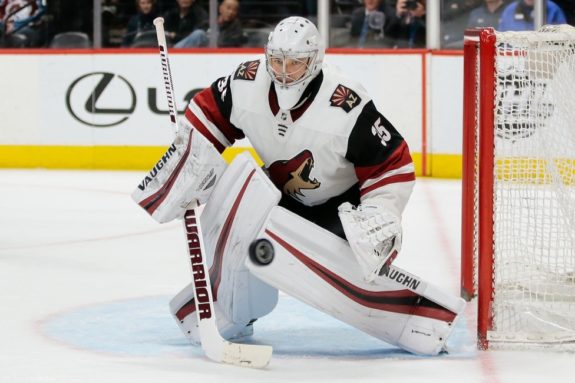 After scoring first in the opening frame, the Coyotes allowed three unanswered goals and found themselves down 3-1 after 40 minutes. They managed to erase that deficit in the third period, but had to settle for the overtime loser point as Oscar Klefbom sent the fans home happy with the game-winner just 50 seconds into the extra frame.
On Wednesday, the Coyotes made the trip west to take on the Vancouver Canucks in the first of two matchups between the teams in a five-day span. Arizona again scored first, but Jussi Jokinen quickly answered for Vancouver. The score would remain at 1-1 until late in the third period, when Derek Stepan scored his 12th of the season with less than a minute left in regulation to give the Coyotes the 2-1 victory.
The Coyotes wrapped up their brief, three-game road trip on Saturday afternoon in Denver against the Colorado Avalanche, and this one quickly got out of hand. Four goals were scored in the game's first 4:22, but three of them came off of Colorado sticks. Richard Panik scored during the second period to make things interesting, but two more quick Avalanche goals in the third frame put this one on ice as Colorado buried Arizona, 5-2.
Returning home following their disappointing performance in Colorado, the Coyotes began a five-game homestand on Sunday against the Canucks. Like the matchup between the teams on Wednesday, this one was also a low-scoring affair – Oliver Ekman-Larsson scored a power play goal during the second period, and this would be the only support Kuemper needed on the night, as he stopped all 27 shots he saw for his first shutout as a Coyote.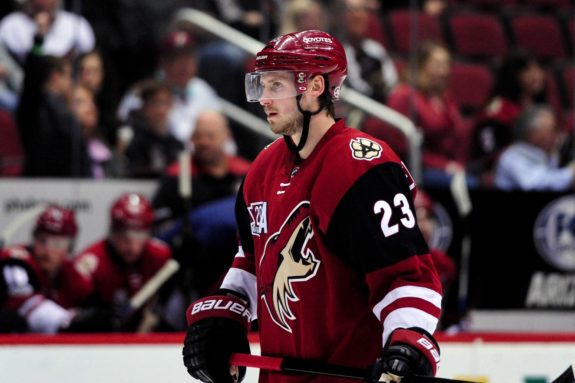 Another Homestand in Arizona
Following their victory over the Canucks on Sunday, the Coyotes will remain at home and will host the rival Los Angeles Kings on Tuesday night. The Kings were embarrassed by a 7-2 margin by the St. Louis Blues on Saturday at the Staples Center, and they'll be playing the second half of a back-to-back in this one after playing the Canucks on Monday in L.A. Puck drop is scheduled for 7:00 P.M. in the Grand Canyon State.
On Thursday, the red-hot Nashville Predators will come to town. With a defense corps consisting of P.K. Subban, Roman Josi, Ryan Ellis, and Mattias Ekholm, the Predators and head coach Peter Laviolette are 10-0-1 in their last 11 games and are peaking at the right time. This one will get started at 7:00 P.M. in the Valley of the Sun.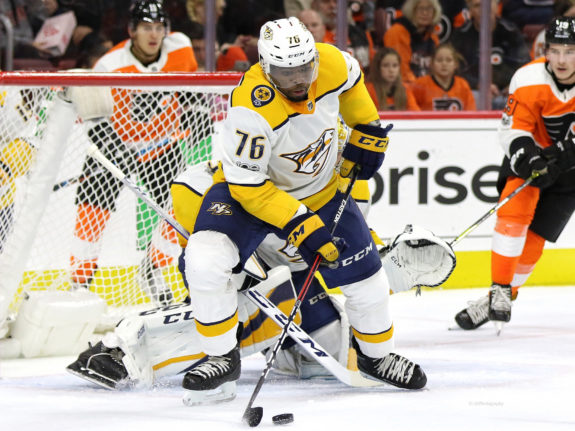 The Coyotes will then wrap up their week with a Saturday night matchup against the Minnesota Wild at Gila River Arena. Both of the previous games in the season series between these two clubs have come in the past five weeks, and the Coyotes won both in comeback fashion. Will they be able to earn the season sweep in this one? We'll find out at 6:00 P.M. in Glendale.
Pacific Division Roundup
This is probably beginning to sound like a broken record at this point, but we'll say it again – the Vegas Golden Knights lead the Pacific Division by a huge margin with less than a month to go.
Anaheim Ducks (34-23-12, 80 points)
Last week: 1-2-0 (4-0 W vs WSH, 4-2 L at NSH, 2-1 L at DAL)
Analysis: The Ducks are 3-3-1 in their last seven games, but a deeper look reveals an interesting trend in their game – all three wins and the overtime loss came on home ice, while all three regulation losses came on the road. On tap this week? Four games at the Pond – three against non-playoff teams, and one against a bubble club in the New Jersey Devils. It could be a big week in Anaheim.
Player of the week: Rickard Rakell – 3 goals, 2 assists, +1
This week: Mon vs STL, Wed vs VAN, Fri vs DET, Sun vs NJ
Calgary Flames (34-26-10, 78 points)
Last week: 2-1-1 (4-3 OTL at PIT, 5-1 W at BUF, 2-1 W at OTT, 5-2 L vs NYI)
Analysis: Mike Smith made his much-anticipated return to the lineup on Sunday night against the New York Islanders, but his play was disappointing to say the least. The 35-year-old allowed 22 goals on 26 shots and was outdueled by Isles rookie Christopher Gibson, who turned aside 50 of the 52 shots thrown his way. Will the Flames go back to David Rittich, who allowed just a single goal in each of his victories last week? Or will they stick with Smith, who missed nearly a month with his injury?
Player of the week: David Rittich – 2-0-0 record, 54 saves on 56 shots (.964 SV%, 1.00 GAA)
This week: Tue vs EDM, Fri vs SJ, Sun at VGK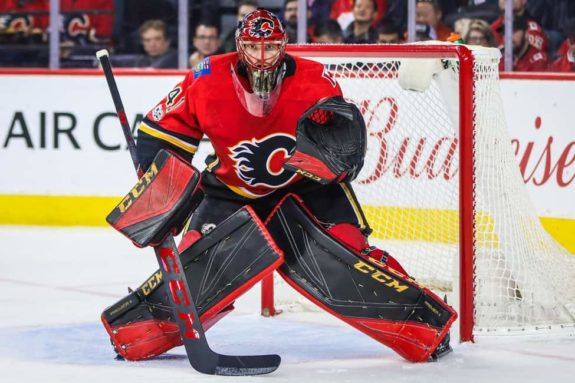 Edmonton Oilers (30-34-4, 64 points)
Last week: 3-0-0 (4-3 OTW vs AZ, 2-1 SOW vs NYI, 4-1 W vs MIN)
Analysis: It's been a season of streaks in Edmonton – from time to time, the Oilers have given their fans hope with a short winning streak, but they then eventually follow that up with a period of lackluster and listless play. Last week, we saw the former, as Edmonton won three straight after losing three straight in regulation from Feb. 27 to Mar. 3. What will happen next week? Your guess is as good as mine, but, at any rate, Tuesday's edition of the Battle of Alberta will be must-see TV.
Player of the week: Cam Talbot – 3-0-0 record, 94 saves on 99 shots (.949 SV%, 1.61 GAA), 2 saves on 3 shootout attempts
This week: Tue at CGY, Wed vs SJ, Sat at FLA, Sun at TB
Los Angeles Kings (37-26-5, 79 points)
Last week: 1-1-0 (3-1 W vs WSH, 7-2 L vs STL)
Analysis: What happened to the Kings on Saturday afternoon at the Staples Center? They had won four of their last five prior to that matchup against the St. Louis Blues, but they were thoroughly and utterly embarrassed by Mike Yeo's squad, 7-2. Will this team be consistent enough during the final month to reach the playoffs, or will they fall short for the third time in four seasons?
Player of the week: Jeff Carter – Goal, 2 assists
This week: Mon vs VAN, Tue at AZ, Thu vs DET, Sat vs NJ
San Jose Sharks (36-23-9, 81 points)
Last week: 1-1-0 (2-0 W vs STL, 2-0 L vs WSH)
Analysis: Will the real San Jose Sharks please stand up? I repeat, will the real San Jose Sharks please stand up? They've scored just four goals in their last three games after scoring five and seven against Edmonton on Feb. 27 and Chicago on Mar. 1, respectively. If they can't string together more than a few solid offensive performances in a row, the Sharks could find themselves playing either Nashville or Vegas in the first round as a wild-card team.
Player of the week: Martin Jones – 1-1-0 record, 40 saves on 41 shots (.976 SV%, 0.51 GAA), 1 shutout
This week: Mon vs DET, Wed at EDM, Fri at CGY, Sun at VAN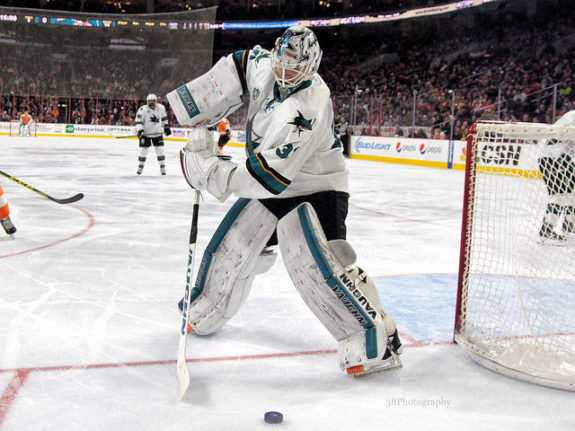 Vancouver Canucks (25-35-9, 59 points)
Last week: 1-3-0 (4-3 OTW vs NYI, 2-1 L vs ARI, 5-2 L vs MIN, 1-0 L at AZ)
Analysis: It's been a miserable few weeks for the Canucks – since winning two straight on Jan. 30 and Feb. 1, Vancouver is 4-11-3, which is the worst in the NHL over that span. The Canucks' faithful likely can't wait for this season to be over with.
Player of the week: Brandon Leipsic – 2 goals, 2 assists
This week: Mon at LA, Wed at ANA, Sat vs SJ
Vegas Golden Knights (44-19-5, 93 points)
Last week: 2-1-0 (4-1 L at CBJ, 4-0 W at DET, 2-1 SOW at BUF)
Analysis: The Golden Knights, just 3-3-1 in their last seven games, have slowed down a bit over the past few weeks, but they still have a commanding 12-point lead in the Pacific with less than a month to play. They'll likely have home-ice advantage for at least the first two rounds of the Stanley Cup playoffs, and I don't think many teams are looking forward to visiting T-Mobile Arena, where the Knights are 24-7-2 this season.
Player of the week: Marc-Andre Fleury – 2-1-0 record, 76 saves on 80 shots (.950 SV%, 1.30 GAA), 4 saves on 5 shootout attempts
This week: Mon at PHI, Wed vs NJ, Fri vs MIN, Sun vs CGY
A lifelong Phoenix resident, Louis has been following hockey since 2010, has covered the Arizona Coyotes since 2015, and has been playing hockey since 2020. So far, Louis has visited eight NHL cities, and one of his personal goals is to eventually make it to all 31 NHL arenas. For any questions or concerns, contact the writer via Twitter @LouisPannone.