When Arizona Coyotes' general manager Don Maloney read the most recent weekly list of the NHL's Three Stars, there must have been a churning twist in the pit of his stomach.
Listed as last week's Third Star was Minnesota goalie Devan Dubynk, a player whom Maloney traded to the Wild on Jan 14. Maloney offered the rationale as dealing for future assets, but all the Coyotes received was a third round in the 2015 draft.
For the week just completed, Dubynk went 3-0, one shutout, a 1.00 goal against average and .967 save percentage. With the Coyotes, the 28-year-old native of Regina, Sask. was 9-4-2 and  .918 save percentage.
While goalie Mike Smith has struggled all season, Dubnyk was one bright spot in an otherwise dismal campaign. Still, Maloney parted with probably his best player over the first half of the season.
Since the trade, Dubnyk continues his stellar play. Dubnyk posted a 5-1 record, 1.71 goal against average, a .934 save percentage and two shutouts in his first seven starts with Minnesota.
As the Coyotes continue to stumble, Dubynk may have opened a revolving door. Coming into Tuesday's game at Columbus, the Coyotes earned 42 standings points, 15 points behind the Flames for the eight and final playoff spot in the Western Conference.
With post-season play essentially out of reach, Maloney is now burdened with the task of making the Coyotes competitive. To accomplish this feat, he has two options.
One is through a trade or trades, and two, free agency.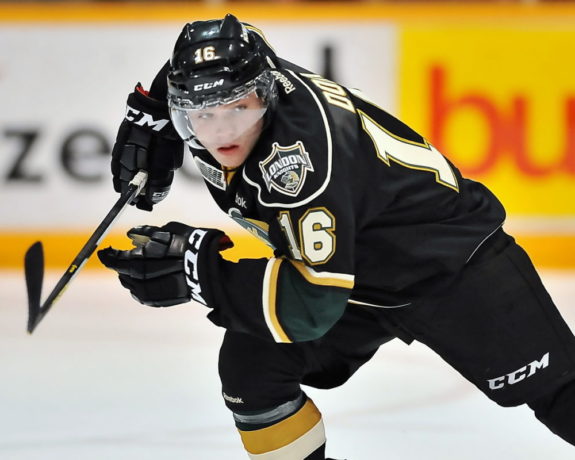 By all accounts, the Coyotes have drafted well in recent years and their 2013 number one pick and 12th overall, Max Domi, coming off a spectacular World Junior tournament, could be one of the key components for the 2015-16 season. Plus, the Coyotes are waiting for Brandan Perlini, their top pick in the 2014 draft, to bloom as well as Christian Dvorak (second round pick, 2014), Laurent Dauphin (second round pick in 2013) and Edgars Kuda (seventh round pick in 2014).
As part of his bargaining hand, Maloney can offer up-coming unrestricted free agents, forwards Martin Erat and Antoine Vermette along with defenseman Zrynek Michalek. Vermette is likely the most attractive, but Maloney wants top prospects in exchange.
challenging season for Tippett
All of which puts coach Dave Tippett in a bind. Repeatedly telling reporters this season "I hate to lose," Tippett is traversing through his most difficult season as a player or coach.
What makes this season particularly challenging for Tippett is the number of mental errors which lead to opposing goals. The Coyotes plus-minus average is not the best and numbers here tend to indicate the hole in which the Coyotes have dug.
Coming into the Columbus game Tuesday game, defenseman Keith Yandle is a minus 24, defenseman Michael Stone, a minus 23, forward Brandon McMillan, a minus 19 and only three points (one goal, two assists), participating in 46 of the Coyotes' 50 games to date, forward Lauri Kopikoski, a minus 17, and Vermette, a minus 15.
So far this season, the Coyotes have won back-to-back only three times and have not won back-to-back games with each in regulation time since winning 5-0 at Vancouver on Nov. 14 and Edmonton, 2-1 two nights later. Previously, they won back-to-backers in the standard 60 minute time window on Nov. 2, a 6-5 win in Washington and 3-1 victory over the Leafs at home two nights later.
After spending nearly the past three weeks on the road, the Coyotes return home later this week. They were forced to vacate the Gila River Arena because the NFL secured the building as their security command headquarters for the Pro Bowl and Super Bowl, played across the street at the University of Phoenix Stadium.
Now, the Coyotes have five of their next eight games at home, and an opportunity to exorcise recent demons.
follow Mark Brown on Twitter, @journalist193
Mark Brown is a former sports editor for daily newspapers in the Philadelphia and Cincinnati markets. He was named Best Sports Columnist, honorable mention 2004 by the Associated Press Society of Ohio. He is a contributor to major daily newspapers, including the Chicago Sun Times, Philadelphia Inquirer, Honolulu Star-Bulletin, Milwaukee Journal, Arizona Republic, Nashville Tennessean and the Associated Press. He was a Featured Columnist for bleacherreport.com and covered the Arizona Coyotes.