Over the past 10 months, the COVID-19 pandemic has turned all aspects of life as we knew it (or thought we knew it) entirely upside down. The sports world was especially hard hit – gate receipts, along with parking, concessions revenue, and gameday merchandise sales have nearly dried up as most arenas, ballparks, and stadiums have closed their doors to fans.
The National Football League, which just completed a full 16-game regular season, has escaped the worst of it for the most part due to the advantage of massive revenue from advertising and TV contracts, along with being in the offseason when the COVID-19 pandemic hit.
The National Hockey League, on the other hand, saw their 2019-20 season be stopped in its tracks, then saw the 2020 Stanley Cup playoffs be altered significantly as well. Offseason spending was also curtailed, due to the league's flat salary cap which became a necessity due to decreased revenues, which, in the words of commissioner Gary Bettman, are now into the billions.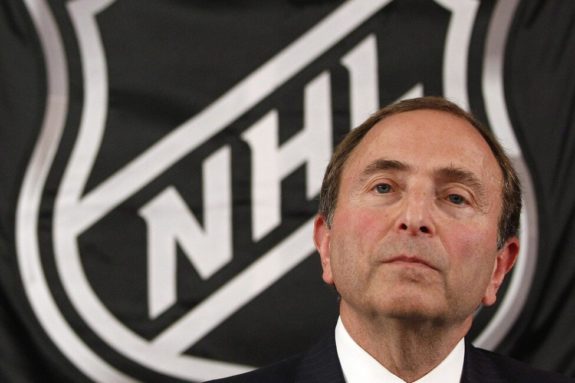 Unsurprisingly, the upcoming NHL season was also impacted significantly by COVID-19. As was announced by the league in December, the 2020-21 regular-season will consist of 56 games, beginning on Wednesday. Due to the unique challenges posed by COVID-19, a divisional realignment became necessary:
As is laid out in the NHL's tweet, the Arizona Coyotes will be part of the West Division in 2020-21, along with seven other clubs, who will play each other eight times each. Let's take a look at the opponents Arizona will face off against this season, and how the Coyotes stack up against each team:
Familiar Foes
Although the 'Yotes will be in a new division in 2020-21, they'll face off against four familiar Pacific Division opponents:
Anaheim Ducks
After missing out on the playoffs in 2018-19 for the first time in seven seasons, the Anaheim Ducks got out to a fast start in 2019-20, with wins in six of their first eight games thanks to outstanding goaltending from the tandem of Ryan Miller and John Gibson.
However, things quickly went downhill as the season progressed, and the Ducks found themselves in 13th place in the Western Conference and out of the playoffs for a second consecutive season as a result. Down the stretch, Anaheim's scoring dried up, the goaltending regressed to the mean, and the team's possession metrics got worse instead of better, but the Ducks didn't do much to help matters, outside of adding an aging Kevin Shattenkirk and an aged David Backes. Both goaltenders are back, including Miller, who will turn 41 in July.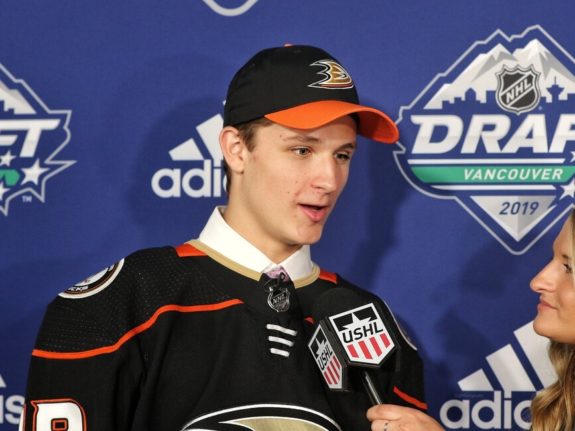 However, there's reason for hope in Orange County. It comes in the form of 19-year-old phenom Trevor Zegras, who just got done dismantling the world's best defense and goaltender prospects at the 2021 World Junior Championships in Edmonton. Zegras posted 7 goals in 7 games at the tournament, which is already outstanding on its own. Add in the 11 assists he also recorded, and you've got an all-time great WJC performance.
Zegras reportedly will not start the season in the NHL, but when he does make his debut, look for him to quickly become the next face of the Ducks' franchise. For now, though, this is a team in transition, and the Coyotes will need to regularly earn points against them in order to be in the playoff hunt at season's end.
Season Schedule:
Jan. 26 & 28 – Gila River Arena
Feb. 22 & 24 – Gila River Arena
March 16 & 18 – Honda Center
April 2 & 4 – Honda Center
Los Angeles Kings
On the surface, the Los Angeles Kings were one of the NHL's worst teams last season, with a 29-35-6 record which earned them a 28th-place finish in the league. A deeper look, however, shows that the Kings finished on a seven-game winning streak in 2019-20, and have one of the league's best prospects pools as well.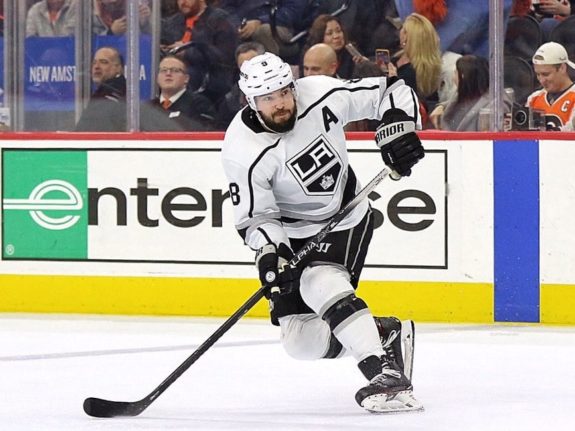 The veteran core of Drew Doughty, Anze Kopitar, Dustin Brown, Jeff Carter, and Jonathan Quick remains, but, as they continue to age, they'll be bolstered by reinforcements like Arthur Kaliyev, Quinton Byfield, Alex Turcotte, Tobias Bjornfot, Gabe Vilardi, and 2020 Team Canada World Juniors hero Akil Thomas. I'm not sure LA is ready to compete in the Western Conference yet, but they're well on their way.
As is the case with the Ducks, the Coyotes will need to take advantage of the rebuilding Kings this season – there won't be many points to be had against the top teams in the division, so they'll need to beat up on their California rivals in order to return to the playoffs.
Season Schedule:
Feb. 18 & 20 – Gila River Arena
April 5 & 7 – Staples Center
April 23 & 24 – Staples Center
May 3 & 5 – Gila River Arena
San Jose Sharks
Once the Pacific Division's most consistent franchise, the San Jose Sharks fell on hard times last season. After a loss to the eventual champion St. Louis Blues in the 2019 Western Conference Final, the Sharks hit rock bottom less than a year later, as they ended the 2019-20 campaign with just 29 wins in 70 games, which put them in last place in the Western Conference.
Hampered by the loss of Joe Pavelski, the underperformance of high-paid veterans like Brent Burns, Erik Karlsson, and Marc Edouard-Vlasic, and bad-to-awful goaltending from Martin Jones and Aaron Dell, the Sharks are hoping 2019-20 was an outlier. They had previously made playoff appearances in 13 of 14 seasons since the 2004-05 lockout, but I'm skeptical about their chances to return to relevance in 2020-21.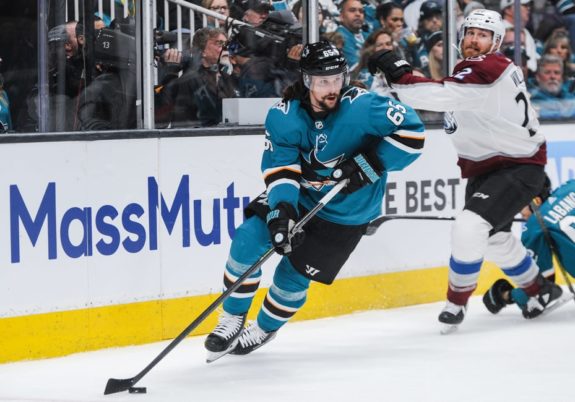 As previously mentioned, the Sharks' problems in 2019-20 came from the performances (or lack thereof) of their highest-paid players. The group of Jones, Burns, Karlsson, and Vlasic collectively takes up 40 percent of San Jose's cap space, which left them unable to make any major moves to address their problems. The possible loss of Evander Kane and his 30-goal potential also isn't a good sign for this group.
With no external help coming, aside from a 41-year-old Patrick Marleau, the Sharks will be looking for improvement from the players already on the roster, which won't be likely considering the average age of the team's seven highest-paid players is 30.4. In goal, the soon-to-be 35-year-old Devan Dubnyk isn't likely to be the answer, just as Jones and Dell weren't last season, meaning this team is heavily relying upon improvement from players who already weren't good enough in 2019-20.
It's a bold strategy, Cotton. Let's see if it pays off for them.
Season Schedule:
Jan. 14 & 16 – Gila River Arena
March 26 & 27 – Gila River Arena
April 26 & 28 – SAP Center
May 7 & 8 – SAP Center
Vegas Golden Knights
The fourth and final Pacific Division club that Arizona will compete against this season, the Vegas Golden Knights could be the class of the West Division after having one of the league's best offseasons. Not only did they add a Stanley Cup-winning captain from the St. Louis Blues in Alex Pietrangelo, they also retained trade deadline acquisition Robin Lehner, who, along with three-time Cup champion Marc-Andre Fleury, will form one of the NHL's best goaltending tandems.
Aside from Pietrangelo, big-time players like Shea Theodore, Max Pacioretty, and Mark Stone are already present on the Golden Knights' roster, and they've already established a winning culture, having reached the Conference Final in two of the three seasons as a franchise.
This is a team that's built to win now, and they very well could do so in 2021. If there's one thing that could work in the Coyotes' favor this season, though, it's the lack of a home crowd at Vegas' T-Mobile Arena. Visiting teams have had little success there over the last three seasons, which probably has a lot to do with the dreaded 'Vegas flu' more than anything, but an empty arena, plus COVID-19 restrictions on the Sin City nightlife scene, should help visitors when they travel to 'the Fortress'.
If Arizona could just figure out how to beat Vegas in Glendale, where they're just 1-2-2 against the Golden Knights, they should be able to hold their own against their desert rivals in 2020-21.
Season Schedule:
Jan 18 & 20 – T-Mobile Arena
Jan. 22 & 24 – Gila River Arena
April 9 & 11 – T-Mobile Arena
April 30 & May 1 – Gila River Arena
New Faces
Along with those four Pacific Division foes, the Coyotes will also see three opponents from the Central Division this season:
Colorado Avalanche
Even though they've likely tried to forget it over the past five months, Coyotes fans surely remember their team's first-round playoff series against the Colorado Avalanche in August, with Arizona being outscored 22-8 and outshot 147-90 en route to a lopsided five-game defeat in the Edmonton bubble.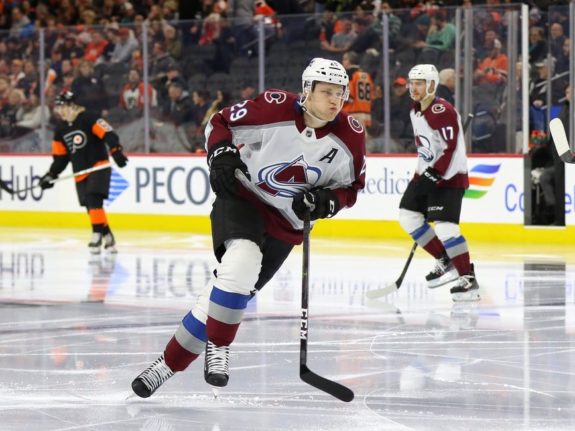 If there's one team in the league that the Coyotes were hoping to avoid in 2020-21, it is the Avalanche. Well, unfortunately for everyone in Arizona, the Avs ended up in the West Division, and will face off against the Coyotes eight times this season.
Obviously, this is less than ideal. The Avs, led by Nathan MacKinnon, Mikko Rantanen, Gabriel Landeskog, and 2020 Calder Trophy winner Cale Makar, were on a 108-point pace last season and could be even better this year – a scary proposition for the rest of the league, but especially for the Coyotes. You can go ahead and pencil in at least five or six regulation losses here unless we see significant improvement from Rick Tocchet's group this season.
Season Schedule:
Feb. 9 & 11 – Ball Arena
Feb. 25 & 27 – Gila River Arena
March 8 & 10 – Ball Arena
March 22 & 23 – Gila River Arena
St. Louis Blues
Another tough draw for the Coyotes in 2020-21, the St. Louis Blues are the second of three Central Division teams Arizona will face this season.
The 2019 Stanley Cup champions, St. Louis is primed to make a run at a second championship in three seasons after their attempt at back-to-back titles was interrupted by the pandemic. At the time of the COVID-19 shutdown across the world, the Blues were the best team in the Western Conference and were on a 109-point pace, with a serious chance of repeating as champions. Things didn't work out for them in the Edmonton bubble when play resumed, though, as they were sent home in six games by the Vancouver Canucks in the first round after going 0-2-1 in the round-robin.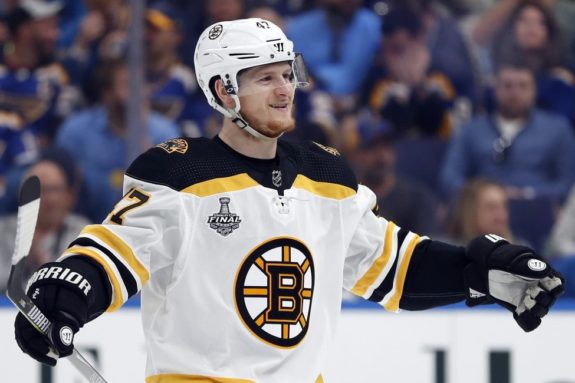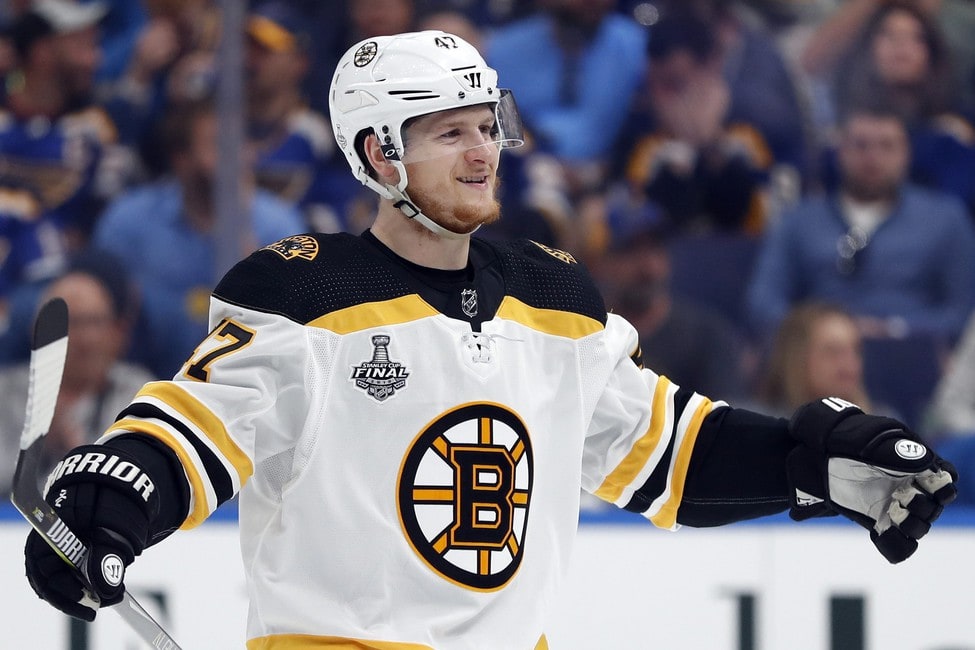 The Blues responded to their early playoff exit by reloading through free agency – they lost captain Alex Pietrangelo to the Vegas Golden Knights, but replaced him with former Boston Bruins defenseman Torey Krug. Mike Hoffman also signed with the club in January after spending most of the offseason as a free agent – he should make up for the retirement of Alexander Steen and the injury to Vladimir Tarasenko. Additionally, look for 21-year-old forward Robert Thomas to have a big season in his third year in The Show.
The Blues are a dangerous team, but the Coyotes have fared well against them as of late, with a 6-2-1 record in their last nine against St. Louis. They'll need that to continue in 2020-21 to give themselves a better chance to return to the postseason.
Season Schedule:
Feb. 2 & 4 – Enterprise Center
Feb. 13 & 15 – Gila River Arena
March 29 & 31 – Enterprise Center
April 15 & 17 – Gila River Arena
Minnesota Wild
The third and final Central Division team that Arizona will take on this season, the Minnesota Wild enter the 2020-21 campaign on a similar path as the Coyotes. Both teams made appearances in the Edmonton bubble for the Stanley Cup playoffs despite being outside of the top eight in the West at the time of the COVID-19 shutdown, and both teams went home relatively early, with the Wild losing to Vancouver in the qualifying round, while Arizona won just a single first-round game.
Additionally, as a result of the new West Division alignment, with three Stanley Cup contenders at the top, and the trio or rebuilding California clubs at the bottom, it's highly likely that the final playoff spot in this division will come down to either the Wild or the Coyotes in 2020-21.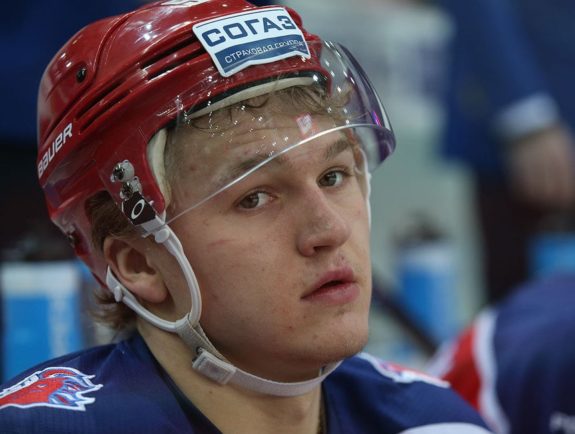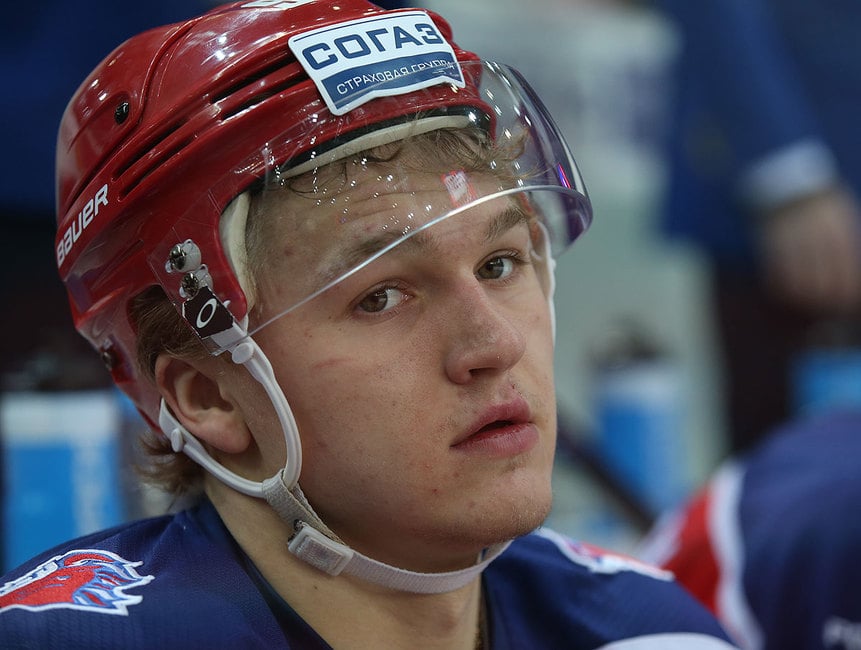 Wild fans are no strangers to seeing their team in the playoffs, as Minnesota has made an appearance in seven of the last eight postseasons. In 2020-21, though, they'll have to do it without some of their key players. Gone is goaltender Devan Dubnyk, who is No. 2 behind only Niklas Backstrom in nearly every franchise goaltending statistic. Gone is long-time captain Mikko Koivu, who holds the franchise records for games played, assists, and points, among others. Also gone are Eric Staal and Jason Zucker, who played key roles for the Wild in recent seasons.
Newcomers Kirill Kaprizov, Nick Bjugstad, Marcus Johansson, and Nick Bonino will look to keep the Minnesota offense from seeing a drop-off in scoring output, while veterans Zach Parise and Mats Zuccarello will try to continue producing points at a high rate, even into their mid-to-late 30s. In goal, Cam Talbot is primed to be an improvement over Dubnyk, while Alex Stalock will look to build on a career-best 20-11-4 record.
Add in a deep defensive unit, and this is a good, well-rounded team. The Coyotes will need to earn every point possible against their other division opponents in order to beat out the Wild for a playoff spot in 2020-21.
Season Schedule:
Feb. 6 & 7 – Xcel Energy Center
March 5 & 6 – Gila River Arena
March 12 & 14 – Xcel Energy Center
April 19 & 21 – Gila River Arena
West Division Outlook
Overall, the West Division appears to be the most top-heavy of the league's new 2020-21 divisions. The Blues, Avalanche, and Golden Knights finished one-two-three in the Western Conference in 2019-20, and they'll likely be there again in one way or another this season.
Since there will be only four playoff spots per division and no wild-card teams in 2020-21, this means that the five remaining squads in the West Division will be fighting for one playoff berth. It'll likely come down to the Wild and the Coyotes for this fourth seed in the division, as both clubs are fresh off of appearances in the Edmonton postseason bubble.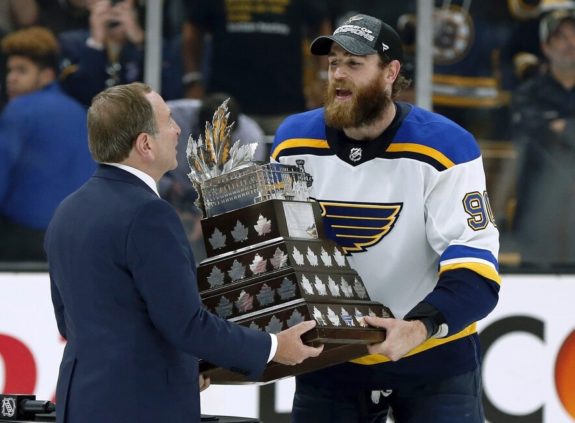 On the other hand, there's the California trio of the Ducks, Kings, and Sharks, who finished at the bottom of the West in 13th, 14th, and 15th place, respectively, and haven't played a game in over 10 months after being left out of the 24-team playoff field over the summer.
The Kings finished last season on a seven-game winning streak and have some solid young players coming up in the pipeline, so they appear to be the best-equipped of these teams to contend in 2020-21, but there's still a lot of work to do in LA.
There's always a chance that last season proves to be a fluke for a Sharks team that reached the 2019 Western Conference Final, but not a lot went right for them in 2019-20, and their core is now a year older.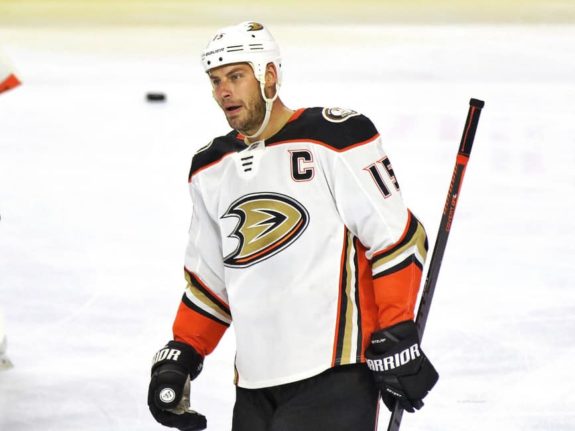 When it comes to the Ducks, they appear to be in a full-on rebuild. Ryan Getzlaf is in the twilight of his career, and Anaheim will need new leaders like Trevor Zegras to step up before they once again contend in the West.
In order for the Coyotes to be successful in 2020-21 and still be in the running for a playoff spot into late April and May, they'll need to take care of business against the California teams, and they'll need to be competitive against Colorado, St. Louis, and Vegas. They'll probably be battling the Wild for the fourth West Division playoff spot, so winning games in regulation against them will do a lot for their cause as well.
At any rate, look for a lot of high-intensity hockey to be played this season – with only 56 games on the schedule, individual contests will matter nearly twice as much as usual.
A lifelong Phoenix resident, Louis has been following hockey since 2010, has covered the Arizona Coyotes since 2015, and has been playing hockey since 2020. So far, Louis has visited eight NHL cities, and one of his personal goals is to eventually make it to all 31 NHL arenas. For any questions or concerns, contact the writer via Twitter @LouisPannone.