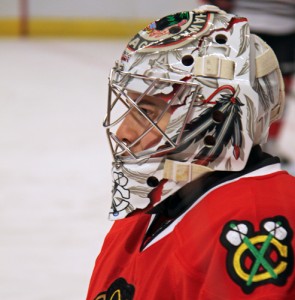 It's easy, when looking at the stat sheets and thinking about who might be eligible for the current season's Calder Memorial Trophy, to get lost in the dazzling stats of promising young forwards and D-men.
After all, it's impossible to ignore that Jeff Skinner, leading the league for rookies by putting up 23 G, 26 A (49 pts) while averaging 16:30 TOI and a 14.3 S%, has been an important player for Carolina this year. There's not a doubt in the world that Logan Couture, with 25 G, 19 A (44 pts), 17:56 average TOI, 51.9% FO%, and 12.3 S%, has been the tour de force that helped define the first half of the Sharks' season while they struggled to find their footing.
But over in Chicago, a storyline unfolded this year that is not entirely dissimilar to last season. Marty Turco, a long-time veteran in Dallas, was brought in as the expected top goalie for the Stanley Cup defenders. Turco and the team both struggled early in the season; Turco has earned an 11-11-3 record with just .897 sv% and 3.08 GAA.
Corey Crawford was drafted by the Chicago Blackhawks in 2003. He has stayed with the team all this time, playing two seasons with the Norfolk Admirals (2005-07), and the past three with the Rockford IceHogs (2007-10). While he was expected to be the backup goalie last year, Antti Niemi ended up beating him out for the job, something more likely to do with contracts than skill, as both played equally well in 2009 training camp. Last year in Rockford, Crawford went 24-16-2 with a .909 sv% and 2.67 GAA; he worked on his mental game and it was widely regarded that Crawford would become the Blackhawks backup goalie in 2010-11, regardless of who was number one.
Crawford slowly took over the starting goalie position from Turco. It wasn't anything intentional on his part; the team simply played noticeably better in front of him. It was most striking in games where Crawford was sent in to relieve Turco; you could see the team settle down in front of him. Crawford was familiar to the large number of Hawks players who had shared ice time with him in Rockford, and plays the butterfly style, as does Niemi, which most goalies in the league these days do. Turco's puck-handling skills are still there, but the team just never quite seemed to adapt as well to his hybrid style of play, although they did put together some good wins in front of him.
Patience paid off, and Crawford had plenty of time to refine his game at the AHL level, and, like many goalies, he comes into the NHL in his mid-20s, turning 26 just two months ago. But the time spent maturing in the lower levels has been good for his game, and he should be rewarded for his patience in the Chicago system by being the Blackhawks' number one goalie for a few years to come. His play is big, solid, and always square to the puck; his confident and steady play radiates out to the rest of the team. It has been his ability to hold his team in games that the rest of the team couldn't seem to find their legs that has been the primary factor for the Blackhawks being in striking distance of going to the playoffs again this year.
It's on his shoulders, not Turco's, that a 25-12-3 record, including 3 shutouts, .920 sv%, and 2.17 GAA rests. That puts him tied for 7th in number of games won (1 ahead of fellow rookie Sergei Bobrovsky), tied for 7th for sv% (currently .920, along with Antti Niemi, now of the Sharks), and constantly jockeying among the top five for GAA – currently, he's 3rd with 2.17, but his GAA has dipped as low as 2.10 and he's frequently been in second or third for GAA. These are impressive numbers for veteran goaltenders this season, never mind rookies. Recently re-signed Jimmy Howard is 31-12-4 with .908 sv% and 2.80 GAA. Henrik Lundqvist – league shutout leader with 8 – is 26-23-4 with .921 sv% and 2.33 GAA.
To top this off, Crawford goes into tonight's game against Toronto holding a newly minted honor: Crawford just set new NHL record for consecutive wins by a goalie in his rookie season (7), replacing Brian Elliott (6) for most consecutive regular-season wins for a rookie, and tying Antti Niemi (7), who has the most consecutive wins for a rookie if including a combination of regular season and playoffs.
Goalies tend to get less attention for the Calder, but Corey Crawford deserves serious attention this season.
Update 3/5, 11:15pm CST: the Blackhawks win over Toronto on 3/5 gives Crawford his 8th consecutive win as a rookie, and puts his current stats at 26-12-3, .920 sv%, and 2.19 GAA.
Cheryl grew up as a Hartford Whalers fan, and was introduced to the Blackhawks fandom in the late 1990s. She created the Hockey Broad website (www.hockeybroad.com), which is aimed at showcasing female fans' serious dedication to hockey. Her work has appeared on Puck Daddy, the LA Kings website, and TheHockeyWriters.com. Since she started writing about hockey in March 2010, the Blackhawks have won three Stanley Cups — which may or may not be a coincidence.