Hockey is a physically demanding sport that often involves intense physical contact between players. One controversial aspect of hockey is fighting, which has traditionally been used as a means to police the players and maintain a level of intimidation on the ice. However, when considering players under the age of 18, the effects of fighting take on a different significance. This introspective analysis delves into the potential physical effects, the impact of losing the intimidation factor, and the potential trickle-down effects on dirty plays and stick work. 
Cultural and Traditional Aspect of Hockey
Fighting in hockey has deep-rooted cultural and traditional origins that can be traced back to the early days of the sport.
"The first indoor hockey game ever played – March 13, 1875, in Montreal – was followed by fights between players and spectators as well as other nearby bystanders who only wanted to go skating at the Victoria Arena."

– John Kalbfleisch, (John Kalbfleisch, Second Draft: In 1875, at the first indoor hockey game, guess what broke out?, Special to the Montreal Gazette, March 4, 2016 ) 
Arthur Stanley – the son of Stanley Cup founder Lord Stanley Preston, and a member of the Rideau Hall Rebels met with other prominent men from the Ottawa Area to found the Ontario Hockey Association (OHA) in 1890. In that league-founding meeting, they focused on creating regulations to prevent the viciousness of fights that occurred the year before during a series of games played in a tour of the province. 
Strategy and Intimidation 
Fighting has often been strategically used to influence the outcome of games and intimidate opponents. There is no denying there is entertainment value, just look at the popularity of some players known best for their fighting skills, such as Dave "The Hammer" Schultz.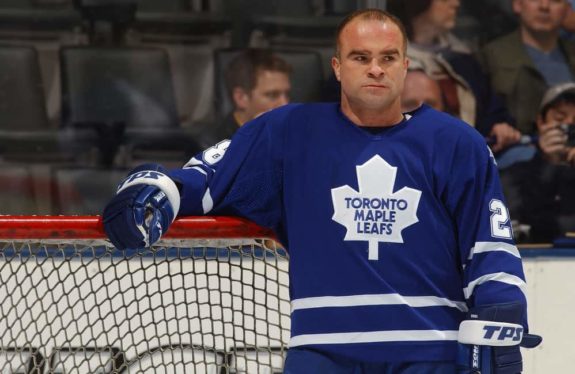 The age-old joke "I went to a fight and a hockey game broke out" is made for a reason. The carnival atmosphere brought on by fights has historically drawn fans to the game, providing a spectacle that contributes to the overall experience for some. There are even teams built on the promise of physical intimidation. The Boston Bruins and their moniker "Big Bad Bruins", the Philadelphia Flyers aka, the "Broad Street Bullies" are just two teams that historically have used intimidation to win and bring in spectators. 
There is a legitimate reason for teams to rely on fighting. Physical intimidation often does work. Teams used "enforcers" whose sole purpose was to fight. They were there to deter opponents from targeting their star players. It was a way to police the game. This was done by following the unwritten rules known as "The Code". Enforcers would dish out on-ice justice, fighting players who stepped over the line, allowing them to self-regulate and discourage dangerous or dirty plays.  
Evolution and Modern Views 
Over time, the role of fighting in hockey has evolved due to changing perspectives on player safety and sportsmanship. Gone are the days when an enforcer was a necessity to protect a star; like Marty McSorley and Dave Semenko did for Wayne Gretzky. Teams now need to rely on all four lines to win. With the speed of the modern game, no team can afford to have such specialized players who can't provide the club with legitimate ability to perform on a regular basis. 
Related: Hockey Documentaries to Watch Right Now  
---
Latest News & Highlights
---
This has led to teams returning to a focus on adding players who can bring that fighting ability, but also provide skill and other aspects to their game; players like Montreal Canadiens legend, Chris Nilan, who could play on an offensive unit, even scoring 21 goals in the 1984-85 season while adding 358 penalty minutes. This shift to multifaceted players is also due to the salary cap as general managers (GMs) are forced to spend their money more wisely.  
QMJHL Bans Fighting 
This is also feeding into a culture change in Canada. Hockey culture has become intertwined with Canadian culture at large, and trying to approach change in that atmosphere is seen almost as an attack upon it. Large portions of society have a romantic notion of hockey culture and identify deeply with those stereotypes of hockey players. A personality seen as humble, stoic, physically strong, hardworking, charitable, sportsmanlike, and one willing to defend their own with righteous fury. Despite that romanticized view, it is only natural to see a sport evolve as society changes, grows, and becomes more aware of the effects of any action. Just as smoking began to be seen as unhealthy, so are the effects of fighting on the long-term health of the brains of those who do partake in fisticuffs. 
Fighting in hockey can lead to a range of physical consequences, especially for young players who are still growing and developing. The teenage years are crucial for physical maturation, and subjecting young bodies to the rigors of fighting can have lasting implications. This is why the province of Quebec has passed a law banning fighting in sports providing standards for the safety of youth participating in these sports. Because of this, the Quebec Major Junior Hockey League (QMJHL) had no choice but to ban fighting.  
Their new rule is to "prevent physical and psychological violence that may result in minor or serious injury or, in extreme circumstances, death". Under the new laws, the QMJHL is now responsible for establishing rules of intervention when a fight occurs. Now, when there is a fight of any kind, there is an immediate expulsion from the game, and that is followed by a hearing with the league which could provide further penalties, such as a lengthy suspension. Beyond the obvious injury concerns (broken hands, noses, etc.), some potential physical effects for players under the age of 18 include growth interruption based on repetitive head trauma which can stunt the brain's growth. But there is also a mental health impact as the effects of Chronic Traumatic Encephalopathy (CTE) become better known.  
Trickle Down Effects 
As GMs are now moving away from adding enforcers for many reasons, such as financial, as well as on-ice performance-related reasons, the trickle-down effect is that as the NHL has evolved, so has the grassroots game. The fighting ban in the QMJHL is just the first major philosophical shift on this front. All that being said, some positives can be seen in this evolution of the sport. There will be even more of a focus on skill development. By emphasizing skill over intimidation, fans will begin to see entire future draft classes graduate more well-rounded players. 
But not all trickledown effects will be positive. The removal of fighting will lead to an increase in injuries in the short term, thanks to the additional dirty plays and stick work that players will feel less afraid to employ. This is a legitimate concern, as the absence of a deterrent will, for a few years at least, embolden some players to engage in unsportsmanlike conduct.
This is not to defend fighting, but it is a significant deterrent to dirty play as no one likes being punched in the face. Without it, the way the sport is officiated will need to evolve as well. For the first few years, there will be a need for a crackdown on stick fouls. New approaches to how on-ice officials' performances are assessed will need to evolve as well. Perhaps a more public system, one where officials who miss blatant fouls are held accountable, and even see demotions to lower leagues if they can't adjust.  

As fighting majors continue to decline, what the modern NHL has shown is that, in many ways, a tough, competitive game can exist without fighting. Despite that, there will still be concerns among large segments of fans who worry that the loss of the intimidation factor will lead to a potential increase in dirty plays and injuries. But the physical and emotional well-being of young athletes will continue to be given larger importance as the game continues to evolve.