By the end of this weekend the Dallas Stars roster will likely look quite different from the roster at the end of 2015-16. General Manager Jim Nill will look to improve a team which is coming off its best regular season finish in 10 years. His challenge will be replacing many key veterans.
Currently the Stars have 18 of 23 roster spots signed for 2016-17. They have just over $14M to spread across the remaining five roster spots. The Stars also have two restricted free agents who will almost certainly be re-signed in Valeri Nichushkin and Jamie Oleksiak. If they re-sign, that will leave three remaining roster spots. Nill has the flexibility to sign free agents but will be conservative given the team still needs to extend Jamie Benn after this season. Nill also wants cap space for potential trade opportunities.
The Stars have seven players who could be wearing different uniforms next season. Alex Goligoski has already been moved to Arizona, and when the calendar flips at midnight Jason Demers, Vernon Fiddler, Patrick Eaves, Kris Russell, Colton Sceviour and Travis Moen all might be gone.
Assuming all seven leave, the Stars will have more than just jerseys to fill. Three specific concerns stand out.
Stars Leadership/Team Chemistry
Alex Goligoski and John Klingberg were the top pair on defense. Goligoski played a key role in Klingberg's development as a hockey player and getting acclimated to a new country. Klingberg needs a new d-partner.
I will miss you buddy. Thx for all your help on and off the ice. Learned a lot from you. Good luck. https://t.co/lwKGgCdDbD

— John Klingberg (@johnklingberg) June 23, 2016
Having already lost Goligoski, if the Stars lose Fiddler they will need two new alternate captains. While NHL letters can often times be overrated, Goligoski and Fiddler have been important team leaders. Sure, they will still have the ultimate alpha male captain in Jamie Benn, but he will need new lieutenants to lean on. Goligoski replaced Trevor Daley as an alternate last season. Fiddler has worn the "A" for the past two seasons. THW's Matt Pryor recently interviewed Fiddler. They covered a variety of topics from Fiddler's ECHL days to being named an alternate captain in Dallas. In this video Fiddler is the one with the mic interviewing people in Fort Worth.
Demers is another glue-guy. He is close pals with Tyler Seguin, Benn and his brother Jordie. Eaves and Moen are versatile veterans who lead by example. As someone who had a lot of success in the American Hockey League, Sceviour has been a good role model for younger Stars forwards.
Russell wasn't with the team long enough to make a huge impact, but teammates did pick up some shot-blocking techniques from him.
Stars Defense
Sure Goligoski and Demers have their flaws, but they also covered significant top four minutes. Among US born NHL players, Goligoski was second only to Ryan Suter in minutes played last season. Before Stephen Johns arrived, it was Demers who formed a solid second pair with Johnny Oduya. Is it realistic to think Patrick Nemeth, Esa Lindell, Jamie Oleksiak or Jordie Benn can absorb these responsibilities? I don't think so. Look for the Stars to add a proven NHL defenseman this weekend.
The only good thing about the Stars losing in the second round of the playoffs was they didn't have to give up a first round pick for Kris Russell. At the time of the trade I was among those who thought Russell would help the Stars. However, he struggled, particularly in the playoffs. That being said Russell held down another full-time spot on defense.
Stars Penalty Killing
The PK improved down the regular season stretch (82.3% 10th overall) but struggled badly in the playoffs (73.7% 13th out of 16). The old expression is penalty killing starts with the goalie. At their best the Stars goaltending was average, at their worst they were terrible. Therefore, they must have quality penalty killers at forward and defense.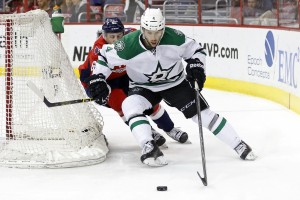 Next season the Stars will likely have to replace three of their top four shorthanded time on ice leaders. Oduya led the team with 229 SH TOI. Goligoski, Fiddler and Demers followed with 191, 178 and 148 SH TOI.
Assuming Fiddler leaves, impressive rookie Radek Faska will help to fill his SH TOI. Replacing Goligoski and Demers' minutes will again be a challenge. There will be at least a few defensemen who play heavy PK minutes available starting tomorrow. The Sharks Roman Polak and Penguins Ben Lovejoy are two who fit that bill.
This weekend will be an emotional time for NHL fans. It's never fun when fan favorites leave town and while it's unlikely all will be back, it's still possible one or two of them could return. For example, Fiddler chose to return the last time he was an unrestricted free agent in 2014. The question this summer is will the Stars be willing to re-sign him or any of the others. Or will the six UFAs get external offers too good to refuse.