As July draws closer it can mean only one thing. Jim Nill is quietly orchestrating another blockbuster trade. Nill has made a blockbuster trade in each of his first three summers in Dallas.
What's on the agenda this summer? Goaltending. Yes, publicly Nill has made it known he's pleased with the current goaltending situation, but privately that can't possibly be true. The goalie tandem of Kari Lehtonen and Antti Niemi did combine to win 50 games (25 each) last season. However, both faded badly in the playoffs. Also, both will turn 33-years-old by Thanksgiving.
The timing is perfect for the Stars. This month the NHL officially announced the Las Vegas ____ (nickname still TBD; my vote "Ice Chips") will be joining the league in 2017-18. The Las Vegas roster will largely be made up of players exposed in an expansion draft next summer. Teams will only be allowed to protect one goalie. Hence the recent trades by St. Louis (Brian Elliott to Calgary) and Anaheim (Frederik Andersen to Toronto).
Jim Nill and Steve Yzerman
At the Draft this weekend Tampa Bay Lightning GM Steve Yzerman publicly admitted a goalie trade is likely. This brings us to former Texas Tornado (NAHL) and current Tampa Bay Lightning goalie Ben Bishop. The 6'7" 216 pound native of Denver, CO turns 30 on November 21st. Bishop's phenomenal .926 save percentage was good for second best in the NHL last season. Meanwhile, Lehtonen and Niemi ranked 41st (.906) and 43rd (.905).
So why would Tampa Bay want to move Bishop? Andrei Vasilevskiy. The Lightning selected the young Russian in the first round (19th overall) in 2012. He relieved an injured Bishop during the playoffs and was excellent. He's ready for the starting job.
Further complicating matters for Yzerman is the Steven Stamkos situation. Stamkos is the king jewel of this summer's free agency class. If the Lightning lose their star player they will be looking to add offense. In that case, Bishop becomes an important trade chip. Lightning GM Steve Yzerman has already demonstrated patience in the way he handle a public trade request by up and coming Lightning forward Jonathan Drouin. Therefore, don't expect any hasty decisions from Yzerman.
The relationship between Nill and Yzerman is something which may give the Stars an advantage. Yzerman was the captain of the Detroit Red Wings when Nill was the assistant GM. The two share mutual respect for one another. Tampa Bay Assistant GM Pat Verbeek is another Tampa Bay-Dallas-Detroit connection. The teams play in separate conferences. Clearly they make for good dance partners.
Elliotte Freidman just said on NHL Network there is "some real smoke" to Ben Bishop and Dallas.

— Mike Corcoran (@MikeCorcoranNHL) June 25, 2016
Ben Bishop a Former Texas Tornado
Bishop won the Robertson Cup with the Texas Tornado (NAHL) in 2005. He had 35 wins. He played for Texas before taking his talents to the northeast where he played college hockey for the Maine Black Bears. Here is Bishop in a spontaneous "Don't Mess with Texas" video. Sort of.
Bishop has one year left on his contract with a cap hit of $5.95M. While some question his durability, Bishop has played in 60+ games each of the past three seasons. Not sold on Bishop yet? How about an endorsement from perhaps the GOAT of goaltenders?
"I'm impressed," former New Jersey Devils goalie Martin Brodeur said recently in an NHL.com article.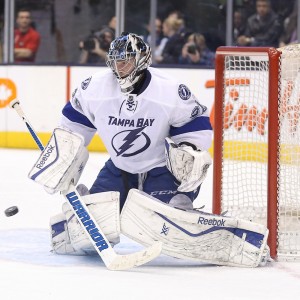 Brodeur didn't have Bishop's height, but is no slouch at 6'2". He holds the NHL record for wins with 691, far more than anyone else, and won the Vezina Trophy four times and the Stanley Cup three times. He is now the assistant general manager of the St. Louis Blues.
"For a big guy, he's not just a blocker," Brodeur said of Bishop. "He likes to play the game. He's a gamer. He's really an aware goaltender, the way he plays. He talks a lot. He moves the puck well. He's a little bit ahead of the play all the time.
"The big goalies, they have a harder time doing that usually, because they're so used to saying, 'Well, I'm going to cover as much of the net as possible.' They kind of minimize their movement. But that's not the case with him.
Maybe this July the annual Jim Nill fireworks display will include an old Texas Tornado. However, this type of Tornado only demolishes opposition slapshots and wristers. A Tornado Jim Nill and Dallas Stars' fans would welcome.
I have a Bachelor of Arts Degree is Sociology from Bridgewater State College. I have covered amateur hockey prospects with Texas roots for the scoutingreport.org, and I am a Dallas Stars writer for The Hockey Writers. I can be reached via Twitter @EdTexmass09.