With the return of NHL hockey quickly approaching, the Edmonton Oilers are poised to begin the 2015-16 season as one of the League's most drastically improved teams, thanks entirely to a dramatic roster overhaul undertaken this off-season.
Additions made have been so plentiful in fact, that essentially only the Oilers' main core of young stars remains.
At forward, the Oilers added star Connor McDavid, center-man Mark Letestu and depth winger Lauri Korpikoski. Further, on defense, Andrej Sekera was signed to a six-year contract, while Eric Gryba and Griffin Reinhart were acquired through trade, instantly adding greater skill and depth to the Oilers blue-line. Lastly in goal, the Oilers acquired Cam Talbot, arguably the most skilled goaltender available this off-season.
Resulting from these changes, it is quite clear that the Oilers will be a much more successful team this coming season than in 2014-15. With a legitimate starting goaltender in Talbot and star forward in McDavid, expectations are sky high in Edmonton for 2015-16.
---
Don't Forget About Darnell!
With all of the hype and excitement surrounding the Oilers, their newest additions, and primarily Connor McDavid, it has become quite easy to overlook the teams other young prospects, namely Darnell Nurse.
Although talent and competency on the Oilers blue-line has been scarce over the past number of years, it is suddenly crowded with a number of capable young players such as Nurse, who are determined to ply their trade at the NHL level. Let's not forget, Nurse did make the Oilers roster out of training camp in 2014-15 and played in his first two NHL games before being returned to the Sault Ste. Marie Greyhounds of the Ontario Hockey League.
---
2014-15: A Year of Development
The 2014-15 hockey season truly was an amazing year of development for Nurse.
Although it was disappointing to be returned to his junior club in the OHL, Nurse departed with not only the satisfaction of having reached hockey's highest level, but more importantly with the knowledge and understanding of what is required of a full-time NHL hockey player.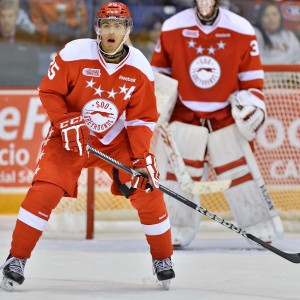 Following his return, Nurse played likely his final OHL season with tremendous confidence and success, tallying 10 goals and 33 points in a mere 36 games played. Named the Greyhounds team captain, Nurse also captained Team OHL at the Subway Super Series, a two game exhibition series with Team Russia used to evaluate World Junior Championship hopefuls.
Not surprisingly, Nurse was not a hopeful in the 2015 WJC, but rather, a standout. Nurse was instructed to not show off his offensive flair in the tournament, but instead, to showcase his tremendous defensive abilities, as witnessed in the following video, shutting down opposing forwards, especially so in the gold medal game. In fact, Nurse was so dominant that he was not only named the player of the gold medal game, but was also recognized as one of Canada's best three players in the tournament.
[Related: Darnell Nurse Key to Canadian WJC 2015 Success]
https://www.youtube.com/watch?v=GcC3WP-ZlTo
Once his highly successful OHL season, in which the Greyhounds reached the OHL Final, as well as international year came to an end, Nurse returned to professional hockey, joining the Oilers' AHL affiliate, the then Oklahoma City Barons for their playoff run. In four games with the Barons, Nurse was highly impressive, playing a high energy yet defensively sound game, while recorded four assists.
Although the Barons were eliminated in the Western Conference Semi-Finals, Nurse had shown his readiness for the NHL level.
---
2015-16 Expectations
With a crowded blue-line in Edmonton, it appears as though Nurse will be in greater competition for a full-time NHL position this season. Nikita Nikitin is on the outside looking in, and so too is Reinhart, both of which Nurse will have to compete with and surpass in order to gain a role in the nightly lineup.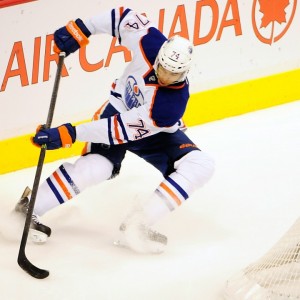 However, the expectation of Nurse this season is that he will not only fight for and win a roster spot, but he will be an impact player for the Oilers in 2015-16. In fact, many are predicting that Nurse will be so strong in his first season that he could be a dark horse candidate for the Calder Trophy as the NHL's rookie of the year.
In terms of Calder Trophy discussion, Nurse remains a dark horse contender not because he has yet to officially crack the Oilers roster, but because of the caliber of his fellow rookies entering the NHL this season. Among Nurse are a number of top prospects, namely McDavid, Jack Eichel, Max Domi, Sam Bennett, Michael Dal Colle, Ty Rattie, William Nylander, Jake Virtanen and Nikolaj Ehlers, who all appear likely to see considerable NHL action in 2015-16.
Yet, if Nurse's past has taught us anything, it is that he is the definition of a true competitor, aiming to improve his game on a daily basis. Sure, he will certainly face hardships throughout the coming season, however, the expectations from others, as well as from Nurse himself are that he will not only reach the NHL in 2015-16, but that he will be a competitive and impactful asset for the Oilers this season and for the considerable future.
All in all, look for Nurse to be a pleasant surprise in Edmonton this coming season, as his terrific work ethic and sheer hockey ability will combine for a truly successful rookie NHL season.
---