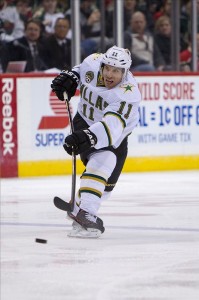 Quite simply, Derek Roy is doing it all for the Dallas Stars.
A quick look at the stats show a modest 3 goals and 14 points for the skilled, 29-year-old center, but his offensive production is just one element of Roy's multi-faceted game. He's playing a significant special teams role, averaging 3:03 on the power play and 2:03 on the penalty kill per game. His defensive responsibility and offensive consistency is a major reason for his team leading +7 rating.
His recuperation from off-season shoulder surgery, followed by a groin injury that caused him to miss 5 games earlier in the season, has provided a couple obstacles in Roy's quest to return to form, but he seems to be finally turning a corner. With continued success, Roy will cement himself as a staple in the Stars top six and make re-signing the soon-to-be UFA crucial.
Roy had his best game of the season against the St. Louis Blues on March 3rd, scoring one goal and adding two assists in a 4-1 victory. His goal, the game winner, is a perfect example of his hockey sense, quickness, and offensive prowess.
With the Stars' top three centers currently consisting of Jamie Benn, Derek Roy, and Cody Eakin (who's been impressive in his own right), this is a team that can grow together with the potential to provide a lethal two-way force up the middle, given that Roy sticks around beyond this abbreviated season.
With the right managerial moves and timely development of young players like Reilly Smith, Brenden Dillon, and Jamie Oleksiak, in addition to a farm system packed with promising prospects, the Stars are in a position to be legitimate contenders in a few years' time. Derek Roy could be a key cog in that machine.
On an 82-game scale, Roy is currently on pace for 13 goals, 49 assists, and 62 points, which would be his best NHL season since 2009-2010. The woes that plagued him in Buffalo are in the rear-view mirror. If the Dallas Stars can get Derek Roy re-signed to a reasonable long term deal, something that General Manager Joe Nieuwendyk absolutely must do, he figures to play a massively important role if the Stars hope to find significant playoff success in both the near and distant future.