In a very scary moment in Tuesday night's game against the Philadelphia Flyers, Rangers defenseman Marc Staal was hit above the right eye with a deflected shot.
Hoping Marc Staal's ok. Took a puck right on the eye. http://t.co/5LyL3aJxDk

— Liam McHugh (@liam_mchugh) March 6, 2013
Just 5:45 into the third period with the Rangers leading 3-2, the Flyers took an offensive zone faceoff to the right of goaltender Henrik Lundqvist.  Philadelphia won the draw and moved the puck to the point for a blast by Kimmo Timonen.  The shot was deflected by forward Jakub Voracek right into Marc Staal's face.  Staal, cut and bleeding, writhed around on the ice in obvious, excruciating pain before being helped off the ice by the medical staff.  He did not return. Here's the play that led to this frightening injury:
Discussing the injury on the MSG Network post-game show, former Ranger Brian Leetch spoke about his personal experience wearing a visor: "For me it was never really an issue. I grew up with a face mask – a cage – all the way through up to when I played in the Olympics. I went to a visor just because of the style of game I played [and my] comfort level. It just felt natural to me.  When I played in the NHL, [Rangers GM] Phil Esposito came up to me and said, 'You're going to wear a shield?'  I said I hadn't thought about it. He goes, 'Put a shield on – you wore it all the time before.'  He took the choice out of my hands."
Perhaps that's what it takes – removing the choice from the players.  If they don't want to elect to do it individually, they'll have to do it as a group via the NHLPA.  The topic of mandatory visors has reportedly come up in NHLPA discussions in the past, though it's apparently lacked enough support to have the players enact any sort of requirement.  Surprising, really.  When you think of the high-dollar contracts for these players, a visor is an insurance policy.  It reduces the risk of injury and increases the likelihood that player will still be able to play (and sign a new contract) when his deal expires.  An eye injury can quickly put a stop to an NHL career – and the income that goes along with it.
Toughness
You're not tough if you wear a visor.   At least, that's what players seem to think.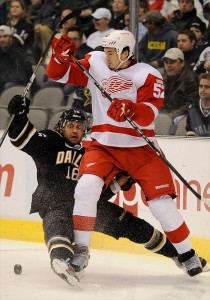 Take Sharks tough guy Adam Burish.  Averaging over 80 PIM per season, with a career high 214 with the Blackhawks in 2007-08, he's no stranger to rough stuff.  After seeing Canucks center Manny Malhotra go down with an injury, he changed his opinion on visors.
"[2011-12 was] the first year I ever wore one, and I thought that […] because of the way I play, I shouldn't wear a visor," said Burish, then with the Stars, on the team's website.
"I didn't think it was the right thing to do. I thought, 'If you're going to play tough, you're going to be in people's faces, you shouldn't hide under a visor.' But for me, it was after seeing what happened to Malhotra last year, just the puck, neutral zone, hits him in the eye, almost loses his eye and ends his career. So for me, it was, 'You know what? Let the macho thing aside, there's a lot of guys who play tough and play hard and play mean and nasty and they wear visors.'"
Not only can players still play with an edge wearing visors, but there's an argument that they play even rougher. A study by Alberto Chong of GWU and Pascal Restrepo of MIT dug deeply into the impact of visors on hockey players' ability to play the game. They concluded that there's no performance impact but there is obviously a benefit to player safety.  They also determined that players with visors are more likely to be penalized, likely playing in a more aggressive manner due to their added protection.  In either case, there's no arguing that the players have a much lower risk of facial injury – you know, the career-ending kind – when wearing visors.
Tradition
Hockey is a game of tradition.  It's also one to slowly adopt protective measures.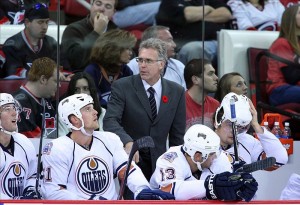 For all the current noise about visors, we need only go back sixteen years to when the helmetless Craig MacTavish was still playing in the league.  The last of the grandfathered-in players to skate without a helmet, he looked like a relic from another era skating out there. The NHL mandated helmets beginning with the 1979 draft class.  Anyone already in the league was permitted to play without, if they chose to do so.  Most adopted the helmet on their own.  By 1998, everyone in the league was wearing one.  Visors should be next.
Players obviously realize this, as the vast majority of them are currently wearing facial protection.  Back in 1997, an estimated 20% of players wore visors. In 2011, nearly 70% of players across the league sported visors.
With all the discussion around player safety and dangerous plays, it would seem that one of the obvious solutions would be for more players to adopt safety equipment already in use by players across the league.  Every player coming up from the college and junior ranks has played their careers with visors or cages.  Most junior leagues overseas also have similar requirements.  Players wouldn't have to adapt to wearing facial protection, especially if the mandate is grandfathered. They would simply continue wearing whatever it is they'd worn all along, or swap it out for something different, like transitioning from a wire cage to a clear visor.
Plenty of players have already experienced shortened careers because of eye injuries, including Bryan Berard, Chris Pronger, Manny Malhotra, and Ian Laperriere – and those are just recent ones.  They all suffered injuries that could have been prevented simply by wearing a visor.
How many more careers will have to end before the players and NHLPA realize it's in their own best interest to mandate visors.  Hopefully Staal's isn't one of them.
While there's been no official update from the normally-tight-lipped Rangers regarding Staal's injury, NHL.com's Dan Rosen had some optimistic news:
Lundqvist says he thinks the puck was flat when it hit Staal in the eye so he has cuts above and below his eye and is getting it checked now

— Dan Rosen (@drosennhl) March 6, 2013
---
Follow Josh on Twitter – @joshsmith29
---
Josh is a life-long hockey fan. He grew up as a fan of the New York Rangers, but thanks to their general mismanagement and years of mediocrity, has developed a great appreciation for every team across the league.
He's been writing about hockey on various sites since 1995. In addition to his work at The Hockey Writers, he also keeps tabs on the referees over at ScoutingTheRefs.com.