Henrik Lundqvist. Rick Nash. Martin St. Louis. Derek Stepan. Mats Zuccarello. Ryan McDonagh. Dan Girardi. Marc Staal. These are the names that come to mind when one generally thinks about the leaders on the New York Rangers, and the top players who drive the team's success.
There is another player, however, who is second on the team in scoring this season, yet for whatever reason does not receive the same level of attention or praise as these other names. That player is center Derick Brassard.
Brass's Decision on Brass Pays Off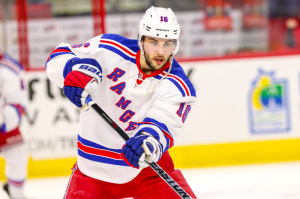 At the conclusion of last season — a year that saw the Broadway Blueshirts make a surprise run to the Stanley Cup Finals — GM Glen Sather and the rest of the New York brass had several difficult personnel decisions to make because of the team's tight salary cap situation. Unrestricted free agents Benoit Pouliot, Anton Stralman, and Brian Boyle could not be retained. Brad Richards, the team's de facto captain in 2014 after Ryan Callahan was traded, had to be bought out. Derek Dorsett was traded to the Vancouver Canucks for a third-round draft pick. In came Dan Boyle, Lee Stempniak, Tanner Glass, and Kevin Hayes. Then the Rangers had to turn their attention to their own restricted free agents, which included Zuccarello, John Moore, Chris Kreider, and Brassard.
At that point, Brassard — a former sixth overall pick of the Columbus Blue Jackets in 2006 who was traded to the Rangers as part of the Marian Gaborik deal in 2013 — was coming off a solid season in which he potted 18 goals and added 27 assists. He also played a key role in the playoffs and in anchoring what was oftentimes the team's best line with Zuccarello and Pouliot. Still though, the then-26-year-old had never quite lived up to the expectations that came with his draft selection. Injuries and a difficult situation on a bad team in Columbus were major contributors in stunting his development. Perhaps Brassard — who had just set a new career high in goals and finished just two points shy of his previous career high achieved with the Jackets in 2010-11 — was showing signs of breaking out.
The Rangers' brass certainly thought so, awarding the pivot with a 5 year, $25 million contract. There were certainly signs that Brassard was turning a corner, and he had shown a knack for stepping up in big games (as evidenced by several key goals he scored in last year's postseason, particularly when the Rangers came back from a 3-1 series deficit to defeat the favored Pittsburgh Penguins in the second round). That said though, given New York's aforementioned salary cap situation, it seemed like a fairly risky deal to give to a player who was getting into his late 20s and had never cracked the 50-point plateau in the NHL.
Since then, though, Brassard has rewarded Sather and the New York management for their faith, and that contract is looking like a bargain. He has provided consistent scoring this year, has been a major factor in Rick Nash's phenomenal season (and one could argue that this works the other way around as well), and has helped solidify the Rangers at the center position — previously thought to be a spot of weakness — with his elevated level of play.
A Career Year
As mentioned earlier, Brassard's previous career high for points in a season was 47 (17 goals, 30 assists) back in 2010-11. Illustrating just how good of a year he is having, Brassard notched his 48th point with an assist against the Calgary Flames on February 24 — eclipsing his career high with still 23 games left on the Rangers' regular season schedule.
The assist was also a critical one, as it led to the only goal of the game, with the Rangers holding off Calgary 1-0. While Kevin Hayes finished off the play beautifully to pick up the goal, it was Brassard who made it all possible by forcing a turnover in the offensive zone and quickly dishing a perfect pass for Hayes, who was able to one-time the shot past Flames goalie Karri Ramo.
Hayes had taken the left wing spot on Brassard's line in place of Nash, who had to sit out with neck spasms, and the rookie gave the credit to his setup man.
Hayes on his goal: "Brass had a good forecheck, great stick, made a great pass. He basically did everything, I just had to finish it off."

— Andrew Gross (@AGrossRecord) February 25, 2015

 
Lately, Brassard has been picking up his points via assists. He has always been a pass-first center — sometimes to a fault — and through Tuesday, he led the Rangers with 35 helpers on the season. That has helped him remain second on the team in points, despite only having picked up one goal in his past 16 games. The fact that he has endured that type of goal-scoring drought and is still one of the high-scoring Rangers' (it feels weird to say that after the Tortorella years) top point producers on the season — still chugging along at a 65-70 point pace — speaks to the type of year he's had overall, as well as his abilities as a passer.
Becoming a Top Center
Brassard was an in-between second/third-line center last season, playing behind Derek Stepan and, for much of the season, Brad Richards. But then he began to find chemistry with Zuccarello and Pouliot, and for large stretches of the season, they formed the Rangers' best line. So when Pouliot left via free agency and the duo of Brassard and Zuccarello was finally placed alongside Rick Nash, it should not have come as a surprise that that new trio would prove to be New York's most dangerous line for much of this season.
Nash gets a ton of attention and credit — and when you're in a race for the Rocket Richard trophy as the league's top goal scorer, you should — and Zuccarello does as well because of his combination of feisty play and creativity, as well as the fact that he led the Rangers in points last year. But Brassard, as the center, is an integral part of making that line click. Again though, he doesn't get the level of attention that his play and production warrant. Perhaps it's because he is not as flashy or noticeable as Nash or Zuccarello, but he is an excellent puck handler, has outstanding vision, and has a level of precision in his passing that allows him to execute on that vision.
With the departure of Richards after last season, there were questions about whether the Rangers had enough depth at center — especially about whether Brassard could step into the full-time number-two center role. Not only has he done that, but with the way the Rangers have organized their lines, he is really no lower on their depth chart than Stepan. At this point, they are really centers 1A and 1B for the Rangers. Brassard has helped the Blueshirts turn a position of apparent weakness into a strength.
To prepare for this increased role, Brassard placed an added focus on his preparation in the summer. By summer's end, he felt good about his off-season and work and was confident he could elevate his game and become that top center the Rangers needed.
"I changed my trainer this summer," Brassard said back in September, before the start of the season. "It was a good summer of training. I'm trying to get more explosive. I worked a lot with my trainer with heavy weights. When you're 18 or 19, you can kind of get stronger. When you're getting 26 or 27, you can still get stronger. It's more about maintenance during the summer, making sure you're body's right and doing the right things." (CBS Local – New York)
In addition to having increased strength, Brassard also seems to be making better reads on the ice, and doing so more frequently, quickly, and decisively than in years past. Teammate and good pal Carl Hagelin credits this to Brassard's passion to keep learning more and more about the game.
"He's a hockey nerd," Hagelin said playfully back in September. "He loves watching hockey. He loves to break down tape. He's one of those guys that is very particular about what he's doing out there. He really pays attention to detail." (CBS Local – New York)
Brassard's focus and off-season training seem to be paying off, as he's quietly putting together a great season for the Rangers. Having already reached a new career high in points, the question now is not only about how high he can go, but more importantly, how far he can help the Rangers go.
Tom has been with The Hockey Writers for almost four years. After previously covering the LA Kings and the New York Rangers, Tom now covers the Anaheim Ducks.
While in college at Clemson University, the 2016 college football national champions, Tom wrote game summaries and feature articles for the official team website of the Greenville Drive, a Class-A minor-league baseball team and affiliate of the Boston Red Sox. Tom is happy to be able to continue to fulfill his passions for sports and writing with THW.