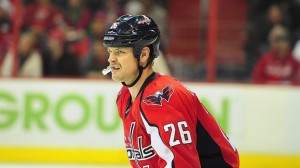 The Washington Capitals suffered a heartbreaking triple overtime loss to the New York Rangers in Game 3 of their Eastern Conference semi-final matchup early Thursday morning. Marian Gaborik ended what may have been the best game of the playoffs so far by going five-hole on Braden Holtby off a Brad Richards feed from behind the net.
The Rangers now hold a 2-1 series lead, but TSN's Bob McKenzie wonders if this win may cost them in the long run.
The question now becomes whether this might cost them down the road if this series becomes a long one.

For both teams, you don't know how they are going to respond to such a long overtime. Triple-Overtime – this was the longest game of the year.

For the Rangers in particular, it maybe makes you ask, "did they win the battle but lose the war of attrition?"
Rangers coach John Tortorella continues to play with a short bench while Capitals bench boss Dale Hunter has spread the ice time around pretty evenly. Here are the top five ice times recorded in Game 3 for each team.
New York Rangers
Washington Capitals
Player
TOI
Player
TOI
Ryan McDonagh
53:17
Dennis Wideman
40:42
Marc Staal
49:34
John Carlson
39:19
Dan Girardi
44:26
Roman Hamrlik
38:43
Michael Del Zotto
43:33
Mike Green
37:59
Ryan Callahan
41:48
Karl Alzner
37:14
Even though they are professional athletes, that Ryan McDonagh played nearly a full game himself has to take a toll. Not only did the Rangers' top four defensemen play a ton of minutes, they were punished by a relentless forecheck throughout the game.
The Caps dished out 59 hits, led by Matt Hendricks' 11, including this crushing blow to McDonagh early in the first overtime. Fortunately, there are two days scheduled between Games 3 and 4, plenty of time to reenergize and prepare for the next leg of arguably the most physical series of the playoffs.
The key for Washington now is dealing with the mental anguish a loss like this brings. A game like this can really drain a team of its energy, especially after so many close calls in overtime. Troy Brouwer put a shot just wide of the far post 4:45 into the first overtime after a turnover behind the Rangers' net, Ovechkin stripped Anton Stralman of the puck and rang one off the post late in that same period and Dennis Wideman's point shot was deflect and went off the post as well in the third overtime.
The Capitals need to have a short memory about this game which shouldn't be difficult as this is the most resilient the team has been in the Ovechkin era. They were down 1-0 and 2-1 in the first round to the defending champions the Boston Bruins, but came out on top in the first series to ever feature seven one-goal games. Hunter has this team in a better position to face adversity than Bruce Boudreau ever did.
As McKenzie mentioned, this is a war of attrition. The Capitals lead the playoffs with 356 hits, 85 takeaways and are second with 218 blocked shots while the Rangers lead with 225 blocks and are second with 354 hits and 78 takeaways. Every square inch of ice is going to be earned the hard way and more balanced ice time could keep the Caps fresher, just enough to give them an edge in what is looking like a long series.
A native of Monroe Township, NJ, Tim received his Bachelor's Degree in Contemporary Journalism from Endicott College in Beverly, MA. A Flyers fan growing up, he has gone to numerous events including each installment of the Winter Classic, the Stanley Cup final and the 2010 Olympics.
In addition to The Hockey Writers, Tim also writes for The Good Point and interned with The Hockey News from Jan. to May 2011, contributing to their book Hockey's Most Amazing Records. Outside of hockey, Tim enjoys reading and watching movies and extreme sports such as snowboarding and skydiving.