The New Jersey Devils are back in Newark for tonight's Game 3 with the Philadelphia Flyers. The teams split the first two games in Philadelphia, with the Flyers winning in overtime in Game 1 and the Devils taking Game 2.
So how can the Devils take control of the series tonight as they continue their quest for revenge after falling to Philly in the 2010 Eastern Conference Quarterfinals?
Here are three keys to a Game 3 victory.
Travis Zajac

After missing the majority of the regular season dealing with an Achilles problem, Zajac has been on fire in the playoffs. He is fourth in the NHL with five goals and eighth with eight points.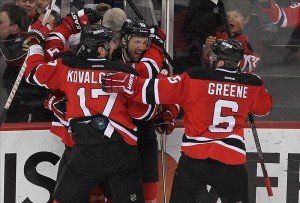 Zajac has had a goal in both games this series, as well as in four out of the seven games with the Florida Panthers. When he puts up a point, the Devils are 3-2. If he stays on a roll, almost as if his injury never happened, the Devils will have another player to count on as they try to secure the series lead.
Hold off Danny Briere
Briere had two goals in Game 1, including the overtime game-winner that gave the Flyers the lead to start the series. However, when the Devils came back to win Game 2, Briere was held scoreless and posted a minus-three.
He is also one of the NHL's top playoff stars, as he is first in the league with seven goals and second with 10 points. While Briere's teammate, Claude Giroux, is just as dangerous—if not more so—Briere is the one who has given Devils fits so far. The Devils should once again focus on shutting him down.
Pressure Ilya Bryzgalov Early and Consistently
In Tuesday's game, the Devils outshot the Flyers in every period, including by a 12-2 margin in the second. While New Jersey did not get through to Ilya Bryzgalov until the third period, it was better late than never, as the Devils scored four goals to take a 4-1 victory.
However, in the first game, they were outshot by the Flyers in both the second and third periods. Even though they had 15 shots to the Flyers' six in the opening frame, it was not enough. They were outshot 36-26 and lost 4-3, losing their initial burst of energy as Philly took over the game.
The Devils will need to come out tonight putting pucks on the net early and often, or it will be a long game.
Alison is currently covering the Wilkes-Barre/Scranton Penguins of the AHL for The Hockey Writers after writing about the NHL's New Jersey Devils from 2011-2012. She is currently employed for the fast growing sports website Bleacher Report as a quality editor and hopes to one day have a media relations career with a professional hockey team. Follow her on Twitter @AlisonM_110.