by Jas Faulkner, contributing editor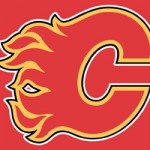 In the response to the continually churning rumour mill about who will wear the whistle and a few other hats in Calgary in 2012/13, Flames GM Jay Feaster made it plain that no decisions had been made yet.
"I've had to shoot down rumours that we've already hired someone. That is not the case," said Feaster during a press conference yesterday. Feaster then assured the room that there was "no artificial time frame in place. We will be conducting a thorough search. We are going to take our time and this is going to be a thorough process. We're in the first inning of a nine inning baseball game."
Like any leader with a high-profile position to fill, the GM has been contacted by the usual suspects. "We have heard from coaches, we have been contacted by agents who exclusively represent coaching staff. We do have a list of candidates that we're looking at now and we hope to eventually narrow that to five or six candidates.
"As for what we're looking for, we are going to take a lot of things into account. This isn't just about his win/loss record. We're going to look at everything, his wins and losses, power play, penalty kill efficiency. We want to get someone with prior experience as a head coach and preferably in the NHL."
Feaster went on to express enthusiasm for some the recent transaction affect the Flames roster for the upcoming season.
the recent signing of KHL standout Roman Cervenka.
"Roman is a highly skilled player with great hands, excellent vision and the ability to score goals at an elite level of play. Our scouts in Europe identified him as someone who could slot into our top six forward group and play in the NHL as a top two line centre. John Weisbrod went to see him play early in the KHL Playoffs and came away confirming everything we had heard from our scouts in Europe. We made an aggressive pitch to convince him that Calgary was the perfect place for him to start his NHL career, and we are extremely pleased Roman agreed. We look forward to welcoming him to the Flames and our great city."
The addition of Cervenka, a leading scorer, KHL all star and Olympic dynamo, may prove to be a turning point for the Flames in the coming season. In Cervenka, fans are getting a player who is poised for stardom on this continent. His almost surgical stick skills could be just what the doctor order for a fresh start this Fall.