The numbers are carved into the psyche of the 2017-18 Detroit Red Wings.
Their record in their last seven games is 0-4-3. They've been outscored 36-14 during the slide. The final score from their last performance was 10-1.
Surrounded by over 20,000 spectators that belted the rallying cry made famous by the Bouncing Souls in 1999, the Wings were more than happy to join in with their play (or lack thereof) on Saturday night.
"Ole, Ole, Ole, Ole. Ole, Ole. Ole, Ole, Ole, Ole."
One by one, pucks hit twine, with many a passenger on the ice watching helplessly as the amount of goals against grew. Four, six, eight, nine, double digits. At the end of the slaughter, head coach Jeff Blashill's guarantee that his team would be ready after a poor finish on Thursday did not play out like Mark Messier's.
In fact, it fell far down the well and died as an empty promise. The organization has had its share of those for the better part of a decade now.
A Disillusioned Outlook
Saturday night felt like a perfect representation of what the Wings have been reduced to since defenseman Nicklas Lidstrom hung up the skates in 2012. They did score one goal but were down by nine before the game was out. They have been able to stay mildly competitive and make the playoffs in recent years but were pushed out of the first round in four of their last five trips by far superior teams.
Even though there was some feeling of accomplishment, there was little expectation to advance outside of marketing a playoff streak that had its luster tainted with every early exit. With their failure to even make the dance last season, it should have served as a wake-up call that this team needed a change of direction.
The course was left unchanged.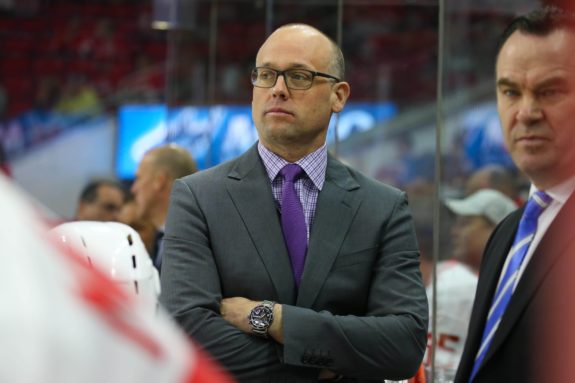 Blashill believed that his team could bounce back and make the playoffs. His confidence level was at 100 percent. General manager Ken Holland set a goal for earning a berth before the start of this season, despite a high amount of "ifs." Not that long ago this team won four Stanley Cups in 12 seasons, almost making it five in 2009. There were actual expectations at one point.
Here are more numbers for you to swallow.
It's been eight seasons since Detroit has made a Conference Final. That number will likely reach nine after this campaign. In that span, the team won just three playoff series, the least in an eight-year period since the "Dead Things" era. In a span of 17 seasons, Detroit missed 15 times from 1966-83.
However, they were able to rebound with a quarter-century of greatness thanks to the many assets they picked up as a result of their struggles.
The goal of just "making it in" has dragged this team down on an eight-year ride into irrelevancy. The fool's gold of upholding the Winged Wheel's legacy and tradition has left this team a shell of what it once was. The absence of cornerstone pieces due to these meaningless finishes has played a major role in Detroit's demise.
Lack of the Elite
Don't get me wrong, the Wings have drafted well for their positioning since winning their last Cup in 2008. Gustav Nyquist, Tomas Tatar, Martin Frk, Andreas Athanasiou, Anthony Mantha, and Dylan Larkin have all grown to be solid complementary players in the NHL.
Here's the problem: none of them have proven that they can be leaned on as consistent contributors night in and night out. Mantha and Larkin have broken out to start this season, but it remains to be seen if they can be bonafide superstar players.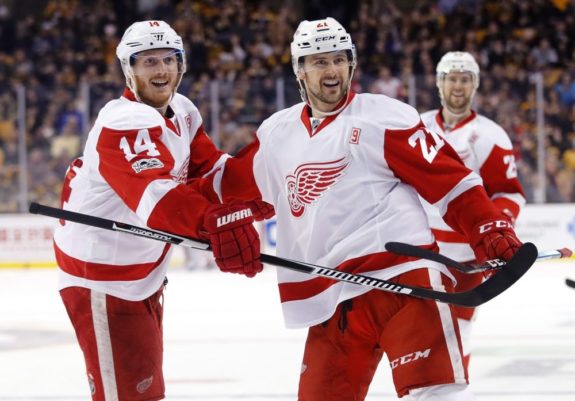 Nyquist and Tatar failed to take the reins from Pavel Datsyuk and Henrik Zetterberg because they never were going to be the new "Euro Twins." They are solid top-six contributors that have a 20-goal, 50-point ceiling, but that level of play will not carry a team to glory.
The defense corps has also lacked a base to build on.
Xavier Ouellet and Nick Jensen look like bottom-pairing defensemen at best. Danny DeKeyser has not been able to live up to a six-year, $30 million contract, one of the many questionable deals Detroit has on the books. Jakub Kindl and Brendan Smith were first rounders that never panned out. Niklas Kronwall's health and offensive play have declined with him not having the stamina to take on the number-one role.
A standout blueliner never emerged, and the foundation collapsed leaving the brigade where it is today. An experienced Trevor Daley cannot save it. Mike Green can only do so much with his offensive prowess diminished from his days with the Washington Capitals.
Unfortunately, the team's strongest link in goaltender Jimmy Howard has to bear the brunt of the crumbling squad around him. The 33-year-old has played some of his best hockey for the past two seasons, but his strong performances have been wasted by a flawed and dated philosophy.
Philosophy Must Change
Firing Blashill alone will not cure the many ailments this team has. A rookie coach that's been given a less-than-impressive roster to work with should be further down the list in terms of blame. Mike Babcock did get more out of his squads, and that's why he was given a blank check to coach the Toronto Maple Leafs to a Stanley Cup.
The current bench boss won championships at the USHL and AHL levels, and I personally don't think many coaches could bring this roster out of its coasting stage to anything significant in terms of winning. Let's remember that the Leafs finished last in the league in Babcock's first season.
Ascending through the organization, it's fitting that the team fades from playoff contention right as the architect enters the final year of his contract without an extension in place.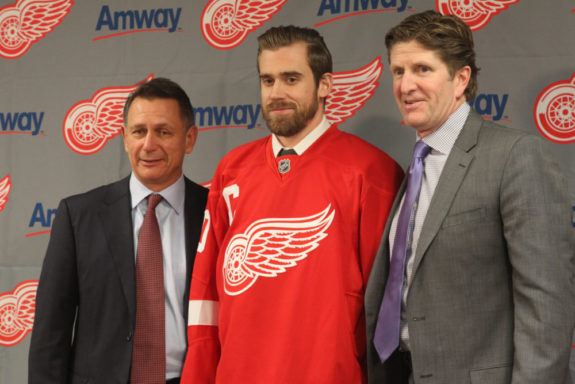 Holland's approach, successful for the better part of his 20-year tenure, has grown stale, leaving the team in a similar state. While owner Chris Ilitch did state that he had 100 percent confidence in his leader of the braintrust after 2016-17's disappointment, like Babcock said himself when he left in 2015, it's time for a new voice and direction.
The long-discussed cap-crunching contracts, the wrongful expectation of Cups, and the painstaking patience have left this team in a purgatory state. While the idea of competing does mean well in terms of protecting pride for the organization, the endgame has proven to be nonexistent. This has been seen with the recent playoff results now bleeding into the regular season.
Opportunity for Progress
This Wings still have 55 games left to play on their schedule, but this campaign is already looking worse than the last. The numbers again tell the story.
Through 27 games in 2016-17, Detroit had a record of 13-11-3. Despite their playoff miss, the squad last year never went through a six-game losing streak. This year, the team has already gone through two of those, including the current seven-game slide leaving their record at 10-12-5.
"Oy-vey, Oy-vey, Oy-vey, Oy-vey."
Not all hope is lost, however. The team does sit well for the upcoming 2018 Entry Draft. Right now, Detroit has five picks in the first three rounds. They can easily increase that number at the trade deadline and in the offseason.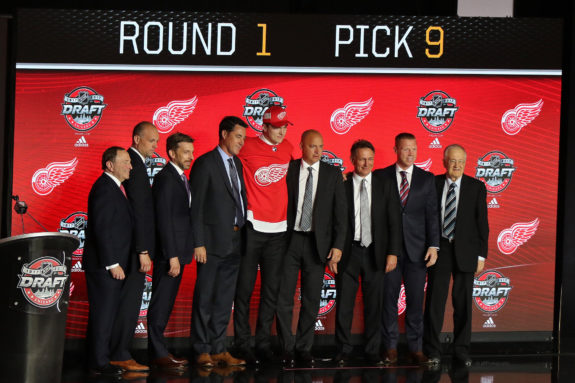 Green is an obvious candidate to be moved, with unrestricted free agency on the horizon for him this coming summer. Nyquist will be testing the waters in 2019 and looks quite attractive to move. Mrazek's days as a Wing, once promising, now look numbered as he enters restricted free agency in a matter of months. Jonathan Ericsson could be a buyout candidate with two years remaining on his deal.
None of these moves would be an instant fix, but they would be places to begin.
There is an opportunity to let this failing vessel sink to the bottom and be reborn with a new cast of heroes. It's just a matter of facing reality. If the current brass is still reluctant to swallow their pride and go through with some of these difficult moves, their stay will hamper rather than help Detroit for the long haul.
Gradual Recovery Must Start
"This team's good enough to win. The guys in that locker room are good enough to win. We don't need help from the outside. We need this group, myself included, to be way better."
While the message from Blashill again means well in thought, on the ice it's beyond clear that this team needs help from the outside. The roster has not been "good enough" to win a playoff round since 2013. Detroit can only advance so far on a treadmill to nowhere, settling for mediocrity out of "respect for the Winged Wheel."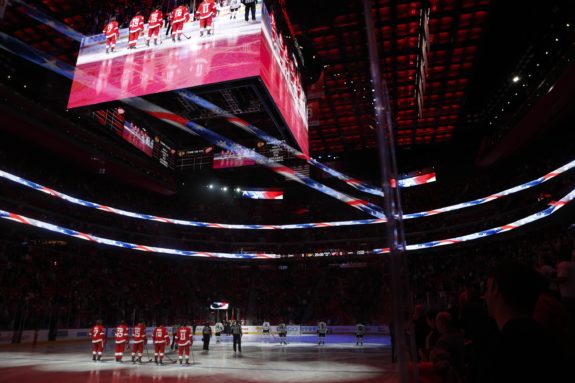 It's time to build a team that is actually "good enough." It's time to let go of any meaningless connection to a past that's dead and gone. It's time for pain. It's time to set a course for actual change.
It's time to rebuild.