"Too small."
That brief statement has probably been attached to Detroit Red Wings defenseman Joe Hicketts more times than one. It's why the 5-foot-8, 174-pound blue liner was passed over in the 2014 NHL Entry Draft. It's also why the then-18-year-old had to earn his place within an NHL organization doing what few his size or age can do in hockey.
Surprise, impress, and overcome the odds.
Hicketts Earned His Spot
It's been three seasons since the 2014 prospects tournament in Traverse City when Hicketts, a roster invitee, did all of the above in front of the Red Wings brass. As the second-youngest player on the team, he scored two goals to help Detroit finish third. The performance caught the eye of general manager Ken Holland, so much so that he signed him to an entry-level contract at the conclusion of camp.
He played real well in the prospect tournament. I thought he played real good today. He missed almost half the year last year with injuries. He's impressed us.
After signing the deal, Hicketts provided early returns. He rattled off two WHL seasons of 60-plus points and had an impressive debut in his first full AHL season last year. He scored seven goals and added 34 points, which placed the now-21-year-old seventh among rookie defensemen in scoring.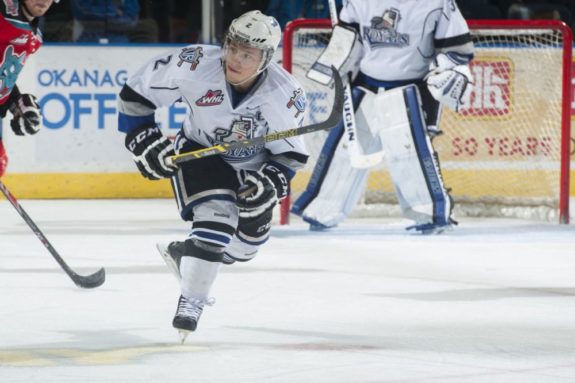 His freshman campaign was better than rookie seasons of recent Detroit defense prospects, including the likes of Brendan Smith, Ryan Sproul, and Xavier Ouellet. All of them were picked in the first or second round.
Lasting Impression Felt
Hicketts rode that momentum into the preseason where he did not look out of place. He tallied four assists in four games while firing 10 shots on goal to tie for the lead among Detroit blue liners.
In his second-to-last preseason game against the Toronto Maple Leafs on Friday playing with most of the Wings' opening night lineup, he wanted to make sure he gave head coach Jeff Blashill something to think about.
Jake Gardiner (6-foot-2, 201 pounds) didn't see it coming. Neither did Tyler Bozak (6-foot-1, 194 pounds).
While Hicketts is known moreso for his offensive game, the shift represented what the Kamloops native has been able to do so far in his young career despite his diminutive size. Blashill offered praise for his ability to perform well with his shortcomings physically.
'Joe's a good player, Joe's a gamer. He just wants to be an impact every single time he's on the ice,' Blashill said. 'He doesn't look the part. He's smaller and not a great skater. Most of those guys don't play in the NHL. There's very few of them that are.'
In the final exhibition tuneup on the road against Toronto Saturday night, he played more to his strengths and delivered in a clutch moment moving up on the rush.
While Matt Lorito's goal did not hold up as the game-winner in regulation, Detroit was still able to pull out a victory in the shootout.
It's clear Detroit needs more defensemen that can join the rush and produce while doing so, as just one blueliner (Mike Green) had more than 15 points with the big club last season. It's definitely encouraging to see Hicketts step up in game-breaking moments like Saturday's despite the exhibition environment, providing some of that dynamic offensive ability.
He'll Be Back
Even though Hicketts was sent down to Grand Rapids yesterday, it will be shocking if he's not back up to make his official NHL debut at some point this season. With Detroit's current logjam on defense, it is best for him to step into an elevated role this season in the minors and prove that 2016-17 was not a flash in the pan.
Hicketts will be expected to become a consistent contributor and help newcomers Filip Hronek and Vili Saarijarvi get acclimated as professionals with the Griffins. This will be an experience that will do nothing but benefit him down the line.
Hicketts previously served as captain for the Victoria Royals in his junior days for two seasons, a reflection of his ability to step up and become a leader.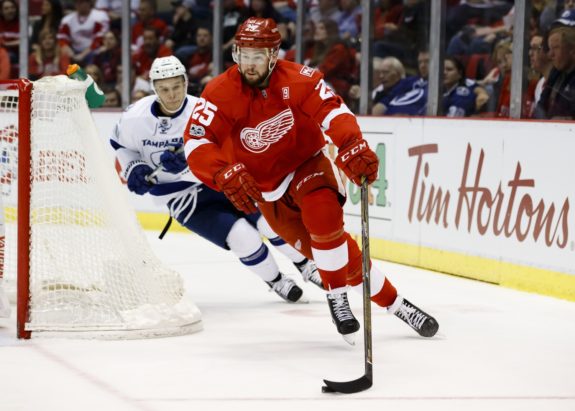 If the 2017-18 campaign goes as expected for the Red Wings, the defense corps will open up. Green is a likely candidate to be traded as he is the Wings' most coveted asset. It's definitely possible that Niklas Kronwall or Jonathan Ericsson will hit the long-term injured reserve list as well. This would clear the way for those in Grand Rapids, and it would not be a surprise to see Hicketts as the first man up.
The former World Junior Gold Medalist has certainly worked for that opportunity.
I've done everything in my power over the last couple of years of junior, last year in the American League (with Grand Rapids), and over the summer to prepare myself to get to the next level.
It's been quite a progression for Hicketts going from being labeled to lauded as one of the game's most intriguing prospects on the blue line. His performance in the preseason showcase all but solidified his place as a player that is one step from the big leagues. It's just a matter of time before the Kamloops MHA product makes his NHL arrival, one that will be a testament to what he has done thus far in his career.
Surprise, impress and overcome the odds.
Griffin is a Junior at Northwood University in Midland, Michigan pursuing a Sports and Entertainment degree. His passion of writing began when Detroit Red Wings captain Henrik Zetterberg was out for the season in 2014 and he wanted to give his thoughts. Griffin comes from LastWordOnSports.com where he had the role of "associate editor" and wrote nearly 300 articles over three years for their hockey department.