The New Jersey Devils had a rough go of it in Game 1 against the Carolina Hurricanes. They lost 5-1, the same exact score line in Game 1 of their first-round series against the New York Rangers. They'd go on to lose Game 2 by the same score, but they'll need to avoid the same fate against a much more disciplined and structured Hurricanes team. Here are three things to watch as the Devils look to even up the series before returning to New Jersey for Game 3 on Sunday afternoon. 
Devils Need a Better Start
It's hard to fault the Devils for having a sluggish start in Game 1. They were just 48 hours removed from an emotional Game 7 against the Rangers and had to travel to Carolina the following afternoon. They got thoroughly outplayed by the Hurricanes over the first 20 to 25 minutes of the game before finding their footing about midway through the contest. 
Over those final 40 minutes, the Devils controlled 64.4 percent of the expected goals (xG%) at five-on-five and had nine high-danger chances compared to the Hurricanes' five. They started to get to the center of the ice more often, something Carolina didn't allow them to do over the first 20 to 25 minutes. 
Related: 4 Takeaways From Devils' Game 1 Loss to Hurricanes
---
Latest News & Highlights
---
The Devils need to replicate the second half of Game 1 from the opening faceoff tonight. Falling behind 1-0 against the Hurricanes isn't insurmountable, but a multi-goal deficit against a team like them in the playoffs can be difficult to come back from. They allowed the second-fewest high-danger chances per 60 minutes during the regular season. If they get a lead, they will lock it down and protect it. 
That's why the Devils need to come out sharp and get the first goal or two to make the Hurricanes chase the game, especially since they're missing their top finishers in Andrei Svechnikov, Teuvo Teravainen and Max Pacioretty. Unlike the Rangers series, it'll be much tougher to win four of five games against a team like the Hurricanes in a best-of-seven. And with the emotions of Game 7 having worn off, I'm expecting a sharper start from the Devils. 
Finding More Open Ice for Jack Hughes
One reason the Devils had trouble generating offense in Game 1 is that Jordan Staal shut down Jack Hughes' line. Hurricanes head coach Rod Brind'Amour hard-matched Staal against Hughes, and I'm sure he'll do the same tonight since he has last change with home ice. That means Ruff will have to figure out ways to get more open ice for Hughes.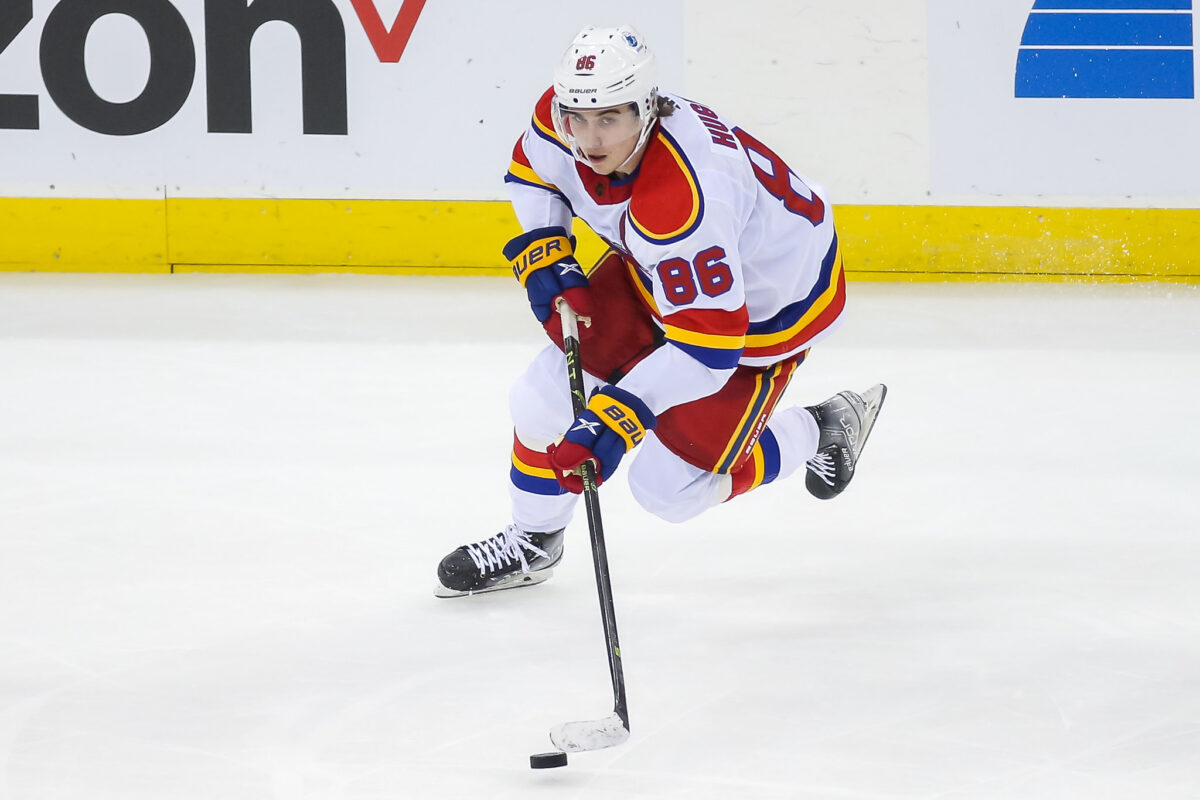 The Devils didn't skate line rushes this morning, so we won't know until warmups whether there'll be any changes to their lineup. One idea may be to bring Jesper Bratt back on Hughes' line to add some more explosiveness to Hughes' unit. That could cause some confusion among Hurricanes defenders since Bratt and Hughes are both elite play drivers and can attack the defensive zone in different ways. 
With Erik Haula and Ondrej Palát as his linemates, Hughes becomes the sole facilitator on that line. It makes it easier for Staal to defend since the Hurricanes play man coverage; he can shadow Hughes the whole time. But with Hughes and Bratt together, it could force Staal into difficult decisions on who to defend in the neutral zone when the Devils use their speed on the rush. 
Right Back to Schmid
Though Devils head coach Lindy Ruff pulled Akira Schmid early in the second period of Game 1, he's going right back to him tonight. One reason to do so is that their loss in the opening contest of this series was far from his fault, but his response when facing adversity against the Rangers should be the main reason Ruff returns to him. 
After giving up five goals in a 5-2 loss to the Rangers in Game 6, Schmid responded with a 31-save shutout in Game 7. The Devils made life easy for him in that shutout, allowing only five high-danger chances to the Rangers at five-on-five, but he was still dialed in from the start. And since I'm expecting a better effort from the Devils in front of Schmid tonight, it makes all the sense to give him the opportunity he had after Game 6 against the Rangers. If things go awry, then that leaves Ruff with a decision to make for Sunday, but he'll cross that bridge when he has to. 
Devils Quick Hits
Timo Meier didn't play in Game 1 after taking a vicious hit from Jacob Trouba in Game 7 of the Rangers series. But from the looks of it, he could be in tonight. He participated in the morning skate and didn't do work with the extra skaters (per Tom Gulitti). Getting Meier back after a one-game absence would be a boon for the Devils. He can match some of the Hurricanes' physicality and help New Jersey find more offense from high-danger areas against a disciplined Hurricanes defense.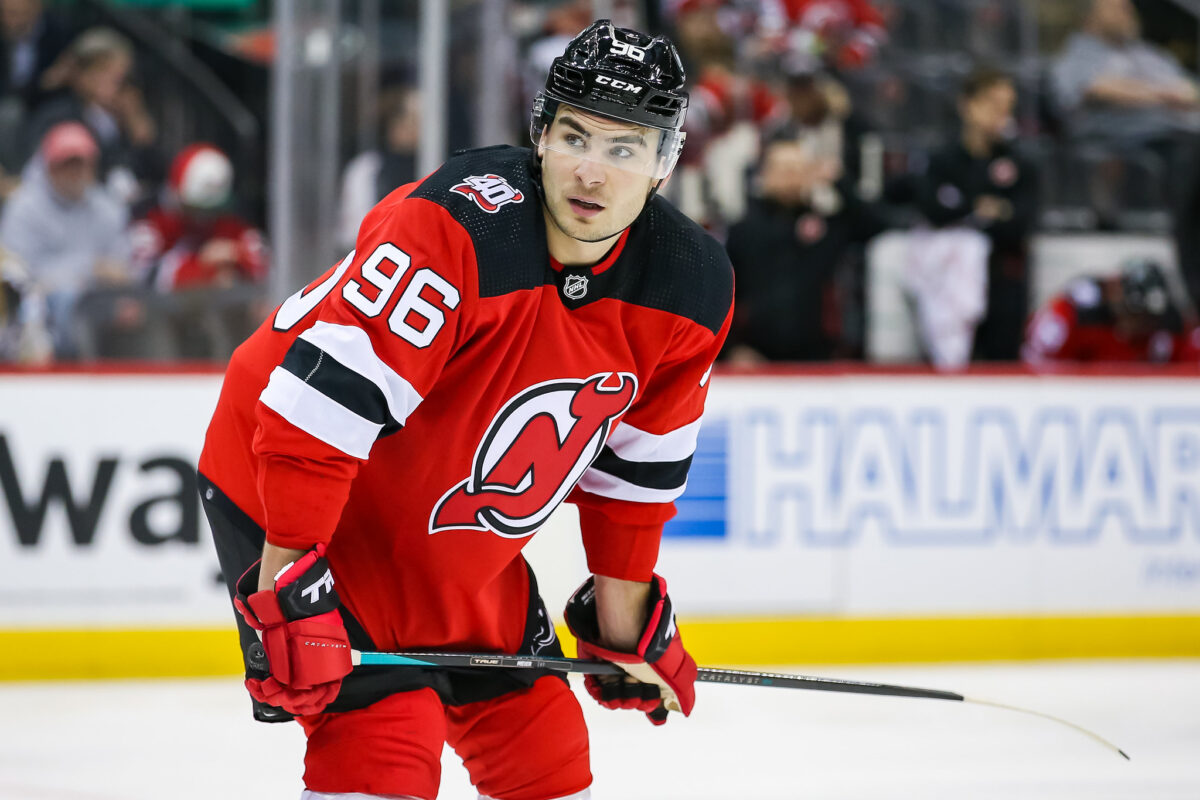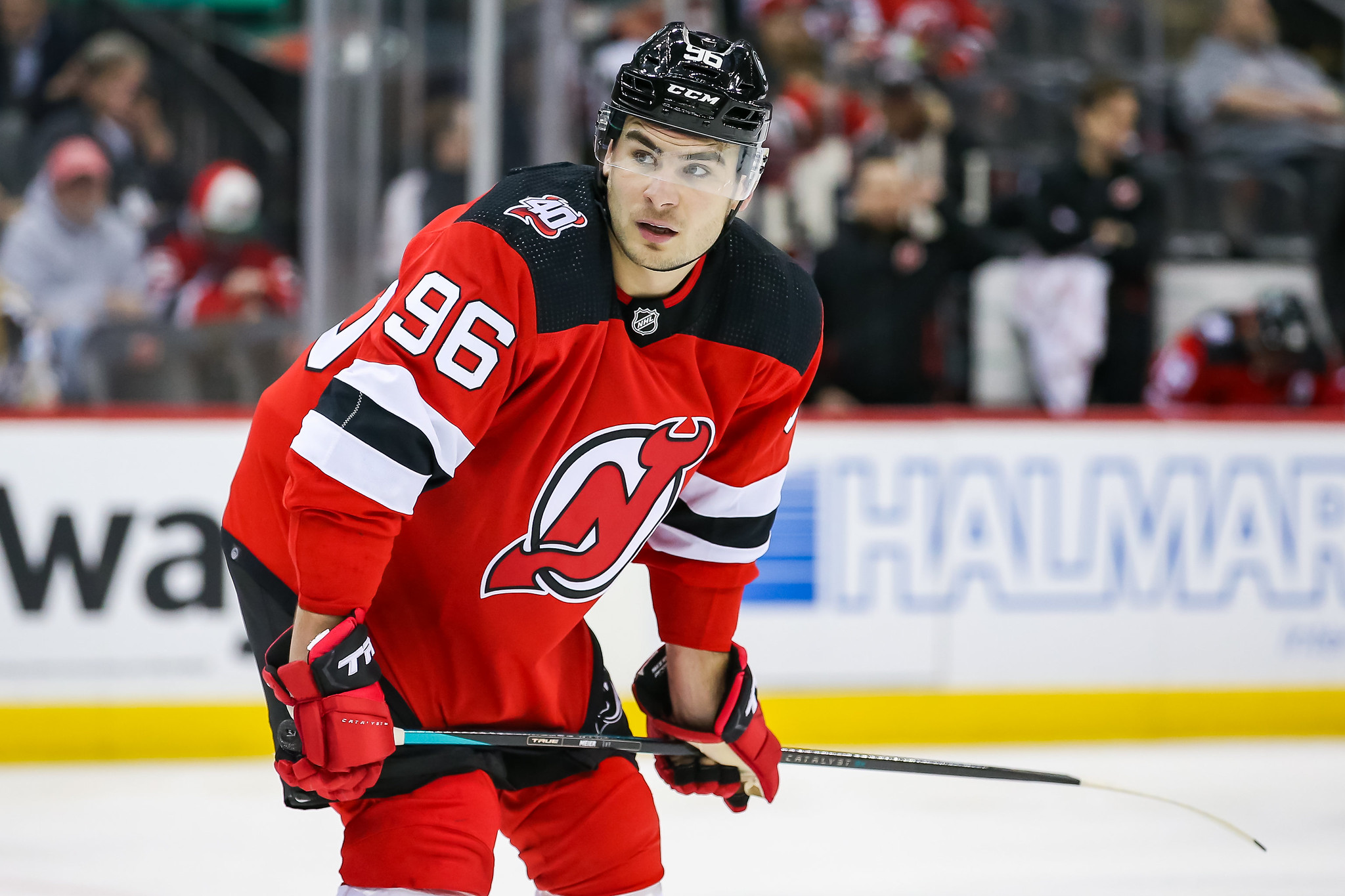 Will Luke Hughes play? I'd be surprised if Ruff made the change after one game, but Hughes could help the Devils break the pressure of an aggressive Hurricanes forecheck with his elite skating and puck-moving ability. If tonight looks similar to Game 1, there's almost no doubt that he has to play in Game 3 on Sunday afternoon. 
Tonight's game begins at 8 PM and can be seen on TNT. There will be pre-game and post-game coverage on MSGSN in the New York metro area.
* * *
Advanced stats from Natural Stat Trick