It appears reinforcements are on the way for the New Jersey Devils. Jesper Bratt, who signed a new contract on Jan. 10, has been taken off the COVID-protocol list and is now eligible to join the team for on-ice sessions after completing his seven-day quarantine without a positive COVID test. 
The Devils have a tight schedule over the next week-plus, with six games in 10 days, including tonight against the Philadelphia Flyers. That will make it tough for head coach Lindy Ruff to find practice time to get Bratt up to speed.
Though the Devils will have limited practice time, it shouldn't be much longer before Bratt joins the lineup. If he doesn't play tonight, he should make his regular-season debut in the next few days. But regardless of when he returns, it'll be interesting to see where Ruff starts him off. Let's take a look at some potential line combos and where Bratt could fit in. 
A Starting Point
The Devils ended Tuesday night's 5-3 loss to the Flyers with different lines than they did at puck drop. For the sake of this article, potential combos with Bratt will be based on those altered lines. Here's what they looked like: 
Nikita Gusev – Jack Hughes – Kyle Palmieri
Andreas Johnsson – Travis Zajac – Janne Kuokkanen
Yegor Sharangovich – Pavel Zacha – Nick Merkley
Miles Wood – Michael McLeod – Nathan Bastian
If we were to bet on who'd come out of the lineup for Bratt, the best guess would be Merkley. It's not that he's played poorly, but someone will have to make way for Bratt. Without further ado, let's get into some line combos. 
Potential Top Six Lines
Bratt Straight to the First Line
Bratt – Hughes – Palmieri
Johnsson – Zajac – Gusev
Sharangovich – Zacha – Kuokkanen
Wood – McLeod – Bastian
Bratt has top-line experience on his résumé just as recently as last season. He played about 140 minutes at five-on-five with Palmieri and Nico Hischier in 2019-20, and they were a highly productive unit. The Devils outscored their opponents 10-2 and controlled over 59% of the expected goals with them on the ice.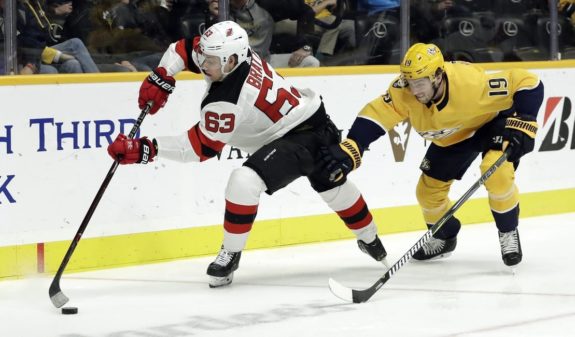 The difference here is Bratt would have Hughes as his center, as Hischier is still working his way back from an injury he suffered during offseason training. Another set that could work would be flipping Gusev and Palmieri, giving the Devils this look:
Bratt – Hughes – Gusev
Johnsson – Zajac – Palmieri
Sharangovich – Zacha – Kuokkanen
Wood – McLeod – Bastian 
That top line could struggle on the defensive side of things, but it could be dynamic offensively with how Hughes is playing. With that said, this first set of lines is more likely to take shape further down the road. Bratt hasn't played in an NHL game in close to 11 months, so he'll likely need time to find a rhythm before playing first-line minutes. 
The Second Line Could Be an Option
Gusev – Hughes – Palmieri
Johnsson – Zajac – Bratt
Sharangovich – Zacha – Kuokkanen
Wood – McLeod – Bastian
There are a couple of ways this scenario could unfold. Johnsson has had a rough start to the season, but he did look like a different player when Ruff switched lines in the Devils' 5-3 loss to the Flyers. He picked up a primary assist, his first point of the season, and rang a shot of the crossbar that would've given the Devils the lead in the third period. He has a top-six skill set and should mesh well with Bratt.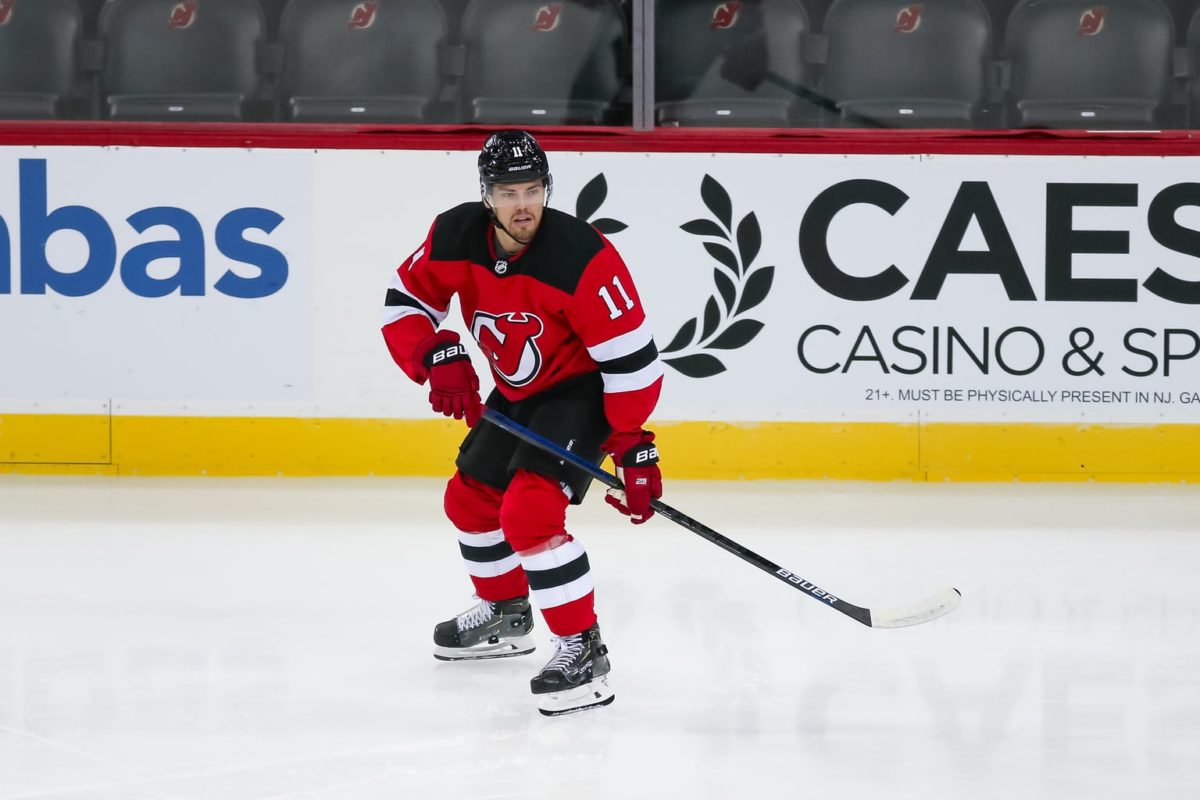 Another plausible scenario is Kuokkanen sticking on the second line instead of Johnsson. The former has played well and has been contributing offensively despite only having one point this season. Like Johnsson, Kuokkanen has some offensive skill and could be a good fit alongside Bratt. Here's what that'd look like:
Gusev – Hughes – Palmieri
Bratt – Zajac – Kuokkanen
Sharangovich – Zacha – Johnsson 
Wood – McLeod – Bastian
Bratt Begins in the Bottom Six
Bratt Eased in on the Third Line
Gusev – Hughes – Palmieri
Johnsson – Zajac – Kuokkanen
Sharangovich – Zacha – Bratt
Wood – McLeod – Bastian
Because Bratt hasn't played in close to 11 months, it wouldn't be a surprise if he started in the bottom six and received limited minutes until he gets into a flow. Zacha and Bratt had some chemistry late last season, so it'd be worth finding out if they can rekindle it. Bratt has played plenty right wing before, so starting him there shouldn't be too much of an issue. Sharangovich's speed and two-way ability could gel well with Bratt, who also has good two-way instincts and quickness. 
Related: Devils News & Notes: Strong Start to 2020-21 Continues
With Bratt on the third line, Ruff could likely start him off at 12-13 minutes per game to help him settle in before giving him a more significant role. And it might be the best option Ruff has because of the limited practice time the Devils will have over the next week-plus. 
Bratt Starts on the Fourth Line
Gusev – Hughes – Palmieri
Johnsson – Zajac – Kuokkanen
Sharangovich – Zacha – Bastian
Wood – McLeod – Bratt
If Ruff really wants to ease Bratt in, starting him on the fourth line has to be an option. Fortunately, the Devils' fourth line has been quite good to start the season no matter who's played there. And having Wood and McLeod as linemates could be a good fit for Bratt in the short term.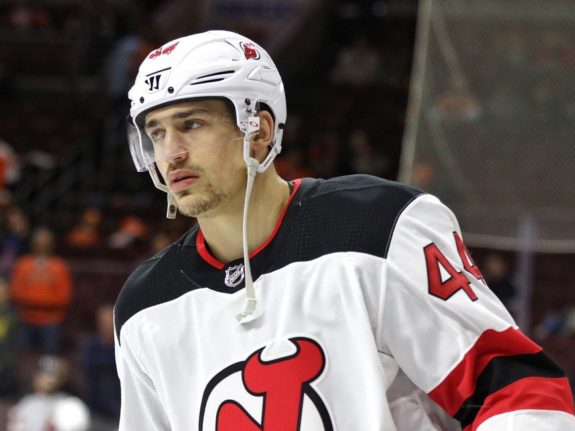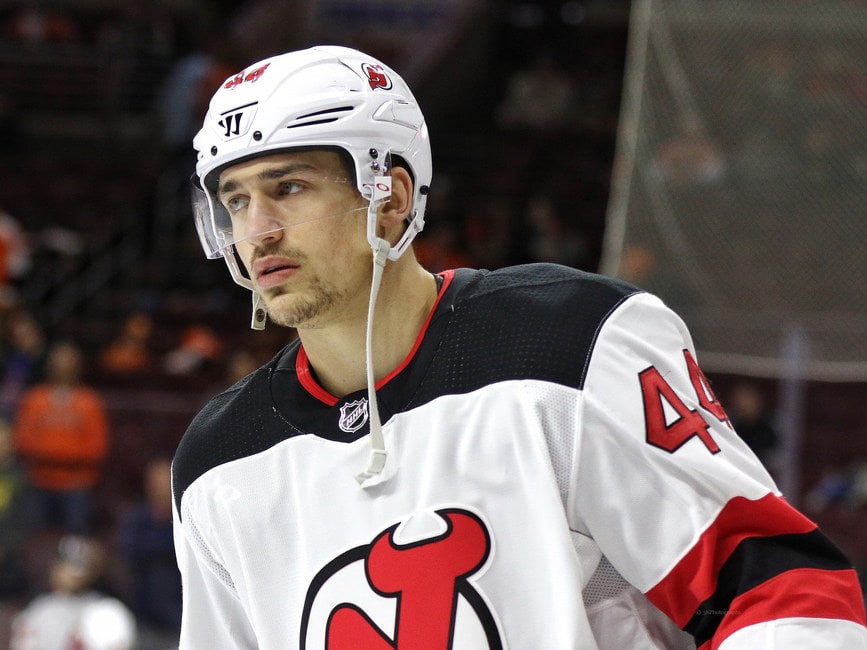 Wood has been one of the Devils' best players this season. He's creating scoring chances and finishing them as well, while McLeod looks like he belongs in the NHL. All three of these players have speed, so it could make for a fun fourth line for a couple of games while Bratt adjusts to Ruff's system. 
Devils Benefit From Bratt's Return Regardless
It's likely wherever Bratt starts when he returns to the lineup won't be permanent. It'll take time for him to get his legs under him, and it's probably going to take some mixing and matching on Ruff's part to find the right linemates. Things will also change once Hischier returns. He and Bratt have had plenty of success together, and it'd make sense to pair them up again. 
Related: Devils Are in Good Hands With Jack Hughes
But either way, the Devils getting Bratt back should provide a significant boost up front, especially once he gets comfortable playing in Ruff's system. They've struggled to get scoring from their top players, and injecting his skill and talent into the lineup should give the team a much-needed offensive spark. 
* * *
Advanced stats from Natural Stat Trick
---
---