It is no secret that New Jersey Devils goaltender Mackenzie Blackwood has not lived up to the hype over the past two seasons. They had high hopes for him when they selected the 25-year-old in the second-round of the 2015 NHL Draft. Heading in, the Ontario native was ranked the number one North American goalie by NHL Central Scouting.
Blackwood is entering the final year of his deal and is set to become a restricted free agent (RFA) at the conclusion of the 2022-23 season. If this season resembles anything of the past two, the 42nd overall selection from just seven years ago will likely be on his way out of Newark, and officially be the last prospect from that Devils draft class to have departed from the team.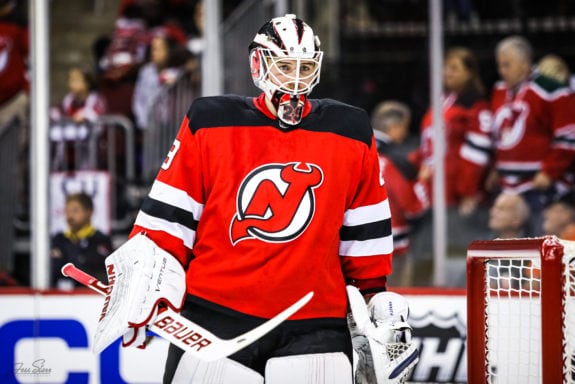 The other four selections the Devils had in that class were Pavel Zacha, Blake Speers, Colton White, and Brett Seney. Zacha was traded to Boston this offseason, Speers was shipped to Arizona along with Taylor Hall in 2019, White signed with the Anaheim Ducks a month ago, and Seney with the Toronto Maple Leafs during the 2019 offseason. Blackwood needs to start resembling his first two years of play so as to not join this list and have the 2015 Draft deemed a complete and utter disaster.
Blackwood's First Two Seasons
The hype was real when Blackwood made his debut during the 2018-19 season. His task was daunting as he had to be a solid replacement for Cory Schneider, who had his own demons to battle as the heir apparent to Martin Brodeur. The 6-foot-4 netminder showed he could play at the next level and gave Devils fans hope for the future.
Although Blackwood only started 21 games and appeared in 23, he ranked in the top 20 for save percentage (SV%) and the top 25 for goals against average (GAA) during that campaign. It was an abysmal year for the Devils, but he was a bright spot as he counted for 33 percent of their wins. His numbers were also exceptionally better than his counterpoint Schneider, who was already on the decline.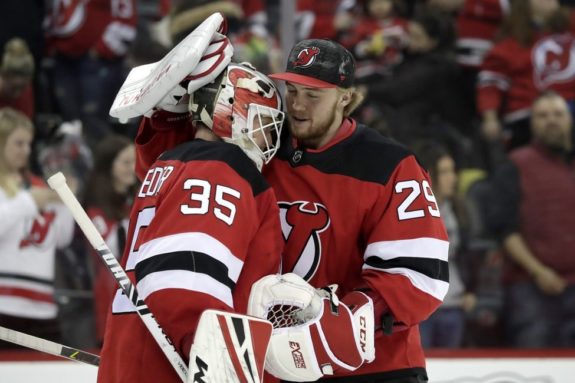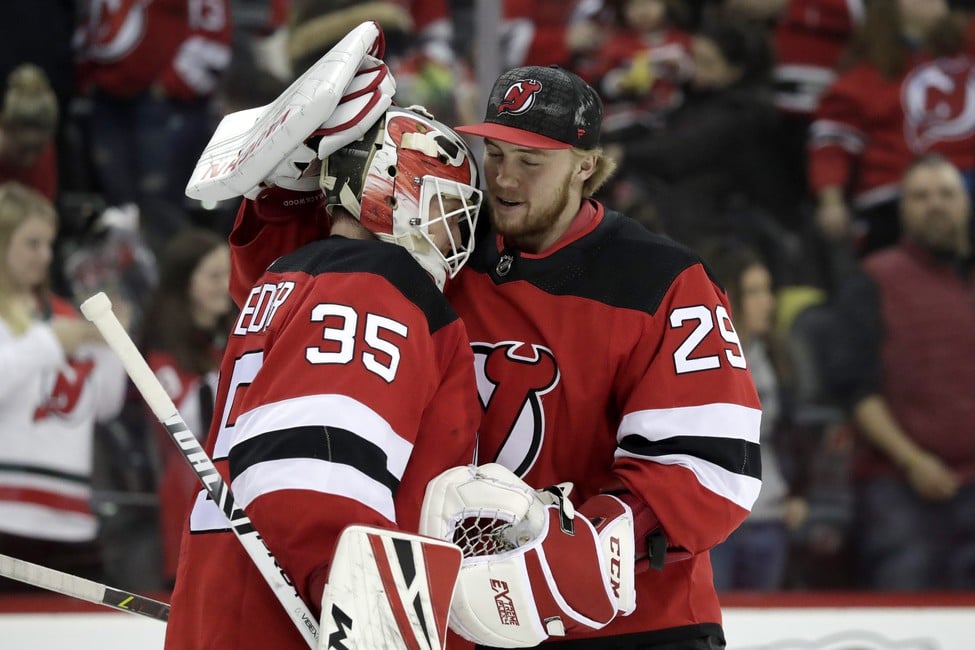 Blackwood's sophomore season was the first time he was the clear-cut number one for the Devils. His performance on the ice was more of the same from the previous season, exceptional play. His SV% did decrease by 0.3 percent and his GAA rose from 2.61 to 2.77, but his minutes and playtime more than doubled from his rookie season.
Out of goaltenders that appeared in more than 15 games that season, Blackwood's SV% was top 20 in the league, and his GAA was top 30. Those were impressive numbers for the 23-year-old at the time, who was playing behind one of the worst defensive units in the entire league. Following those two seasons, the organization thought they had the goalie position crossed off in terms of need. They may have been mistaken, though, as the 2020-21 and 2021-22 seasons were plagued with bad play, injuries, and no help at the backup position.
Blackwood's Next Two Seasons
During the COVID riddled 2020-21 season, Blackwood started and appeared in 35 of the 56 games played, and the numbers weren't pretty. His SV% didn't qualify him in the top 50 of 98 eligible goalies and his GAA didn't place him within the top 60. He also did all this while being ranked 11th in minutes played during the season.
The backup play of Scott Wedgewood and Aaron Dell didn't help the Devils' case either. Dell ranked in the bottom 10 for both SV% and GAA during his seven appearances while Wedgewood didn't crack the top 60 in either category during his 16 appearances. Once you take this horrendous performance from the goaltenders into consideration, it is no wonder the club finished in the bottom three that season.
It makes things that much worse when you realize that the Devils thought they had their backup situation figured out for the next two seasons. On the opening day of free agency, they announced that they had signed Corey Crawford to a two-year deal. That never came to fruition as the 13-year veteran from the Chicago Blackhawks retired from the league right before the season got underway.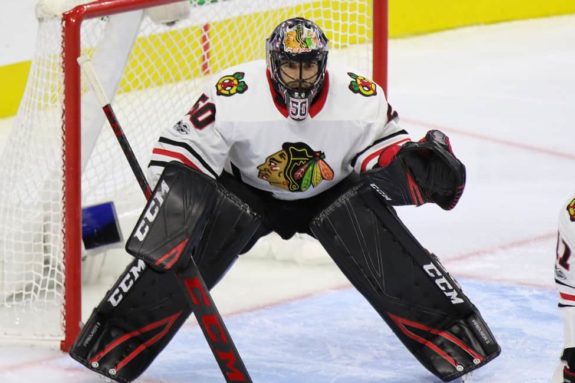 Following the disastrous COVID-riddled season, came the injury riddled season. The Devils tried a similar game plan, take as much weight off Blackwood as possible. That began with shoring up their defense by bringing in Dougie Hamilton and trading for Ryan Graves, but more importantly, finding another capable backup.
The organization ended up bringing in another 13-year veteran at the time in Jonathan Bernier, also on a two-year deal, as he came into New Jersey with a career .913 SV% and a 2.71 GAA. Both those numbers were considered average to above average for the goalie position, which is exactly what the Devils needed behind Blackwood.
Well, Bernier's tenure in New Jersey wasn't much longer than Crawford's, as he only appeared in 10 games for the team before heading to the season-ending injured reserve list with a right hip injury that he later had surgery on. His 2022-23 season seems to be in jeopardy too, as he may be headed to long-term injured reserve, thus ending his time with the organization.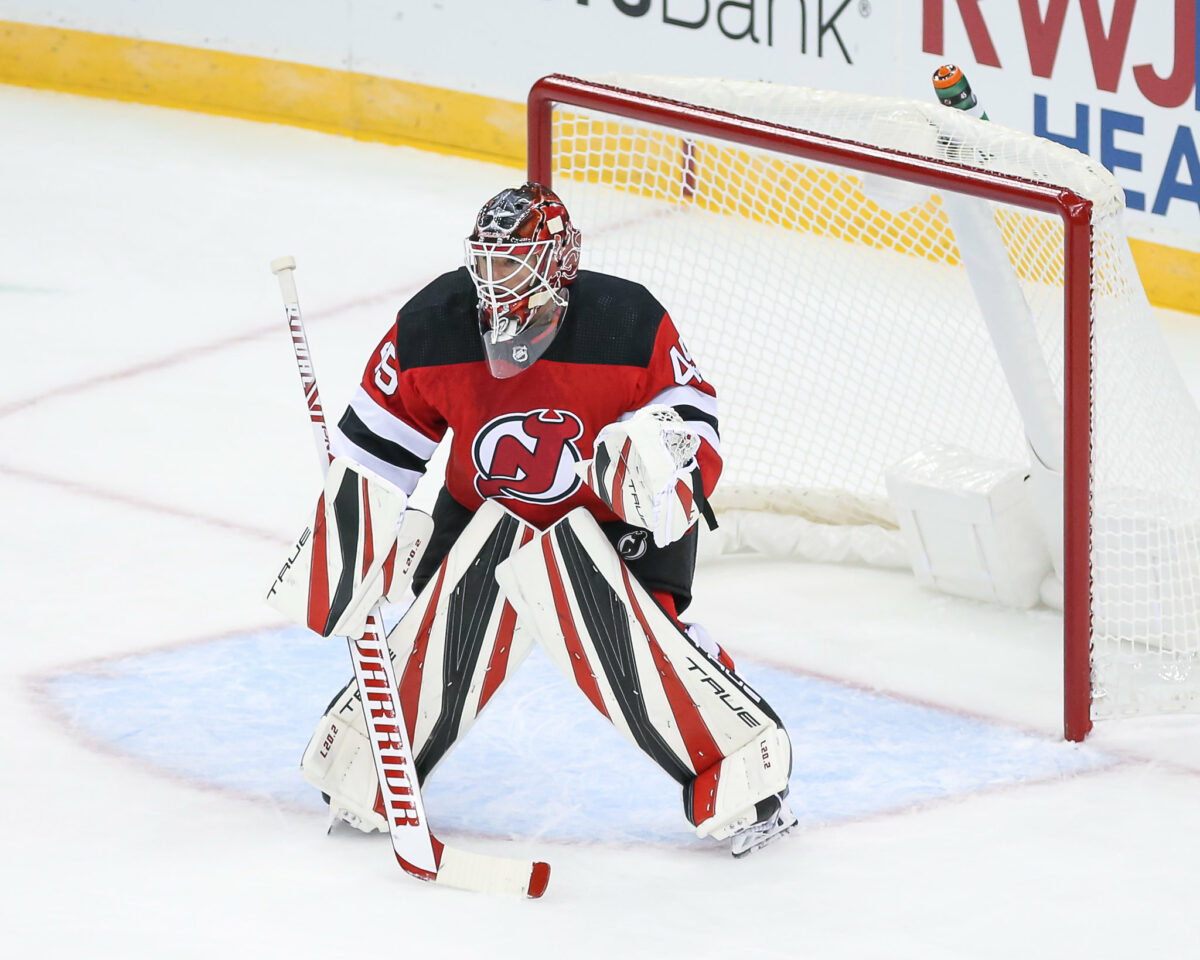 Blackwood's 2021-22 stint came to a halt early as well, as he only appeared in 25 games and was nursing a heel injury that caused him to miss the rest of the campaign. His .892 SV% was 80th of 119 eligible goalies and his GAA of 3.39 ranked 84th. Following his and Bernier's injury, the Devils were anchored by Akira Schmid and Nico Daws. Obviously a big drop-off from what the team was expecting.
What the Devils Need Moving Forward
Blackwood needs a solid 2022-23 season if he wants to cash in and remain in a Devils uniform. He has – hopefully – another solid counterpart in Vitek Vanecek. During the two seasons No. 29 was complemented by another solid netminder, he showcased his best stuff.
Related: Devils Gamble on Vanecek to Spark Goaltending
Another huge factor for this season is health. Blackwood can play solid hockey and has shown that in his first two seasons. If he's playing injured, we're going to see the version of him that's tough to watch and if he can't stay on the ice, he won't be in Newark come 2023.
Blackwood needs to put together a campaign with a SV% above .915 and keep his GAA below 2.60. All of this while playing in more than 41 games and catapulting the Devils into playing meaningful hockey in March. If he does this, there's no doubt in my mind that he's back in New Jersey the following season. If he does not, well, the 2015 Draft class is officially a complete and utter failure.
---
---