Since we're at the all-star break, the unofficial midway point of the season, I figured it'd be a good time to round up what's happening with New Jersey Devils prospects around the globe. We won't go over every prospect in the organization's system, but rather the ones having standout seasons or are on the rise a bit more than halfway through 2022-23. 
Luke Hughes, Defenseman
This one should be obvious, but the fourth overall pick in the 2021 draft and younger brother of Jack Hughes is having another terrific season for the Michigan Wolverines in the NCAA. As of this writing, he has eight goals and 30 points in 27 games after a four-goal outing the weekend of Jan. 27 against Penn State.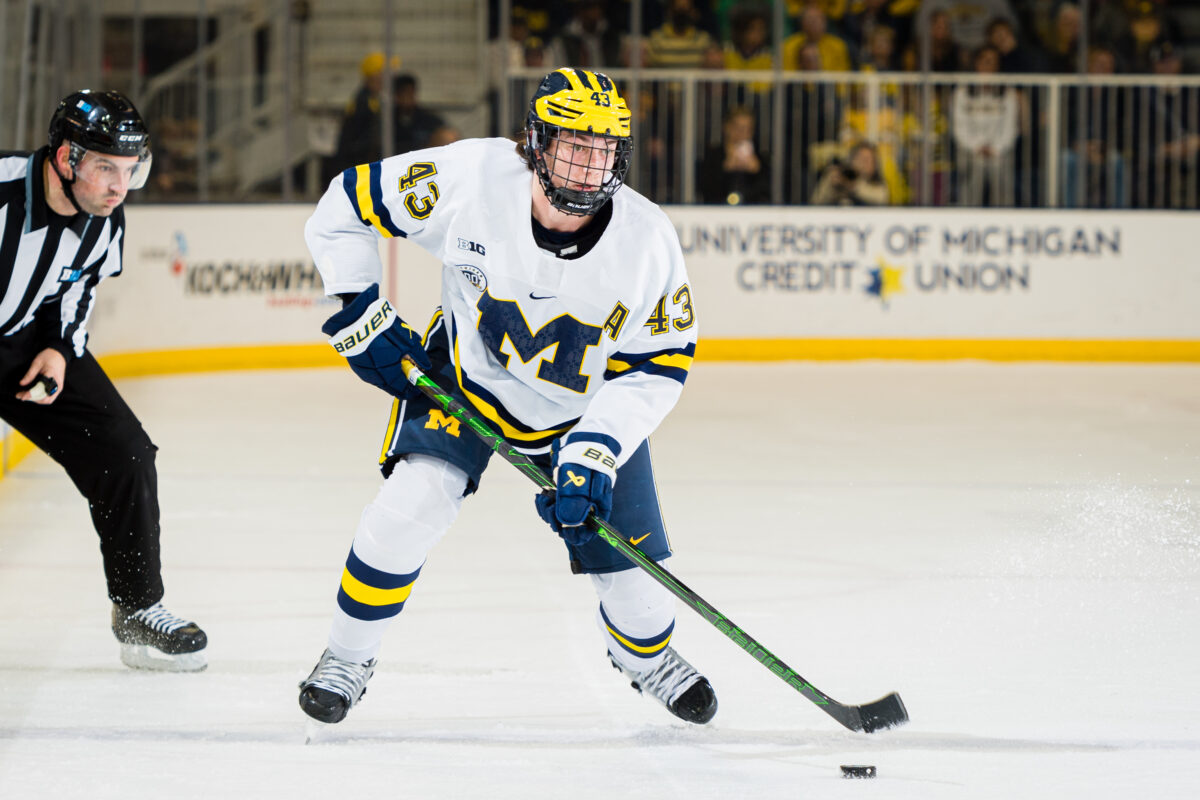 The sophomore defender has a chance to make a run with the Wolverines once the NCAA tournament begins at the end of March, as they boast plenty of talent besides him. But once the Wolverines' season concludes, expect Hughes to sign his entry-level contract and join the Devils for the remainder of the NHL season. With the Devils looking like a safe bet for the playoffs, he could have an impact as a third-pair offensive blueliner alongside Damon Severson for the stretch run. 
Shakir Mukhamadullin, Defenseman
A surprise pick at 20th overall in the 2020 draft, Mukhamadullin has seen his role increase with Salavat Yulaev Ufa in the KHL over the last two seasons. He's averaging just above 17 minutes for Ufa this season while playing a top-four to top-pair role. He has 22 points in 58 games, putting him on pace to finish the KHL season with 26 points in 67 games. 
Granted, many of those points have come on the power play, but his offensive game seems to have improved. His shot generation has increased from 1.53 per game a season ago to 2.07 in 2022-23. Once the KHL season concludes, the plan is for Mukhamadullin to join the Comets for the AHL playoffs if possible. Regardless, he will be a full-time player for the Comets in 2023-24 (From "Devils' assistant GM reveals plan for prospects Luke Hughes, Shakir Mukhamadullin, more" – The NJ Star-Ledger, 1/28/2023). 
Graeme Clarke, Right Wing
Clarke has been one of the breakout stars of the Devils' farm system. In 43 games with the Utica Comets of the American Hockey League (AHL), he has 16 goals and 35 points, putting him on pace to finish with 26 goals and 57 points in 71 games. That places him first on the Comets in scoring, and his play hasn't been a fluke, either. He's made big strides in his second full pro season: 
Clarke's even-strength scoring ranks among some of the best in the AHL. Nor should it be a surprise since he looked like a much-improved player with the Devils during the preseason. With the Devils likely needing some cheap ELCs to fill out their roster for 2023-24, he may put himself in the running for a bottom-six role coming out of camp in September. 
Josh Filmon, Left Wing
A sixth-round pick in the 2022 draft, Filmon has had quite the D+1 season with the Swift Current Broncos in the Western Hockey League (WHL). He comfortably leads the Broncos in goals (32), putting him 13 ahead of Mathew Ward, who leads the team in overall scoring. His 32 goals tie for third in the WHL, trailing only Kai Uchacz and Connor Bedard, who'll be the first overall pick in the 2023 draft. 
---
Latest News & Highlights
---
Though Filmon was a sixth-round selection, maybe his breakout shouldn't be much of a surprise. He ranked 75th in Bob McKenzie's draft rankings for 2022, which surveys NHL scouts. The Devils got great value selecting him with the 166th pick, and to this point, he's made that decision pay off. At his current pace, he'll finish the WHL season with 48 goals and 76 points. He needs at least one more season in the WHL, but the early returns are promising for the 6-foot-3, 161-pound winger. He just needs to keep adding strength to his frame. 
Seamus Casey, Defenseman
Hughes' teammate with the Wolverines, Casey has had a more than solid freshman season. The Devils selected him with the second-round pick they obtained from the Washington Capitals when they acquired Vitek Vanecek just ahead of Day 2 of the 2022 draft. As of this writing, Casey has 19 points in 26 games for the Wolverines.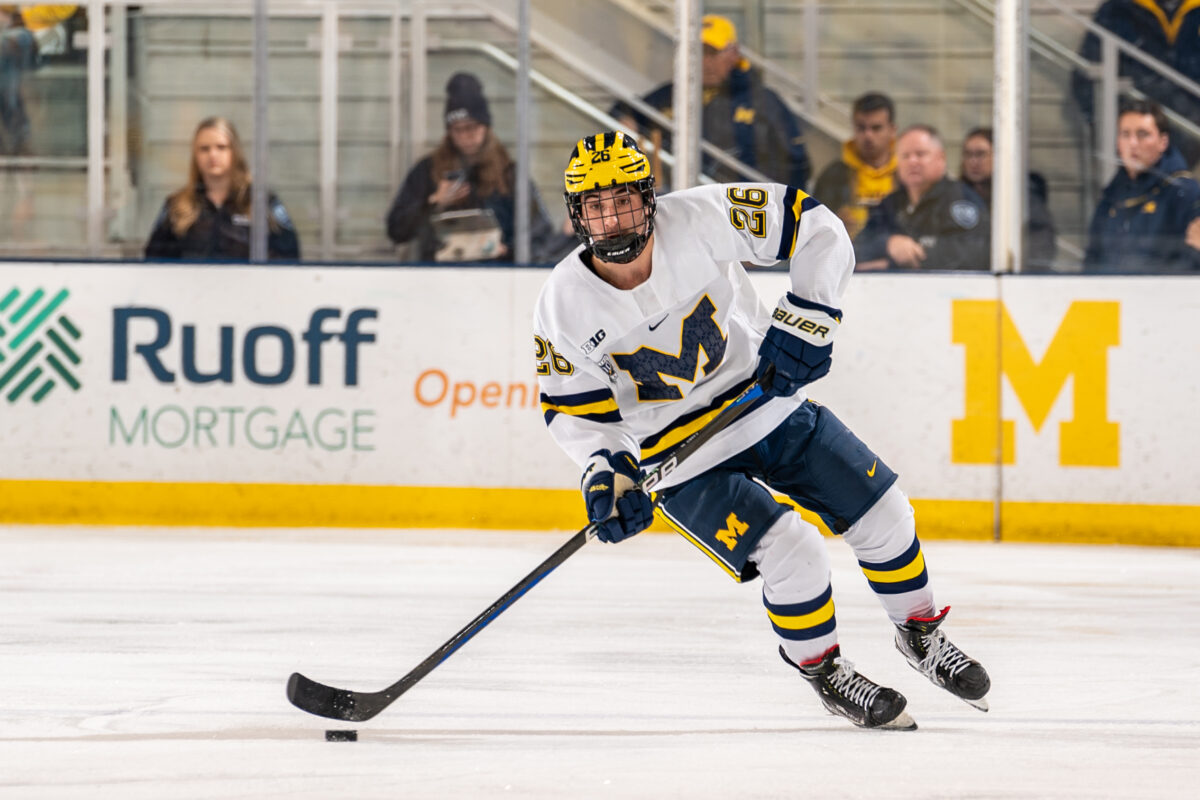 Though on the smaller side for a defender (5-foot-10, 178 pounds), Casey makes up for it with some grade-A puck skills and high-end skating. His edgework, in particular, is outstanding, allowing him to create something out of nothing. Given that he's a defenseman, he has at least another season coming at Michigan, perhaps two. But like Filmon, the early returns on Casey's development are positive. 
Topias Vilén, Defenseman
A fifth-round pick in the 2021 draft, Vilén's taken a step forward in his development with Pelicans in the Finnish Liiga. As of this writing, he has six goals and ten points in 28 games for Pelicans. He also had a solid showing with Team Finland at the 2023 World Junior Championship that concluded a month ago.
Related: Devils' 3 Up, 3 Down: Hughes, Wood, Defensive Depth & More
While Vilén's offensive production has taken a step forward in Finland this season, I wouldn't expect him to be a big point producer in the NHL. Still, he showed efficient puck-moving ability at the WJC, and his smooth skating is a big plus of his game. The Devils signed him to his ELC this past summer, so it wouldn't be a surprise if he joins the Comets for the 2023-24 season. He projects as a third-pair defensive defenseman in the NHL. 
Petr Hauser, Right Wing
The Devils have had success drafting prospects with NHL upside in the fifth round (Yegor Sharangovich and Arseni Gritsyuk, to name a couple). Who knows if Hauser will turn out to be next in line, but the team's fifth-round pick in the 2022 draft has had a solid D+1 season playing in his native Czechia. He's bounced around leagues there, but he's primarily played in the Czechia2 — Czechia's equivalent of the AHL. In 27 games with HC Baník Sokolov, he has five goals and 13 points. 
Hauser also had a decent showing with Team Czechia at the WJC, who took home a silver medal after losing to Team Canada in the gold medal game. He finished the tournament with three goals and four points in seven games, and that was while playing a fourth-line role. Time will tell where his development leads, but the 6-foot-4, 205-pound winger has at least shown some promise in 2022-23. 
Akira Schmid, Goalie
Devils fans got a good look at Schmid when the team recalled him after Mackenzie Blackwood got injured in November while they were on their western Canada trip. He played in nine games and made seven starts for the Devils, totaling a .919 save percentage. Once Blackwood returned from his sprained MCL, the Devils sent Schmid back to the Comets.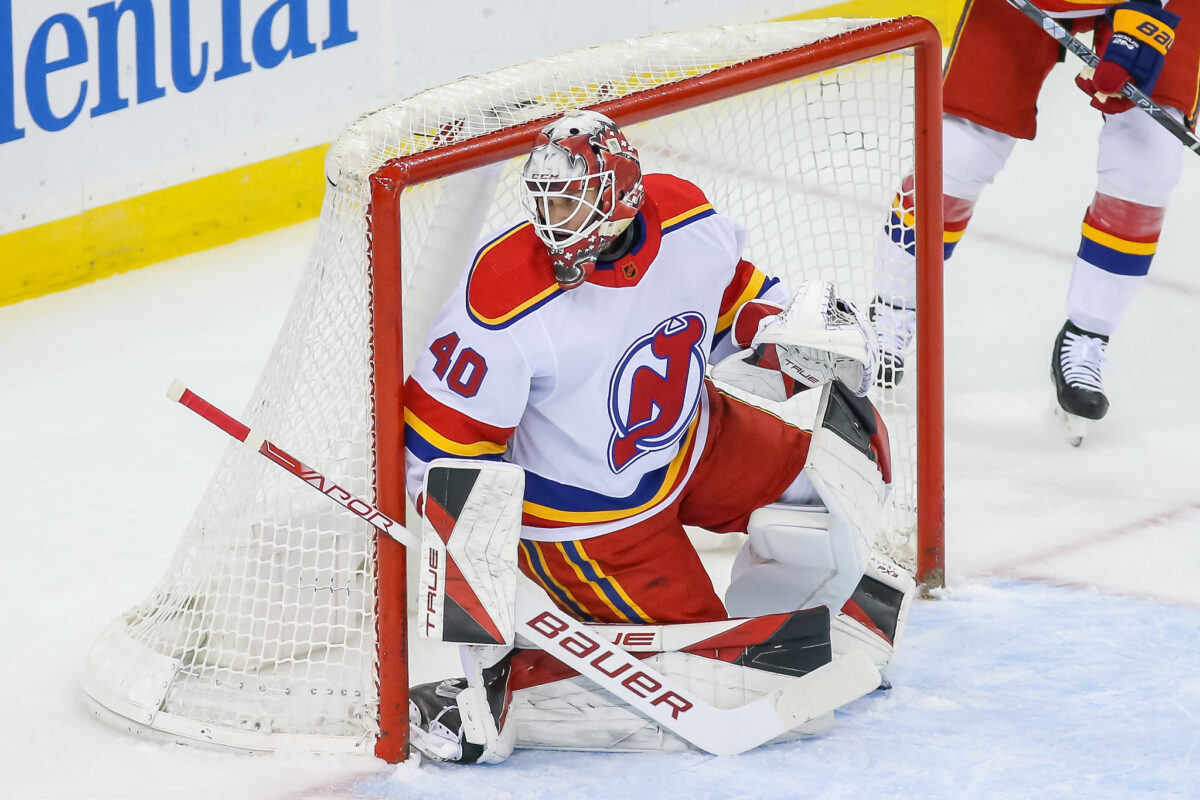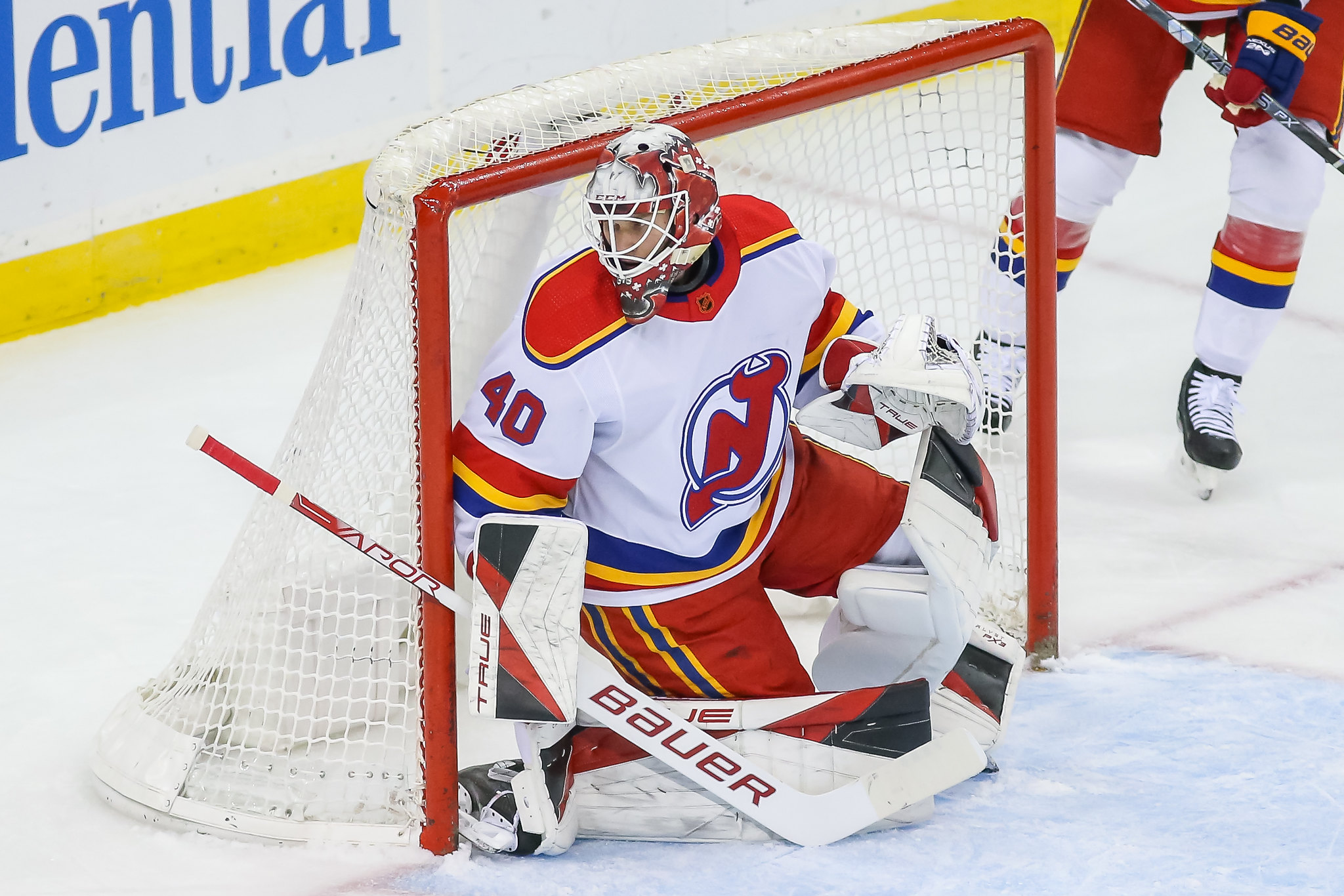 You're probably wondering how Schmid has done in the AHL this season since it looks like he may have a bright future ahead of him. The answer is quite well. He's played in 17 games for the Comets (some of those occurred before his NHL call-up) and has a .913 SV%. That puts him in a tie for the 11th-best SV% in the AHL. After struggling in the NHL a season ago, he's made significant strides in his game and still has plenty of room to grow at 22 years old. 
Arseni Gritsyuk, Left/Right Wing
Speaking of Gritsyuk, he's slowly worked his way into being one of the Devils' top prospects since they selected him in the fifth round of the 2019 draft. After a slow start to the KHL season, he has 13 goals and 34 points in 58 games for Avangard Omsk, putting him on pace to finish with 15 goals and 40 points in 68 contests. 
Though Devils fans would like to see Gritsyuk make his way to North America sooner than later, the Devils' plan for him is to spend another season or two in the KHL to let his game mature (per the Star-Ledger piece cited above). This isn't an apples-to-apples comparison, and nor does this mean Gritsyuk is the next Kirill Kaprizov. But the Minnesota Wild didn't bring Kaprizov over to North America until five years after he was a fifth-round pick in 2015. Kaprizov was 23 when he came over, and if Gritsyuk spends another two years in the KHL, he'll be 23 too. Coincidence? Perhaps, but it's possible they looked at Kaprizov's development and want to follow the same path. 
Devils Still Boast Talented Prospect Pool
Even though the Devils graduated some of their top prospects to the NHL, they still have a strong pipeline with more high-end talent on the way. Considering the team sits in second place at the all-star break with a 32-13-4 record, there should be plenty of more good to come in the years ahead.