For years, ESPN College Basketball announcer Dick Vitale has been labeling the best freshmen players in the country "diaper dandies". Many end up as future stars in the NBA, and attend the top powerhouse programs. In college hockey, there are similar players that are top draft picks, and star for powerhouse teams before going to the NHL.
Here are the ten that you should look out for in college hockey this year:
1. Jack Eichel, C, Boston University (2015 Eligible)
When Eichel suits up for the Terriers this fall, he will do so as the highest touted draft eligible freshman in college hockey since Jonathan Toews in 2006. For the past year, Eichel has constantly been compared to Connor McDavid, and is the consensus #2 overall pick for the 2015 draft. Some even think Eichel could pass McDavid and go 1st overall.
Eichel is an all-around offensive force. He possess a tremendous shot, great hands, and the rare ability to slow the game down and dictate play at his speed. As a 17 year old playing for the USNTDP, he put up better numbers than Patrick Kane did. Eichel will be the centerpiece of BU's forward corps, and will be the star forward for the US at the U20 WJC.
2. Noah Hanifin, D, Boston College (2015 Eligible)
In THW's first look at the 2015 draft, Hanifin comes in third overall, one spot behind Eichel. Fittingly, Hanifin will be suiting up with the bitter rival of Eichel's Terriers. The Battle of Commonwealth Avenue is guaranteed to be extra entertaining this year with two of the best 2015 draft eligible prospects playing. Hanifin has accelerated his coursework in order to play for the Eagles this fall, and will join an already talent-laden Eagles defense.
Hanifin brings everything a team could want in a top pairing defenseman. He is a strong skater, possesses a high hockey IQ, and is equally adept in both ends of the ice. Hanifin was the second highest scoring defenseman at the U18 WJC last year, and captained the US team at the U17 WHC. He may only spend one year playing college hockey, but he's sure to be an impact player when he suits up.
3. Dylan Larkin, C, University of Michigan (Detroit Red Wings)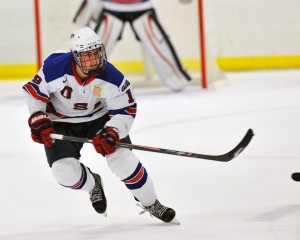 The 15th overall pick at the 2014 draft is a true Swiss Army knife as a player. Larkin is a coach's dream that can play in any situation and has no weaknesses in his game. He has great speed, is a polished two-way player, plays with an edge, and has strong offensive instincts. He plays a lot like current Wolverine JT Compher, a truly complete player.
Playing for the USNTDP last year, Larkin put up a combined 82 points in 86 games. Larkin may not have the gamebreaking offensive talent of Jack Eichel or Sonny Milano, but he is a surefire NHL player because of his versatility. He projects as a do-it-all player at the NHL level that can play in all scenarios. Considering the patience that Detroit tends to exercise with their prospects, Larkin will likely spend at least 2 years playing in college hockey in Ann Arbor. He should also feature prominently in the 2015 US WJC team.
4. Alex Tuch, RW, Boston College (Minnesota Wild)
In 2013-14, Tuch was a member of possibly the greatest line in USNTDP history, alongside Sonny Milano and Jack Eichel. Tuch served as the glue guy and physical presence of the line, a role he thrived in. He brings an impressive combination of size, skill, and physicality. At 6'3″, 214 lbs he already has NHL size, and has the potential to be a premier power forward in the NHL.
Some thought Tuch's strong production last year (96 points over 87 games) was more of a product of his talented linemates. However, Tuch is a strong offensive player himself. He led the US in goals during summer development camp, where he impressed with his size and skill.
U.S. WJC camp concluded Sat. with a 3-0 win over the CZE. Jack Eichel and Sonny Milano led camp with 9 pts each. Alex Tuch led all with 6 G.

— Chris Peters (@chrismpeters) August 10, 2014
Power forwards tend to take a little more time to reach their potential, so expect Tuch to spend a few years at BC before heading to Minnesota.
5. Nick Schmaltz, C, University of North Dakota (Chicago Blackhawks)
A product of the USHL, Schmaltz led the Green Bay Gamblers in scoring last year with 18 goals & 45 assists for 63 points in 55 games. That production was good for 7th in the USHL in 2013-14. Schmaltz is at his best when he is using his strong vision and playmaking abilities to set up his linemates.
Schmaltz is joining his older brother Jordan, a 1st round pick of the St. Louis Blues, in North Dakota this year. Considering the forward depth the Blackhawks have in the NHL right now, they can afford to let Schmaltz develop and round out his game for a few years. He should be on the US WJC squad this year, likely as a second or third liner.
6. Joshua Jacobs, D, Michigan State University (NJ Devils)
Jacobs is the first of a trio American defensemen selected in the 2nd round of the 2014 draft on this list. Playing for the Indiana Ice in 2013-14, Jacobs was one of the top defensemen on the team that won the Clark Cup. His +36 was second best among all defensemen in the USHL, behind only teammate Austin Kosack.
Jacobs joins a Michigan State squad that struggled for most of last year, so a player of his talent could have a real chance to play big minutes immediately. Jacobs' best asset is his skating ability, which he uses to jump into the rush, and provide quality outlet passes. He is a strong offensive defenseman, but is also responsible in his own zone. He joins a growing group of 2nd round picks used on defensemen by New Jersey that also includes Michigan alum Jon Merrill, and current BC Eagle Steve Santini.
7. Connor Hurley, C, Notre Dame (Buffalo Sabres)
The youngest player selected in the 2013 draft (Hurley was born on the cutoff date of September 15th) will be a welcome addition in South Bend, Indiana. Hurley started the 2013-14 season with the Muskegon Lumberjacks in the USHL, and performed solidly, with 14 points in 21 games. However, a mid-season trade to Green Bay ignited his season, where he finished with 40 points in his final 39 games, including playoffs.
Hurley is an effective all-around offensive player, but his greatest assets are his skating and playmaking abilities. He has good size at 6'2″, but needs to fill out his frame as he weighs just 174 lbs right now. Considering his relative youth, he should spend multiple years playing college hockey to put on muscle and develop his game.
8. Ryan Collins, D, Minnesota (Columbus Blue Jackets)
Standing at 6'5″, Collins is a defensive defenseman through and through. Collins uses his size very effectively in the defensive zone, using his long reach to take space away from opponents and his body to separate them from the puck. He plays a very simple, yet effective game.
Collins' offensive upside is rather limited (7 points in 59 games last year), but his prowess in the defensive zone means he doesn't have to be an offensive dynamo. For a player of his size, his skating is very good, and he is able to make a safe, effective first pass.
9. Zach Sanford, LW, Boston College (Washington Capitals)
Selected with the last pick in the 2nd round of the 2013 draft, Sanford brings an intriguing mix of size and skill. At 6'3″, Sanford has the frame to be a future power forward in the NHL. His hands and offensive abilities are very strong for a player of his size. Playing for the Waterloo Blackhawks of the USHL, Sanford managed a solid 35 points in 52 regular season games last year. He then elevated his game in the playoffs, putting up 12 points over 12 games.
At Boston College, Sanford will need to focus on improving his skating and adding muscle to his frame. If he can do both of those things, he has all of the tools necessary to be an effective power forward at the next level. Considering how much Sanford has to work on before he is ready for the NHL, he will likely spend at least 3 seasons in college hockey.
10. Jack Dougherty, D, Wisconsin (Nashville Predators)
Dougherty is the latest highly touted defenseman to join the Badgers in recent seasons. The Badgers have produced an impressive stable of defensemen, including Ryan McDonagh, Jake Gardiner, Justin Schultz, Brendan Smith, and Jake McCabe. The Nashville Predators would be elated if Dougherty can follow in the footsteps of those NHLers.
Dougherty is a solid all-around player that is not great at anything, but has no noticeable weaknesses. He is a solid skater, has some offensive abilities, and plays an effective physical game in his own end. Considering the skill that both the Badgers and Predators have in churning out NHL quality defensemen, it appears to be a matter of time before Dougherty suits up in the NHL.