The Anaheim Ducks acquired winger Patrick Eaves from the Dallas Stars on Friday afternoon in exchange for a conditional second-round draft pick. The move should come as no surprise to long-time observers, as general manager Bob Murray held that his club needed another scoring winger up front.
Here are the conditions on the draft pick Dallas gets back from Anaheim in Patrick Eaves deal. Could become a first-rounder: pic.twitter.com/pchYuyrqtE

— Chris Johnston (@reporterchris) February 24, 2017
Is Eaves the solution to the Ducks' scoring ills? A quick glance at his surface-level statistics would suggest so. With 21 goals and 37 points in 59 games, Eaves has had a nice offensive season on one of the league's most up-tempo teams.
The Dallas power play has been kind to the 32-year-old, as he's posted 11 of his 21 tallies with the man advantage. Much like Anaheim's Ryan Kesler, Eaves makes his living in front of the net thanks to his ability to jump on rebounds and re-direct pucks.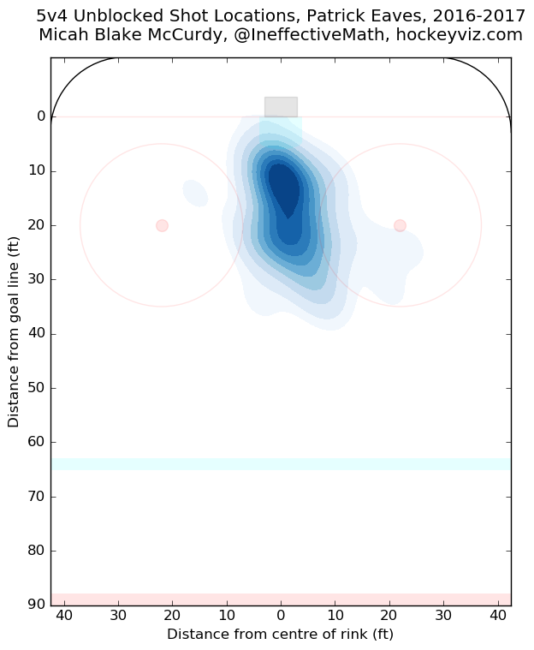 Peel back a few layers, however, and the picture gets less rosy. Eaves' 21 goals are his highest total since his rookie season, where he tallied 20 in 58 games. In the interim, he's had 14 at most in a season, and that wasn't until he arrived into Dallas' high-octane offense.
Another point of consideration: the bulk of Eaves' production has come alongside the likes of Tyler Seguin and Jamie Benn (when they've been healthy). That's not to discredit his production, but it's worth noting when assessing his real impact on play.
At best, the newly-minted Duck is running hot in a season where he's had excellent linemates to work with. His career 8.4 shooting percentage suggests that his 13.6 clip this year is a bit of a mirage.
Murray Missing Eaves' True Value
The answer to the original question becomes pretty simple: no, Eaves probably isn't the answer to the Ducks' scoring ills. That doesn't mean he won't contribute in a meaningful way, however.
Over the course of his career, the Calgary native has established himself as an excellent possession driving forward, something that Anaheim desperately lacks. His tenacity on the puck has led to a consistent dose of healthy shot attempt differentials, while also making him excellent at drawing penalties.
Patrick Eaves is a really underrated player. High price, but Anaheim got someone good. pic.twitter.com/RiOaUBim3v

— dom luszczyszyn (@domluszczyszyn) February 24, 2017
Murray mentioned to the Orange County Register that his club has been too dependent on its young players throughout the course of the season. Ironically, youngsters like Nick Ritchie and Ondrej Kase have been some of Anaheim's best possession-driving forwards.
Eaves' presence will undoubtedly help address that. The early returns weren't great in his first game as a Duck, logging a 44 percent Corsi at even strength, but a decade's worth of data suggests that he'll be a net positive in Anaheim's lineup.
Anaheim's general manager doesn't believe that he needs to make a splashy move at the trade deadline. This is nothing new from the 62-year-old Murray, who scrapes the bargain basket of forwards every season. Eaves perfectly fits into that long-held tradition.
The concern, however, is that it doesn't seem like Murray views Eaves as a bargain forward. There's a legitimate sentiment that he's a big part of the answer to Anaheim's struggles. If that is the case, then disappointment surely awaits.